Thanks to Sunwarrior for providing product samples for this post.  All opinions are my own. 
This peppermint mocha chia pudding makes it fun to get your healthy fats, fiber, and supergreens all in one tasty breakfast.  It's also vegan, gluten free, and delicious!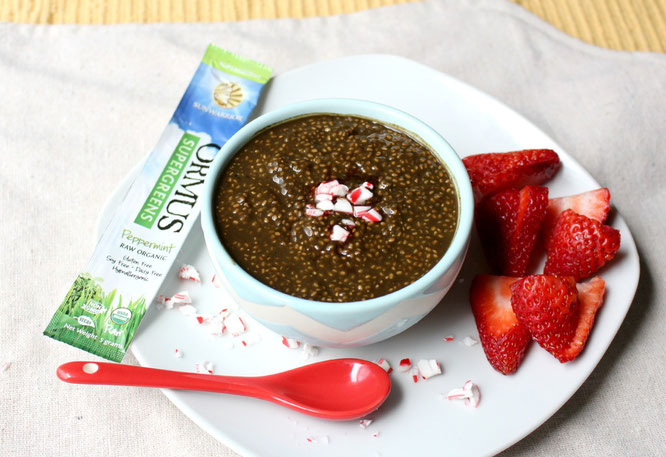 If you haven't had chia seeds yet, it's time to jump on the band wagon and give these little seeds a try!  They are super healthy and are one of the best plant sources of heart healthy, anti-inflammatory omega 3 fats out there.  They are also packed with protein, are great for digestion, and have a really fun cooking property:  they gel in liquid.  That's right, if you drop whole chia seeds into water or mix them into any liquid, they actually form this interesting little gel around each seed and expand. 
This makes for a really easy way to make healthy "pudding-like" dishes without using any animal products at all.  The best part is you simply have to mix the chia seeds with the liquid and other ingredients and refrigerate until the seeds absorb the liquid and expand nicely into a pudding-like texture.  Pudding made from chia seeds have a very similar texture to tapioca pudding.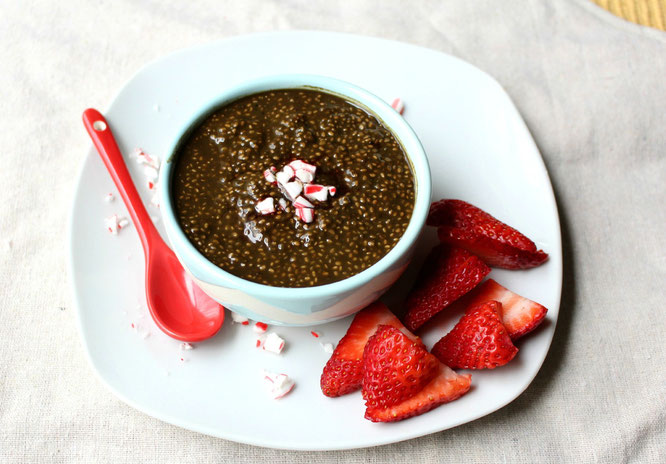 This recipe also uses a special ingredient:  Supergreens.  "Supergreens" have become very popular as a way to add more nutrients and trace minerals straight from nature into your day.  They come in powdered form and are basically a really concentrated source of nutrients from plant foods that most of us don't eat very often like alfalfa, barley grass, wheat grass, and oat grass. 
I don't use powdered supergreens everyday, but I think they can be a good boost of nutrition so I do include them in my eating plan on a fairly regular basis.  They can be a nice supplement to a healthy eating plan, especially if you don't eat many plant-based foods.  It is important to note that these powders shouldn't be used in place of actually eating fruits and veggies, but instead as an addition.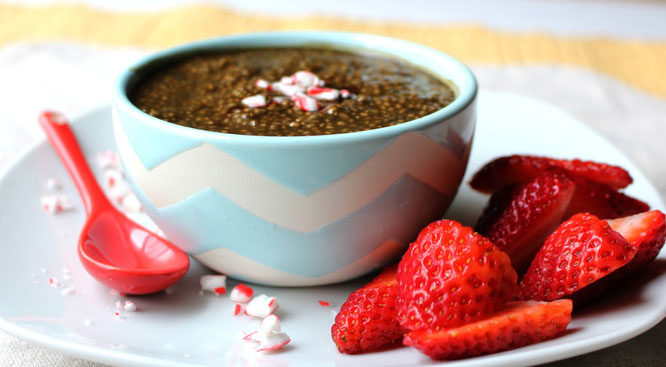 What I like about Sunwarrior supergreens is that they are grown and processed in the USA and have strict monitoring for purity and quality.  They also contain probiotics, which are healthy bacteria that are beneficial for digestion.  Most people mix their supergreens into water, juice, milk, or smoothies, but I decided to use this peppermint supergreens powder in my chocolate chia seed pudding recipe and add a little peppermint extract to enhance the flavor even more. 
And what goes really well with peppermint and chocolate?  Coffee!  A little coffee with the almond milk in this recipe made this dish come together with a fabulous peppermint  mocha flavor.  One thing to note on most supergreen powders is that they can have a pretty strong "plant" flavor.  So if you're someone who's a little picky, this recipe is a great way to cover up the strong flavor from the greens.  It takes just five minutes to put together then refrigerate overnight and you'll have a delicious healthy breakfast waiting for you in the morning!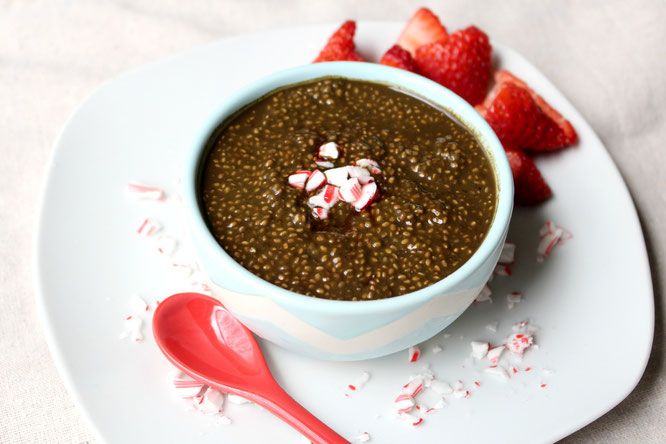 Peppermint Mocha Supergreens Chia Pudding
Makes 2 servings (about 1/2 cup each)
Ingredients:
1/4 cup chia seeds (use whole chia seeds, not ground)

2 tablespoons Sunwarrior Ormus Peppermint Supergreens

2 tablespoons pure maple syrup

2 teaspoons cocoa powder

1/2 cup unsweetened vanilla almond milk

1/4 cup brewed coffee, cooled
Directions:
Place all ingredients in a medium bowl and whisk until they are combined.  It's okay if there are still some chunks of cocoa powder, they will dissolve into the pudding as it sets. 

Cover and refrigerate for at least 4 hours or overnight.  Give the pudding a quick stir and enjoy!
Happy Eating!
~Amber
---