Thanks to Sunwarrior for providing samples of protein powder for this post.

These homemade vegan chewy granola bars are sweet and satisfying, plus they have a boost of protein making them a perfect breakfast on the go or energizing snack!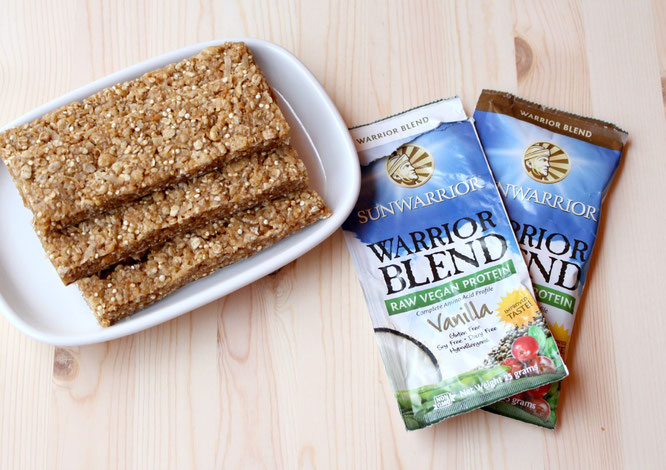 Granola bars are one of those foods we often think of as "health foods" even though most of them out there are really  not that great.  Some are filled with highly processed ingredients and preservatives, others have little candies or treats, and usually there are a bunch of sugary calories hiding in there that end up making us feel hungry soon after eating them.  In fact, most of these bars have a large amount of sugar and fat, but not much protein and fiber, which are important for feeling full and stabilizing blood sugar levels in the body.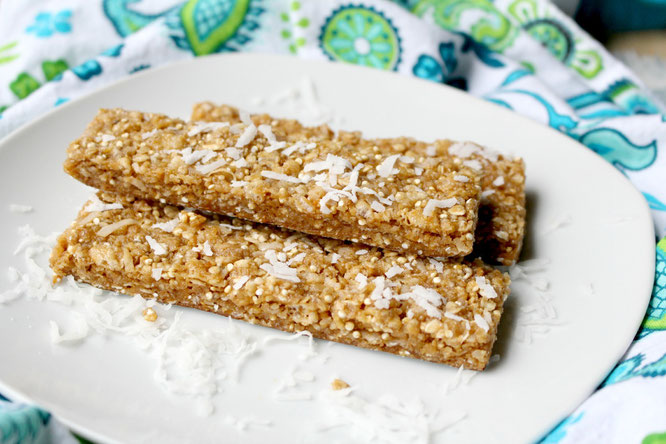 One recommendation I give to clients who want to choose a better granola bar is to compare the total grams of protein and sugar on the food label of the bar, and try to find one that has at least equal amounts of protein and sugar, or more protein than sugar.  Using this method is a quick way to weed out many of the very sugary and processed granola bars because some of the most popular brands can have numbers like 20 grams of sugar, and only 2 grams of protein per serving.  If you keep looking at different brands and flavor varieties, you'll find those with numbers more like 8 grams sugar with 8 grams of protein, which is a more balanced bar. 

Another important note on granola bars is checking the total calories per serving and making sure it fits into your meal or snack plan.  Most bars (even really healthy ones) can easily contain around 200 calories per bar.  This isn't a bad thing, but it's something to be aware of if you've had larger meals that day or plan on eating more than one granola bar in a day.  For those trying to lose weight, it can be a good idea to eat only 1/2 of a granola bar as a serving if it is a larger or more calorie-dense bar.  You don't have to go for low calorie bars, just portion a larger bar out correctly so you'll have more options to choose from.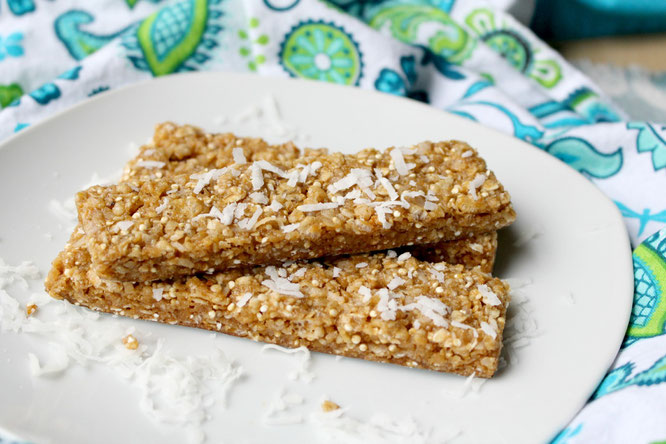 If you feel overwhelmed by all the options out there or just want something a little different, you can also make your own granola bars at home!  The reason I like doing this is that you have complete control over the quality of ingredients, save money, and can cut them into the portion sizes you want right from the start.  These bars can even be made well in advance, placed in little snack-sized baggies and frozen until you're ready to eat them. 

There were two goals in mind when I decided to create this recipe:  First, I wanted to make a chewy granola bar because everyone loves that soft, chewy texture, and I haven't ever (successfully) made chewy bars before. :)  And second, I wanted to make it vegan plus include extra protein to make this a filling bar that could actually substitute as a healthy breakfast option. 
I used Sunwarrior vanilla protein powder to add both flavor and a boost of complete protein, which is awesome because sometimes it can be challenging for vegetarians and vegans to get a source of complete protein in quick meals and snacks.  I also like that the Sunswarrior protein powder only contains healthy natural ingredients, has no artificial sweeteners, plus has some fiber in each serving.  Many protein powders out there do not meet my standards for "clean" and simple ingredients, but this one does!  It goes beautifully in this delicious chewy granola bar!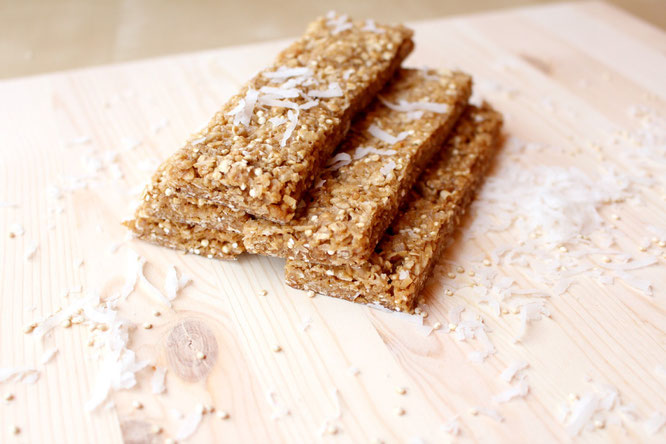 Chewy Vegan Coconut Granola Bars
Makes 16 bars
Ingredients:
1 cup quick oats

1/3 cup Sunwarrior Vanilla Warrior Blend vegan protein powder

1/4 cup ground flaxseed

1/4 cup brown sugar

1/2 cup brown rice syrup

2 tablespoons canola oil

1 teaspoon vanilla extract

2 tablespoon quinoa (uncooked)

1/2 cup unsweetened coconut

1/2 cup puffed rice cereal
Directions:
Preheat oven to 325 degrees.

Place all ingredients in a large bowl and mix to combine well.  The mixture should be moist, but will not come together in a ball. 

Press the granola mixture into an even layer covering a greased 8x8 baking pan.

Bake for 20-25 minutes or until the edges are lightly brown.  

Let cool completely.  Cut into 16 equal bars, and carefully remove each from the pan.

Store in an air-tight container up to one week, or place in individual bags and freeze up to two months.
Happy Eating!
~Amber
---