These chocolate banana overnight oats with chia seeds taste more like dessert than breakfast!  Just a few simple, healthy ingredients create this protein-packed and flavorful breakfast!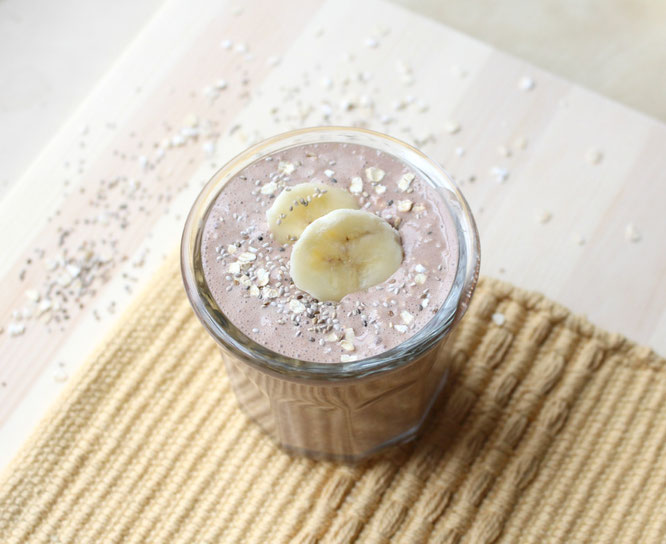 Breakfast...I've talked about the importance of eating breakfast before, but it's so important I'm going to say it again!  And it probably won't be the last time I do....breakfast is such an important part of the day, but so many people still don't eat it!  Every time I work with a client, one of the most important things I make sure they are doing over almost anything else is eating breakfast each day, because time and time again I see what a difference it makes in feeling great and success with weight management or weight loss. 
The two most common reasons people they tell me they don't eat breakfast is that they aren't hungry when they wake up or they don't have time to make anything.  Some people naturally wake up a little less hungry than other people, and that's okay!  Eating breakfast doesn't have to be a commitment to consuming a third of your daily calories in one sitting.  It's just important to at least get a little something in your system to boost your metabolism and help stabilize your blood sugars through the morning so you don't have any "energy crashes" before lunch.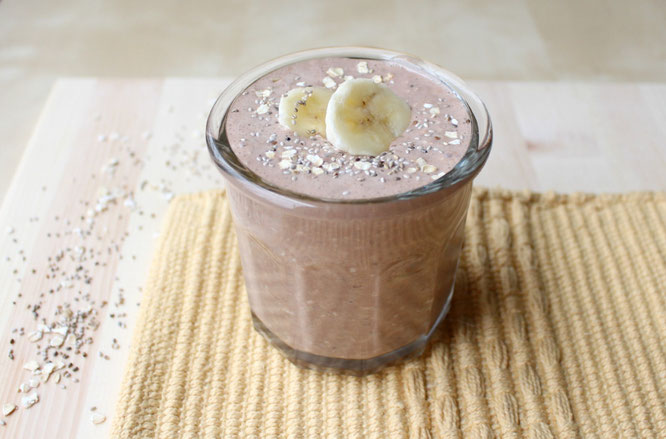 While some people do have smaller appetites in the morning, the bigger reason I've found that people say they wake up not feeling hungry is that they've eaten too much food too late the night before.  It's an interesting cycle:  First, they wake up not feeling hungry so skip breakfast.  This leads to feeling starving by lunch time, so they eat a really large lunch (because none of us make great food choices when we're super hungry).  This leaves them feeling stuffed and lethargic all afternoon, so they don't eat an afternoon snack, but instead, are really hungry by the time they get home from work.  So they eat a huge dinner, plus some late-night snacking, which leaves them feeling full when they wake up then next day.  Then they skip breakfast and the whole cycle starts again. 
When I've worked with people who struggle with this issue, starting them on a small breakfast each day begins to break this cycle.  Adding breakfast gives them energy and fuel to get through the morning and not overeat at lunch.  Adding a healthy afternoon snack, plus lighter dinner eventually leads to waking up feeling hungrier in the morning.  In as little as a few days to one week, I've had clients say that they feel so much better already, have more energy, and think more clearly in the morning.  Weight loss typically follows very shortly after because their meals for the rest of the day become more balanced.  It's a beautiful thing to witness every single time. :)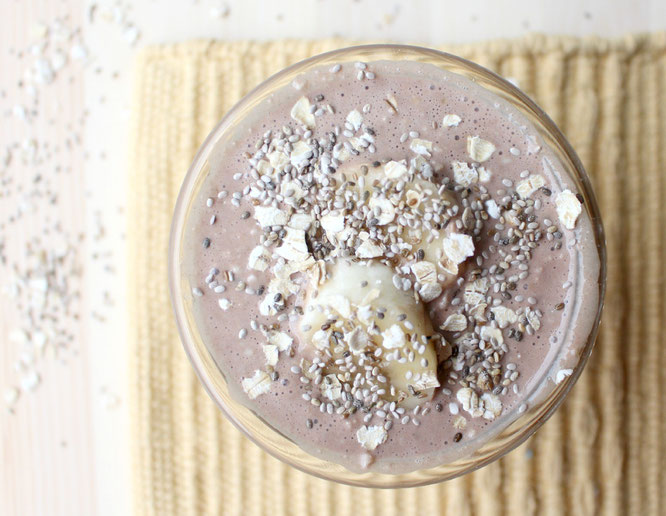 Then there's the time issue.  I know mornings can be rushed, especially when trying to get the whole family out the door on time.  So my biggest suggestion is planning ahead for breakfast as much as possible.  Some people do really well eating the same thing each day, such as having a staple go-to breakfast like a banana and KIND bar or nuts on their way out the door.  Other people are a little more adventurous and like some variety.  For those, this recipe is perfect!
I think the best thing about this recipe is that it's ready and waiting for you in the morning.  There's no guess work or thinking about what you'll eat for breakfast that day, and most importantly, no worrying about having time to make breakfast!  I recommend making the mixture in a bowl to combine everything well, then transferring it to a jar or other portable container that you can just grab on your way out in the morning.  Since it's supposed to be served cold, you don't have to worry about having a microwave or stove nearby; all you need is a spoon and comfortable place to sit while you enjoy this little bowl of sweetness for breakfast! PS - if you've got a smaller morning appetite, go ahead and split this breakfast into two separate containers and you'll have your morning meal for the next two days!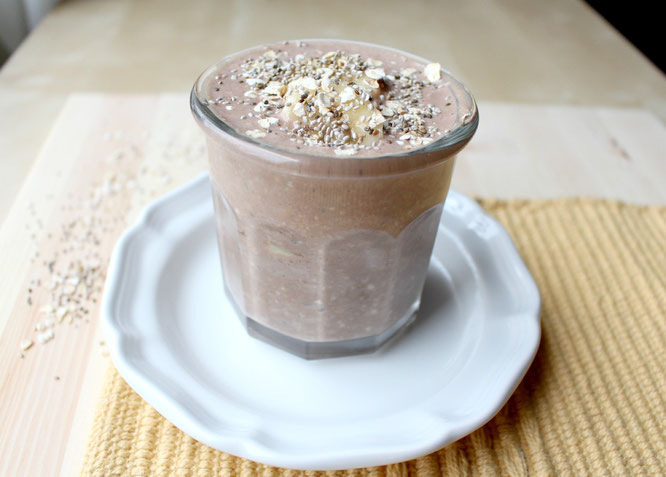 Overnight Chocolate Banana Chia Oats

Makes 1-2 Servings
Ingredients:
1/2 cup quick cooking (instant) oats

1 tablespoon chia seeds

2 teaspoons cocoa powder


3/4 cup milk of choice (1%, skim, almond, cashew, or soy)

1/2 cup plain Greek yogurt

1 tablespoon pure maple syrup or honey (can add more if needed)

1 banana, sliced

Directions:
Place the oats, chia seeds, cocoa powder, maple syrup, yogurt, and milk in a bowl .  Mix everything together. 

Cover and refrigerate for at least 2 hours or overnight.  Top with the bananas when ready to serve. 
Happy Eating!
~Amber
---