This creamy strawberry banana smoothie is packed with protein and has a bright flavor that is perfect for Spring!  Beautiful ripe strawberries make this smoothie extra special.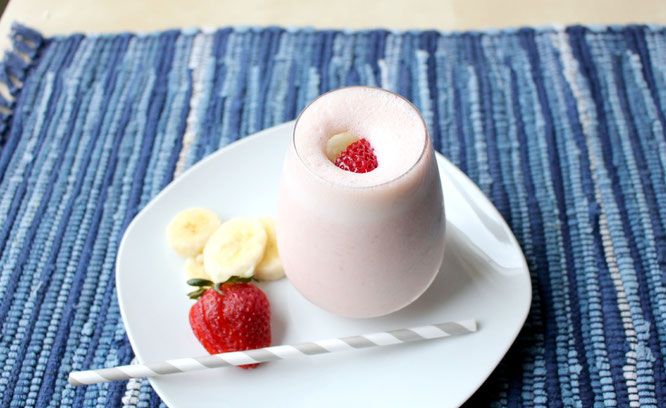 Spring is in the air which means plenty of delicious produce coming into season!  This became very apparent to me last week when I walked into the produce section of my grocery store and saw (and smelled) the most beautiful strawberries I've seen in quite  a while.  There are two really good ways to quickly determine which types of produce are in season at a particular time.   The first way is to use your nose!  Many of the fruits in season give off a sweet aroma that you can easily smell if you pick up the fruit.  Strawberries actually smell like strawberries, pineapple smells like pineapple, peaches like peaches...and so on.. :)  It means the fruit is really fresh and ripe, and probably hasn't had to travel across state or country borders to get to you.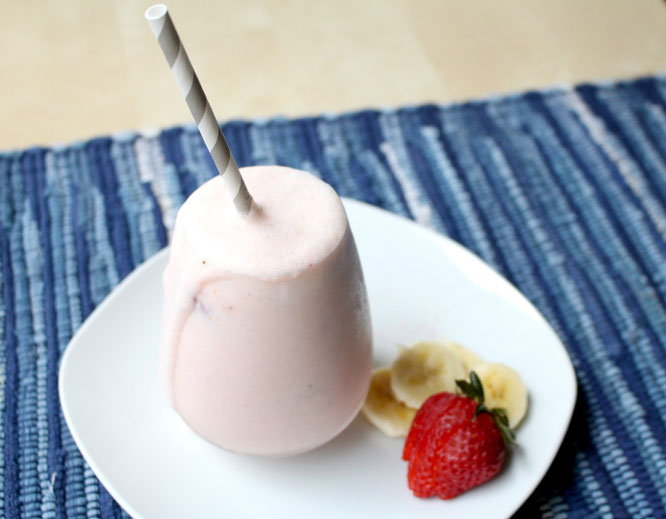 The other easy way to tell what is in season is taking a look at the price.  Usually produce  in season will be cheaper than it is the rest of the year due to the abundance available in your area.  For example, 2 pounds of strawberries in the winter is easily $4.00-5.00, but when they are in season, I can usually get 2 pounds (which is a lot!) for about $2.50.  The normal one pound containers most people buy are only $1.25 while strawberries are in season.  That's a huge price difference from when it's not the right time of year for them.  Not to mention they taste way better in the right season!  And if you've got any farmer's markets near you, this is the perfect time to head out there to start getting all the fresh produce you can find!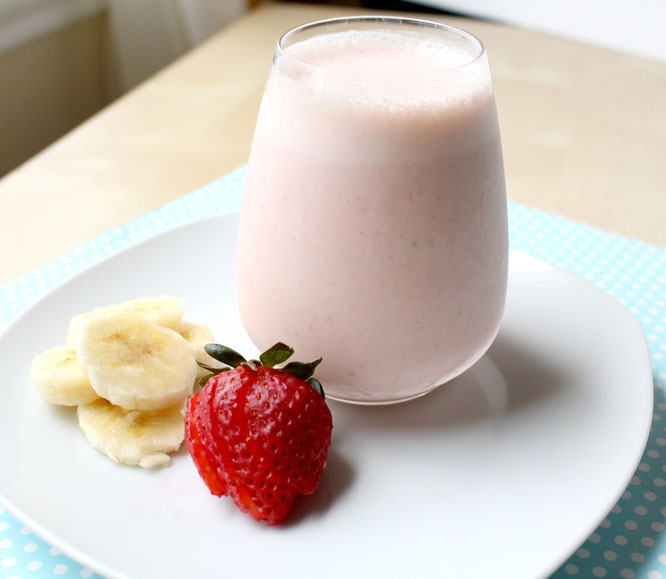 This smoothie brings out the beautiful flavor from fresh strawberries, but there is one special ingredient that really took this recipe from "eh" to "mmm!"  Lemon juice.  It's not something that you'd normally put in a smoothie, especially because there's already an acidic flavor coming from the orange juice.  However, when I made this recipe the first time, even through it was good, I knew it could be so much better.  Lemon and lime juice bring a special bright flavor to most foods, so I decided to see what would happen if a little lemon went into this smoothie.  It was magic!  It completely brought the other flavors to life and made this smoothie the delicious treat that I hoped it would be!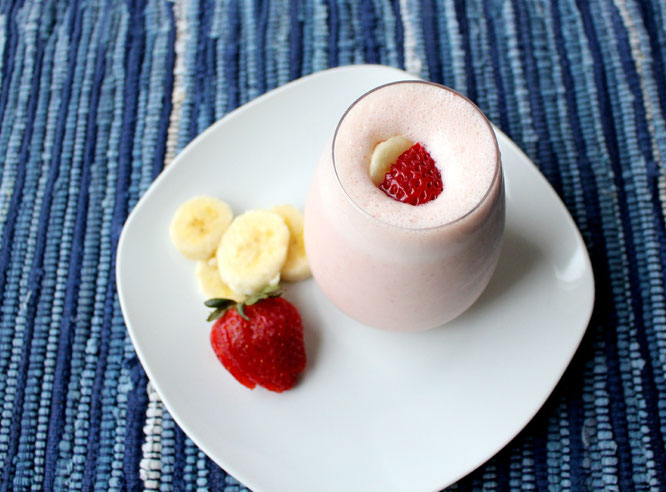 Creamy Strawberry Banana Smoothie
Makes 1 smoothie
Ingredients:
1/2 cup sliced strawberries


1/2 banana

1/2 cup plain Greek yogurt

1 tablespoon freshly squeezed lemon juice

1/4 cup 100% orange juice

1/4 cup water

2-3 ice cubes
Directions:
Place all ingredients in blender and blend at least one minute, or until completely smooth. 
Happy Eating!
~Amber
---
If you're into smoothies, check out my Smoothie 101 post, where I talk about my top tips for making the best smoothies!