This fresh mint pea pesto is full of flavor and is such a treat.  Use it as a spread on sandwiches and wraps or toss with pasta for a creative twist on everyday foods!

This isn't exactly a classic pesto.  Most pesto recipes use an herb as the base (not a vegetable) and include nuts and parmesan cheese.  But the beautiful thing about cooking is that you don't always have to follow the rules.  You can change things up to make foods come out the way you want them to.  This recipe has a veggie base (peas) and doesn't have any nuts or cheese, so it's also vegan.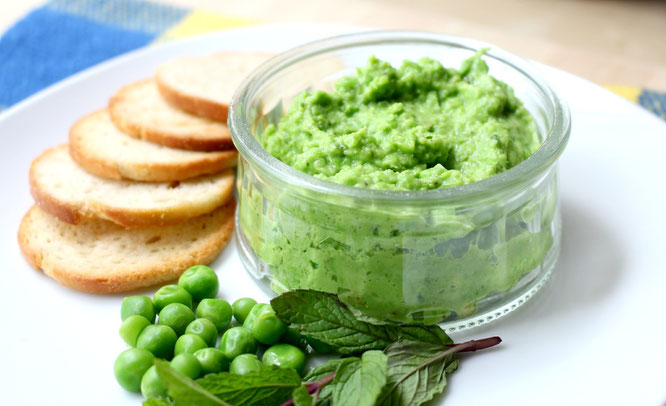 I have a beautiful fresh mint plant in my garden, and when I think of foods that taste good with mint, peas come to mind.  Peas are a really special vegetable.  Spring is a great time to get them fresh, although I often buy them frozen because they always seem to be perfect that way.  They are a good source of protein and fiber and have a mild, slightly sweet taste that means they go well with lots of different flavors and are also a very family-friendly veggie.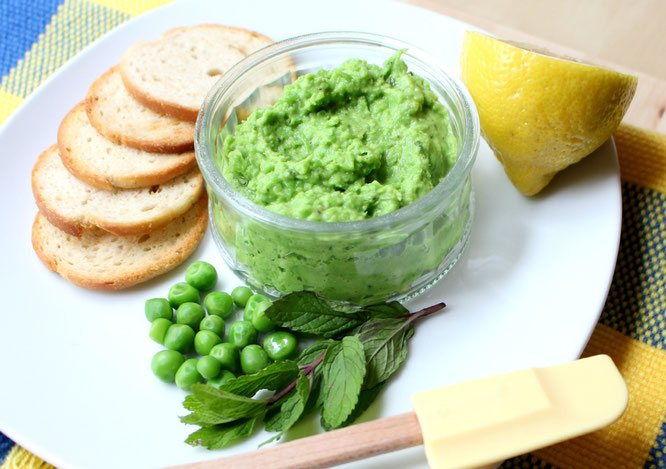 This recipe still follows the basic pesto procedure:  put everything in a food processor or blender then blend it to desired consistency.   Pretty simple, right? :)  Most people like a pesto that still has a few chunks in it for texture instead of blending to be completely smooth and creamy.  But that's up to you! 
If you don't have fresh mint around or want to try a different flavor, try fresh basil, parsley, or cilantro.  Dried herbs are usually just fine as a replacement for fresh herbs, but not in this pesto.  Fresh herbs are important for making this recipe taste fresh, so keep that in mind!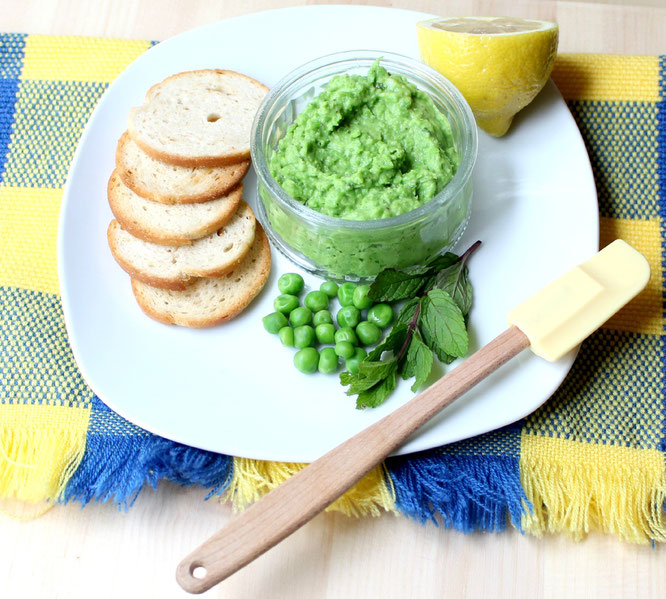 Fresh Mint Pea Pesto

Makes about 1 cup, or 4-6 servings

Ingredients:
1 cup fresh or frozen peas (thawed)

2 tablespoons chopped fresh mint*

1 teaspoon extra virgin olive oil

1/2 teaspoon garlic, very finely chopped or grated (about 1 small clove)

2 tablespoons freshly squeezed lemon juice (about 1/2 small lemon)

salt and pepper to taste
Directions:

Place all ingredients in a food processor or blender and pulse until the mixture is mostly smooth, with a few chunks left for texture if desired.  

Serve over whole grain crackers, baked chips, or use carrot sticks, celery sticks, cucumber slices, and cherry tomatoes for dipping.  This pesto also makes a great spread for sandwiches or wraps, and can even be tossed with pasta.  
*If you don't have fresh mint, fresh basil would be a tasty substitute.
 Happy Eating!
~Amber
---
---