Grilling vegetables is like roasting them, but with even more flavor.  These grilled vegetable tacos are a great delicious, light dinner for spring and summer.  Leftovers also reheat very well for lunch the next day!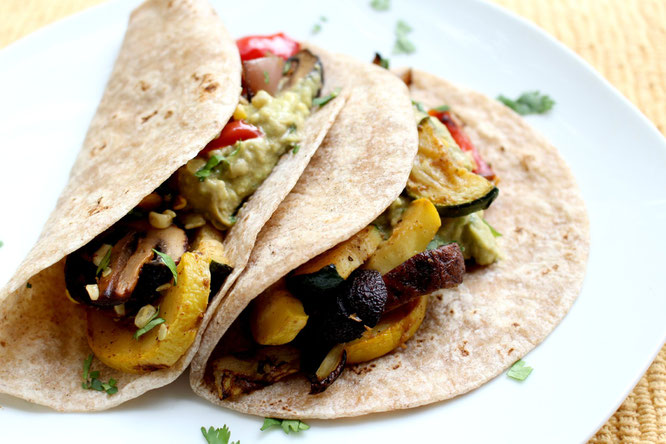 I love the versatility of vegetables.  Steamed veggies, boiled veggies, roasted veggies, sautéed veggies, raw veggies, grilled veggies... you get the idea! ;)  But so many adult clients I've worked with tell me they don't like vegetables, and when we get more into talking about it, I usually find out that they grew up eating only one or two kinds of vegetables, and usually only eat them either raw or boiled until they're super soft.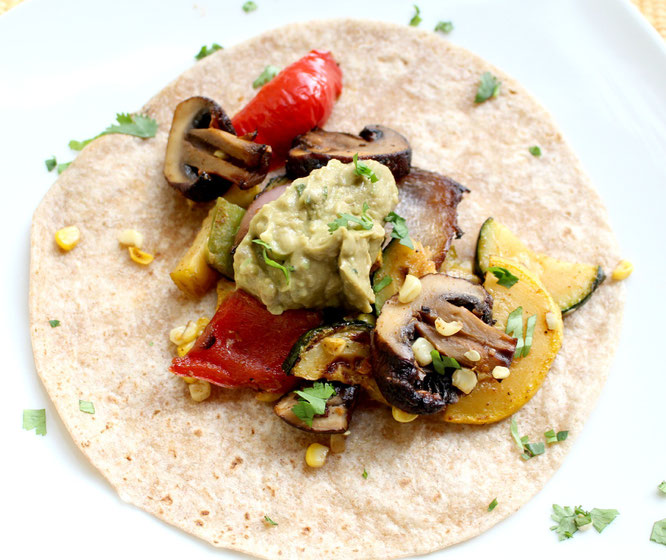 I like almost every vegetable cooked almost any way, but for those who think they don't like vegetables and haven't tried roasting or grilling them, you've got to try it.  It will change your the way you think about eating your veggies!  Cooking vegetables in the oven or grill causes them to caramelize and brings out a different flavor from each vegetable that you just don't get from boiling or steaming them.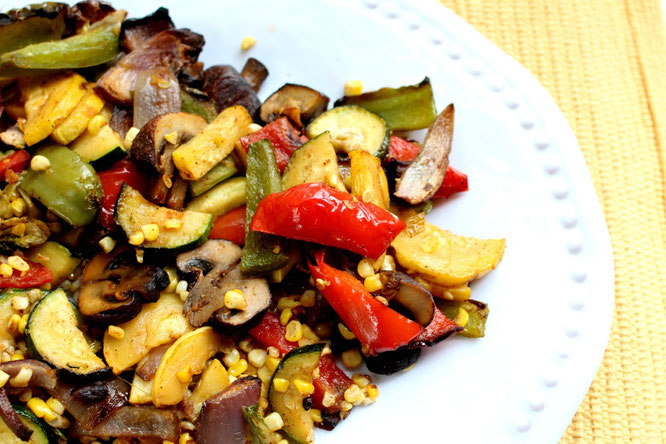 It's also important to try different vegetables.  You might find that you just don't really like broccoli, but you actually love radishes or beets.  Experiment with vegetables that are in season because that's when they taste the best, have the most flavor, and cost less.  Chances are with a little brave experimentation, you'll find a favorite new vegetable and way to cook it that makes you look forward to eating those veggies. 

This recipe is simple and packed with flavor.  It's also light but very filling and satisfying.  And if the weather is bad outside or you don't want to use the grill, you can also make these in the oven.  I used some of my favorite veggies here but feel free to substitute some of your favorites to make it your own!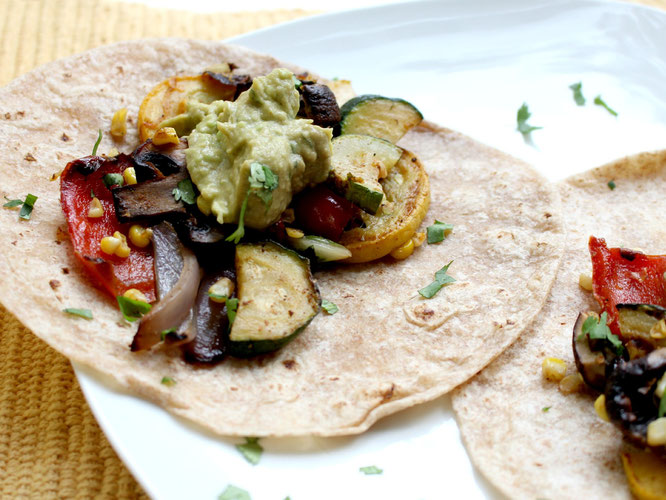 Grilled Vegetable Tacos

Makes about 6 servings, 2 tacos each

Ingredients:
4-6 wooden skewers

1/3 cup canola oil

1 teaspoon chili powder

1/2 teaspoon garlic powder

1/2 teaspoon onion powder


salt and pepper to taste



1 medium zucchini, sliced
1 medium yellow squash, sliced

2 ears fresh corn, husks removed or 1 cup frozen corn kernels

1 cup small mushrooms, stems removed

1 red bell pepper, cut into chunks

1 medium red onion, cut into chunks

12 corn tortillas or whole grain tortillas

1 cup sliced avocado or guacamole (check out my easy guacamole recipe)

Directions:

Preheat a grill to medium high heat or oven to 400 degrees.

In a small bowl, combine the oil, spices, salt, and pepper. 

Place the sliced zucchini, yellow squash, red pepper chunks, onion, and mushrooms on the skewers, leaving a small amount of space between each slice of vegetable on the skewers. 

Use a pastry brush or spoon to lightly coat all of the vegetables with the seasoned oil mixture.  Lightly coat the corn with the oil mixture as well. 

Place the skewers and ears of corn on the grill and cook for about 20-25 minutes, turning occasionally, until the vegetables are tender and caramelized and the corn is slightly charred.  If using the oven, bake for about 25-30 minutes, turning a few times during the cooking time. 

Remove the vegetables from the skewers and cut into smaller pieces if desired.  Cut the corn kernels off of the ears of corn.  Place all vegetables and corn in a bowl and toss to combine them. 

Heat the tortillas and top with the roasted vegetable mixture and avocado.  Serve with beans on the side.

*These vegetables keep well as leftovers, so you can make a large batch and have cooked vegetables ready to use for the rest of the week.  

Happy Eating!
~Amber
---
---