This easy homemade roasted red pepper hummus has just the right balance of flavors and a great texture to make it the perfect healthy snack, spread for sandwiches or wraps, or healthy alternative for game-day gatherings.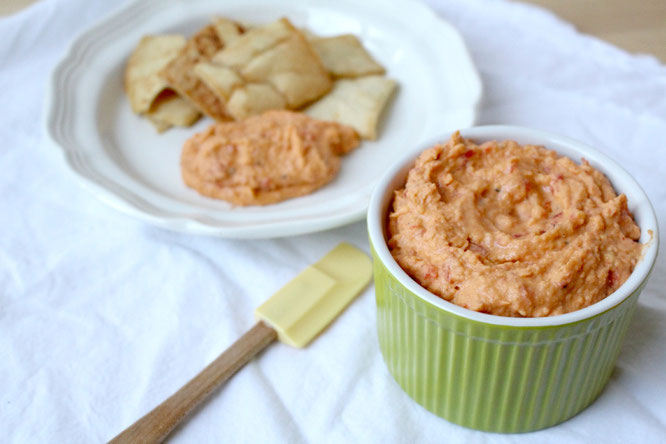 Making hummus is one of those things that can either result in one of the most delicious snacks you've eaten, or it can become like a science experiment gone horribly wrong where you end up with a gross, strangely flavored pile of mush.  Even though it is one of the easiest snacks to make, it's really important to get the flavor and texture just right to be happy with the end result.  I've made quite a bit of hummus, and this is one of my favorite versions because it just seems to come out perfect every time I make it, hence, the name... ;)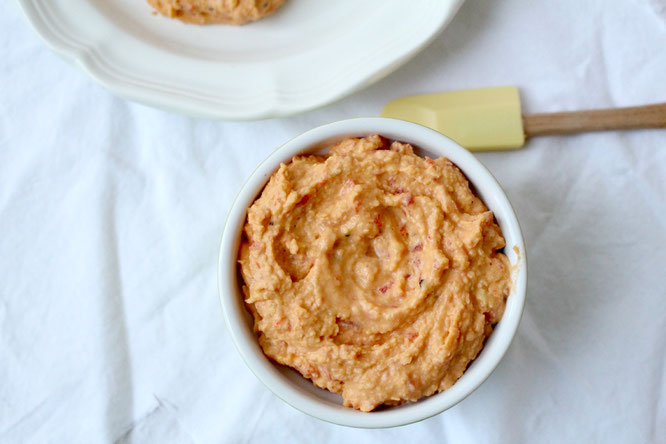 In general, hummus is a really healthy snack or spread.  It's basically pureed chickpeas (garbanzo beans) with some oil and spices, so it's packed with protein, fiber, healthy fat, vitamins, and minerals.  Where we seem to run into a bit of trouble is eating hummus that has a lot of extra oil, making the calories much higher than they need to be.  So one of the best ways to get the most out of hummus in terms of nutrition and flavor is to make it at home.  It takes just a few ingredients and a few minutes to make. 

The first step to making the perfect hummus is finding the right balance of flavors.  I've found that the best hummus recipes tend to have two things you really need:  an acid (such as lemon or lime juice) and a little healthy fat (tahini, a sesame seed paste, works really well for the perfect texture).  And actually, there is a third thing I almost forgot to mention - garlic!  It really adds that classic hummus flavor; but I prefer using garlic powder over fresh garlic for my hummus because I don't like having strong, overpowering chunks of fresh garlic in some bites while other bites don't really have much garlic flavor.  From these basics, you can experiment with different spices and additions, and puree the hummus to different textures depending on how smooth you like it. 

Once you master the art of making your own hummus, you won't go back to store-bought versions, so get that food processor out or blender, and give it a try!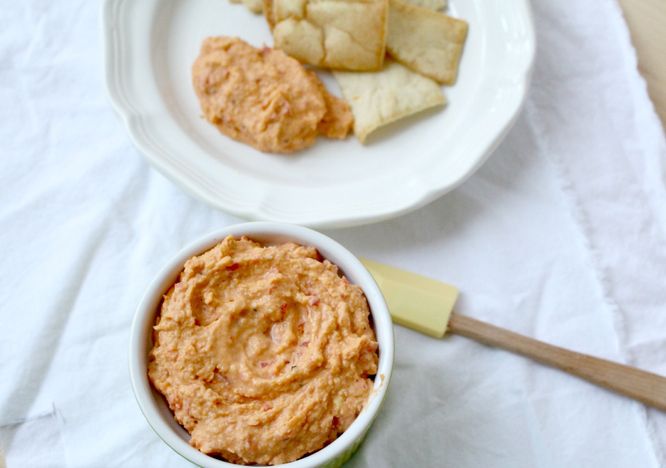 ---
Roasted Pepper Hummus

Makes 6-8 servings
Ingredients:
1-15 ounce can low sodium garbanzo beans (chickpeas), drained and rinsed

2 tablespoons tahini (sesame seed paste)

juice of 1/2 lemon or lime (I use lime)

1/2 cup roasted red peppers, drained

1/2 teaspoon garlic powder

salt and black pepper to taste
Directions:
Combine all ingredients in food processor or blender and pulse until the mixture is as smooth as you want it.  It can be completely pureed or left with a few chunks of beans.  If you like it smoother, add water 1 tablespoon at a time until you've got the consistency you like. 

Serve with pita chips, celery and carrot sticks, cucumber slices, or baked chips.   
Happy Eating!

~Amber

---