This semi-homemade Hawaiian pizza is all of the deliciousness of regular pizza without any of the guilt!

Homemade pizza is fun to make and can actually be really healthy since you have control over the ingredients that go into it. 
People often joke about pizza being a "healthy" food because it has most of the food groups (grain in the crust, tomato sauce for the veggie, cheese for the dairy, pepperoni for the protein).  The problem is, this is usually a highly refined grain crust, pepperoni that's filled with grease, salt, and nitrates, and tomato sauce really doesn't justify a full fruit or veggie serving. 
But with all of that in mind, it's easy to make a few healthy swaps and additions and end up with a delicious pizza that does actually have all 5 food groups (done the right way!).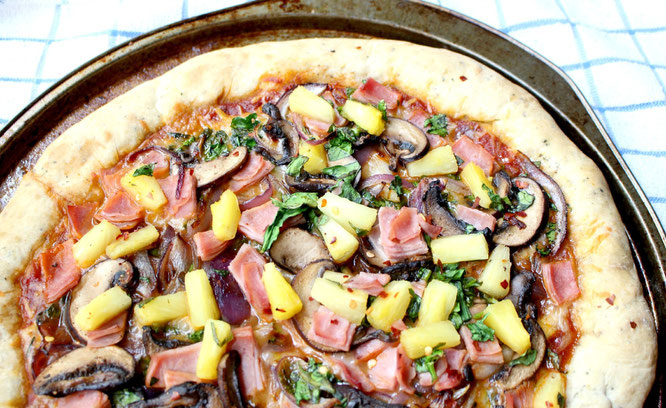 Sometimes I make my own pizza crust, but other times I just go with a store-bought pizza dough to save a bunch of time - which is the "semi-homemade" part of this recipe.  Trader Joe's has a really good whole grain pizza dough that is my normal go-to.  But you can get pizza dough at many grocery stores, and if they don't have dough available, you can usually find pre-cooked whole grain pizza crust options on the pizza sauce aisle. 
The toppings are what takes this pizza to the next level when it comes to being a healthier option.  I always load my pizza with veggies (even store-bought frozen pizza) because it adds a big boost of nutrition and also makes each slice more filling.  And a favorite in our house is Hawaiian pizza, which is typically a Canadian bacon-pineapple topping. 
I use a nitrate-free ham instead of the Canadian bacon because "sodium nitrate" is an ingredient associated with increased risk of colon cancer, and I have trouble finding Canadian bacon that's "nitrate free." But if you can find it, get it!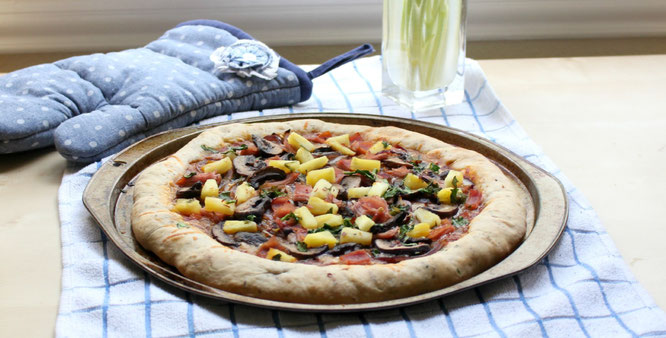 Next I use frozen pineapple chunks (no need to thaw them), and then quickly sautee some red onion and mushroom and add some spinach.  These add more bulk, flavor, and nutrition to the pizza.  All of these ingredients go so well together and make for one very satisfying pizza!  This is an awesome alternative for pizza night that they whole family will enjoy!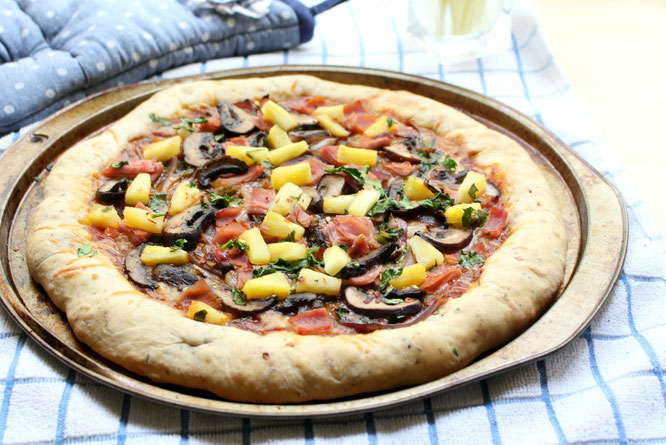 ---
Easy Semi-Homemade Hawaiian Pizzas
Makes 1-12-inch pizza (about 4 servings)
Ingredients:
1 store-bought pizza dough or cooked pizza crust (preferably whole grain)


1 cup marinara or pizza sauce
1 cup mozzarella cheese
4 ounces chopped nitrate-free ham or Canadian bacon, chopped

1 cup pineapple chunks, fresh, frozen, or canned
1 tablespoon canola oil

1 cup sliced mushrooms

1/2 cup sliced red onion
salt and pepper to taste

1 cup baby spinach, chopped
red pepper flakes (optional)
Directions:
Preheat a skillet over medium high heat.  Add the oil to the skillet, then add the mushrooms, onion, salt, and pepper, and sautee for about 5 minutes or until the vegetables soften slightly.  Turn off the heat and set the mixture aside.


Preheat oven to 375 degrees.  Roll the pizza dough out into a circle about 12 inches in diameter and place on a lightly greased baking sheet or ungreased pizza stone.  Spread the sauce evenly over the dough, then spread the cheese over the sauce. 


Add all of the toppings to the pizza, and sprinkle with red pepper flakes if desired. 

Bake for 20-25 minutes or until the crust is cooked and lightly golden and the the cheese is melted and bubbly.  Let the pizza cool for a few minutes, then slice and enjoy!

Happy Eating!
~Amber
---