This easy make-ahead breakfast recipe is packed with blueberry-walnut goodness and will keep you feeling full all morning!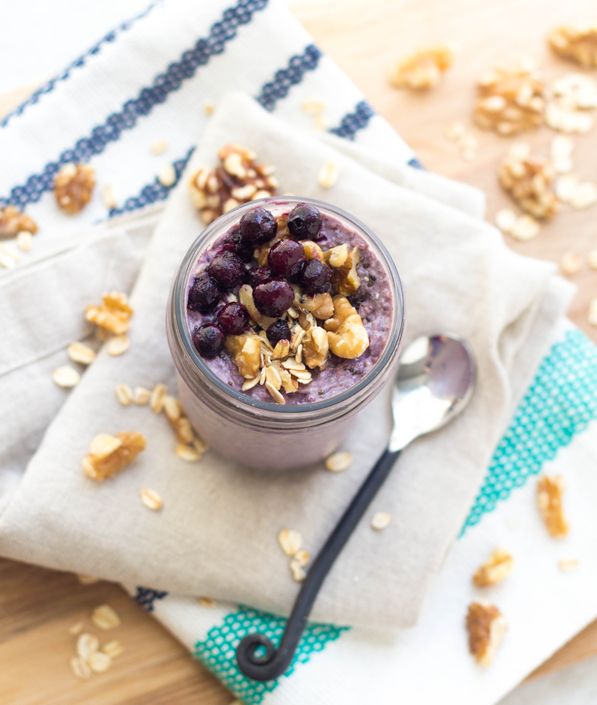 I received free samples of California walnuts mentioned in this post. By posting this recipe I am entering a recipe contest sponsored by the California Walnut Commission and am eligible to win prizes associated with the contest. I was not compensated for my time.
Breakfast is kind of a big deal when it comes to a healthy lifestyle, but most of the clients I work with don't put  much thought into how they start the day.  Eating a healthy breakfast that's packed with nutrition (especially protein, fiber, and healthy fat) is the best way to set yourself up for food-success for the rest of the day.  
So instead of skipping breakfast or eating a heavy fast food meal, it's important to find balance and have healthy recipes on hand that you can make ahead and will be ready to grab and go on a busy morning.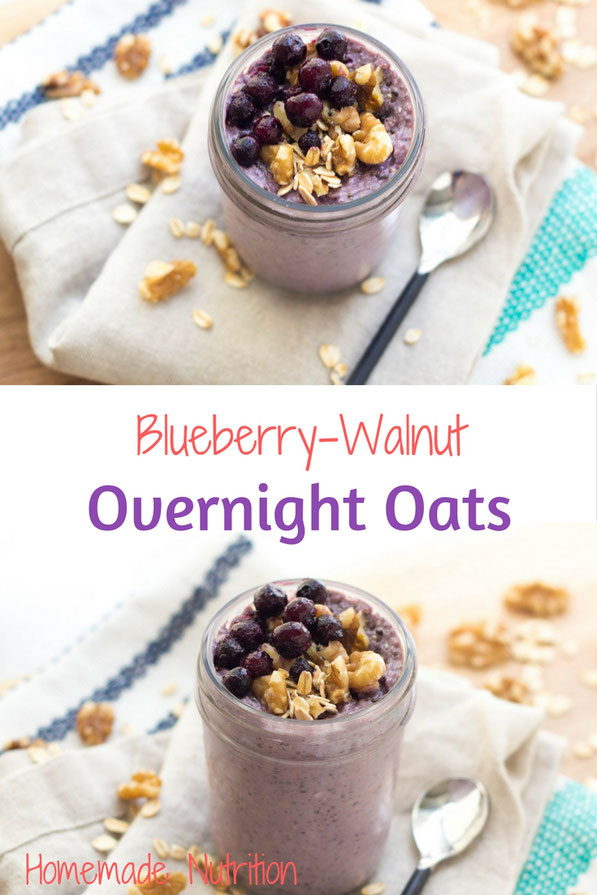 Enter, blueberry-walnut overnight oats.  I make overnight oats quite a bit as both a breakfast and lunch option.   Overnight oats are basically a cold "no cook" oatmeal, meaning you mix oats with some yogurt, liquid, and other ingredients for flavor.  Then you put them in a container, cover it, and refrigerate overnight. 
There's no active cooking involved; the oats will soak up the liquid and become tender overnight are ready to take out of the fridge and eat first thing in the morning.  You can also make the mixture in the morning before work, and they'll be ready by the time lunch rolls around.  It's the ultimate "healthy fast food!"
This version of overnight oats is great for so many reasons.  First off, it has a very rich, nutty, and slightly sweet flavor even though there isn't any added sugar in the recipe.  I like to blend blueberries, banana, walnuts, and yogurt together to make a blueberry smoothie base.  Then I mix the oats and some chia seeds into the blueberry mixture and pop in the fridge to "cook." 
Since the main ingredients are blended before adding to the oats, there's a well-balanced blueberry-walnut flavor in every single bite.  Plus it's a pretty purple color, which I think makes it even more fun to eat. :)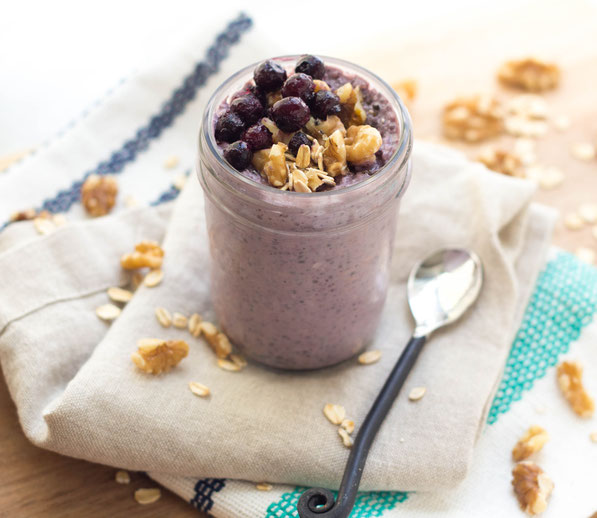 The next great thing about this recipe is the nutrition.  The combination of blueberries and walnuts basically takes two nutrition powerhouses and combines them into one very tasty and balanced meal. 
The blueberries are a good source of vitamin C, antioxidants, and fiber.  Walnuts are rich in heart-healthy plant-based omega-3 fatty acid plus 4 grams of protein and 2 grams of fiber per serving. 
That healthy fat, protein, and fiber combination is key for helping to stabilize blood sugar throughout the morning and keep you full for hours.  Another reason I love walnuts for this recipe (other than those heart healthy fats) is because they're a soft enough nut to blend well into the blueberry mixture.  
These overnight oats are also perfect for summer!  Lately I've been eating them as a breakfast/post workout meal because they're cold, creamy, and packed with healthy whole-food goodness.  The beauty of this recipe is that you can make it in advance and enjoy it anytime of the day!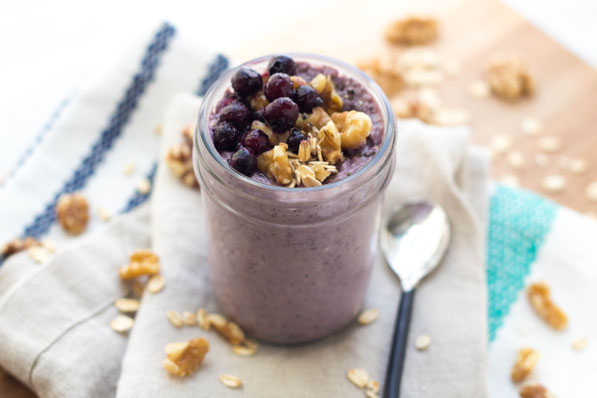 Blueberry-Walnut Overnight Oats
Makes 1 large or 2 small servings

Ingredients:
1/2 cup frozen blueberries
1/2 banana
1/4 cup chopped walnuts, separated
1/3 cup plain Greek yogurt
1/3 cup milk
1/8 teaspoon vanilla extract
1 tablespoon chia seeds
1/3 cup rolled oats
Directions:
Place the blueberries, banana, 3/4 of the walnuts, the yogurt, milk, and vanilla in a blender.  Blend until smooth. 
Pour the blueberry-walnut mixture into a bowl and stir in the oats and chia seeds.  
Pour the mixture into a jar or small serving container, top with remaining walnuts, cover, and refrigerate for at least 4 hours or overnight.  Serve cold straight from the refrigerator.  
 Happy Eating!
~Amber
---
---
---
Looking for some more walnut inspiration?  Check out these tasty recipes from fellow nutrition bloggers featuring walnuts!