This creamy vegan chocolate pudding with candied walnuts is the perfect healthy summer dessert!  It only takes a few minutes to make and is packed with flavor!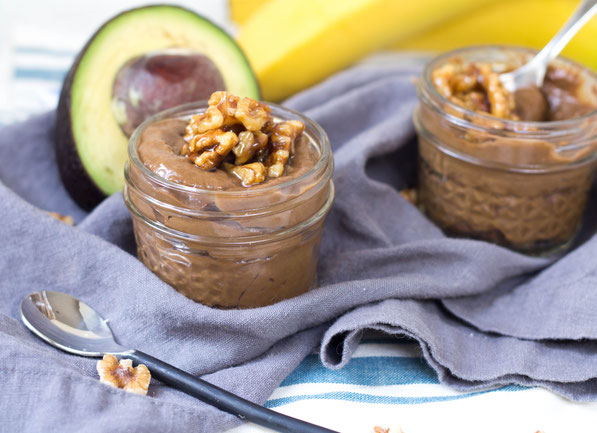 Disclosure:  I received free samples of California walnuts mentioned in this post. By posting this recipe I am entering a recipe contest sponsored by the California Walnut Commission and am eligible to win prizes associated with the contest. I was not compensated for my time.
This pudding has officially become a go-to summer dessert at our house!  The beauty of this recipe is that it's completely creamy and decadent, but it's made with natural, whole foods, so it's easy to feel good about enjoying it.  There are two very simple parts to this recipe (the pudding and the candied walnuts) but there's actually a whole lot of flavor and texture going on in the dish. 
I have to start off by saying candied walnuts = my new favorite thing.  Instead of a butter/sugar mixture to get that "candied" effect on the walnuts, I wanted to keep it simple and pretty light.  And the process couldn't be easier.  All I did was place chopped walnuts in a non-stick skillet, add a pinch of salt, splash of vanilla, and some pure maple syrup.  
Then I stirred the mixture until the excess syrup evaporated, leaving the walnuts coated in this sticky, sweet goodness.  I poured the walnuts on a silicon baking mat and spread them out to cool.  They will stay slightly sticky and tender, which I really like in this recipe because I think the texture and sweetness really complements the pudding.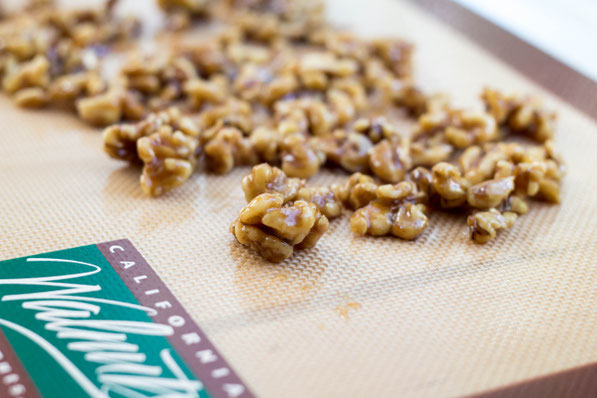 Now for that easy luscious pudding.  I absolutely love chocolate pudding, and I'm always looking for different ways to make it.  This is one of my favorite versions of chocolate pudding because it's really easy to make and requires no actual cooking.  
It's also one of the creamiest puddings out there because of the base ingredient:  avocado.  It sounds a little weird but when you blend avocado with banana, cocoa powder, pure maple syrup, and a splash of vanilla, something wonderful happens.  It becomes this creamy, light, mousse-like pudding that is so tasty!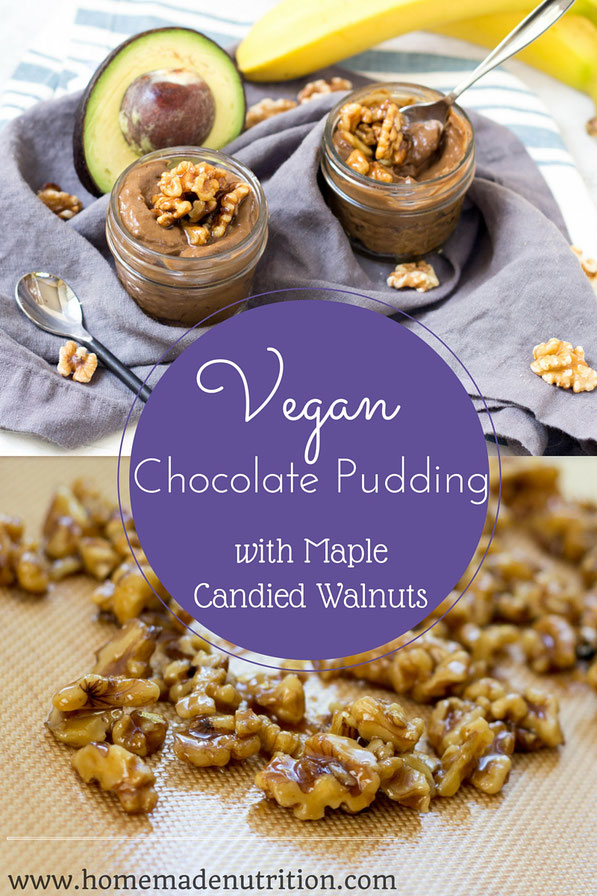 One of the other great things about this recipe is that it's completely satisfying thanks to all of the heart-healthy fat coming from both the avocado and the walnuts.  
Walnuts are a great source of plant-based omega-3 fatty acids.  Most of the time when I mention omega-3 fats to people, the first food they think of is salmon.  But there are wonderful plant sources of omega-3 too, which is especially important for those on a vegetarian or vegan diet.  
So whenever I have a chance to take another heart-healthy whole food like avocados and pair it with a source of omega-3 fats (like walnuts), it's a win-win in my books.  In addition to the healthy fat, a serving of walnuts actually contains 4 grams of protein and 2 grams of fiber.  Not many dessert recipes can boast all of this nutrition goodness!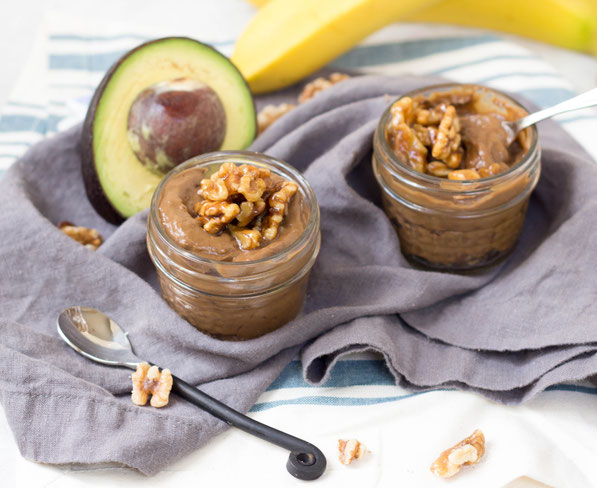 Walnuts are the perfect nut choice for these maple-candied nuts for a couple of reasons.  I really like that they're not too hard or crunchy like other nuts; there's just enough crunch to complement the soft creaminess of the avocado pudding.  And since there's also maple syrup in the pudding, it's basically a match made in heaven.  :)
I also like that the candied walnuts add a special element of sophistication to an otherwise very simple pudding recipe.  So it's something that can even be served to company.  It's pretty enough (and delicious enough) to impress without anyone knowing that not much effort went into the recipe!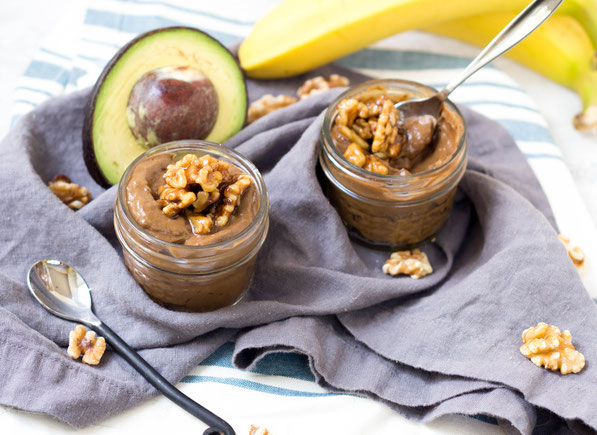 Vegan Avocado Chocolate Pudding with Soft Maple Candied Walnuts
Makes 4 servings

For the Pudding:
1 large avocado (about 1 cup)
1 banana
1 tablespoon almond milk or other non-dairy milk*
2 1/2 tablespoons cocoa powder
2 tablespoons pure maple syrup
1/4 teaspoon vanilla extract
For the candied walnuts: 
1 cup roughly chopped walnuts
pinch of salt
1/8 teaspoon vanilla
3 tablespoons pure maple syrup
Directions:
To make the pudding, combine all pudding ingredients in a blender or food processor and blend until smooth, stopping to scrape the sides of the blender/food processor as needed.
Place the pudding mixture into a bowl, cover, and refrigerate for at least an hour to let the pudding chill.  
To make the candied walnuts, preheat a small non-stick skillet over medium heat.  Add the walnuts, salt, vanilla, and syrup to the skillet, and stir continuously for 3-4 minutes or until all of the excess syrup has evaporated from the skillet.
Pour the walnuts onto a silicon baking mat or parchment paper and spread into an even layer.  Let them sit for at least 30 minutes to cool and set. 
To serve, divide the pudding mixture into four small serving bowls.  Top each with 1/4 of the candied walnuts and enjoy!
*you can use cow's milk if not keeping the recipe vegan
 Happy Eating!
~Amber
---
---
---
Looking for some more walnut inspiration?  Check out these tasty recipes from fellow nutrition bloggers featuring walnuts!