These easy summer platter salad featuring fresh watermelon is the perfect seasonal dish to bring to bring to parties!  It's simple, refreshing, and easy to customize to your taste!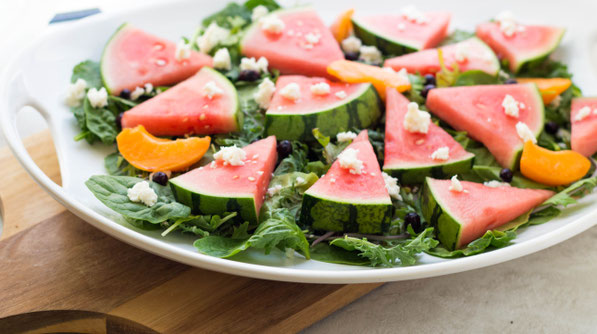 Summertime is the time for BBQ's, picnics, and fun times with family and friends.  Food is usually a central part of summer activities, so when it comes to figuring out what to bring when I'm going to family events, I always try to think of something that's fresh, but also easy to make.  Because less time in the kitchen means more time to spend with everyone!  
And nothing says summer quite like watermelon!  If I'm hosting a get together or going to one, I like to go out and get a personal–sized watermelon (I don't know why they call it that, because I feel like it still feeds a small army), slice it, put it on a platter, that's it!  Everyone loves munching on fresh watermelon, plus it's refreshing, sweet, and the perfect healthy treat on a hot day.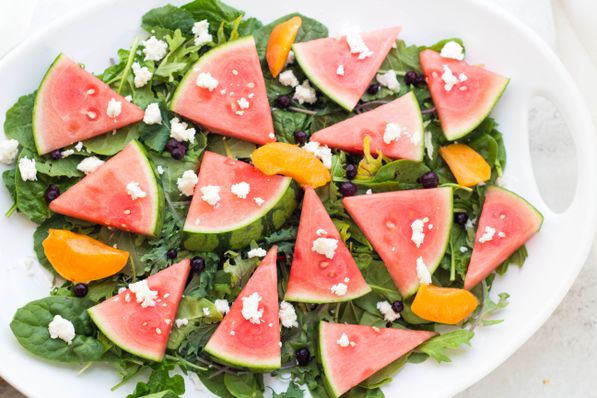 With this recipe, I decided to take my basic watermelon platter one step further, which is turning it into a "platter salad".  And I think this might actually be the easiest salad I've ever made.  It starts with spreading a bed of greens on the base of a large serving platter.  I top it with watermelon slices that still have the rind on because it's easier and I like that it adds a fun element of eating part of the salad with your hands.  But if you're going with a more fork-friendly salad, you can also cut the watermelon into bite-sized cubes. ;)
After  the watermelon, I like to add whatever fresh fruit is around – this time I had some blueberries and apricots on-hand, which made a great color contrast with the greens and watermelon.  I also added some panela cheese (which is similar to queso fresco).  You could also use feta cheese or goat cheese, which are also popular with watermelon, but personally I like the milder flavor of the queso panela or queso fresco. 
For the dressing, all you have to do is bring one or two bottles of your favorite dressings for people to choose from, and that's it!  Feel free to customize this platter salad with your favorite fruit and cheese.  Nuts would also be a tasty addition!  Everyone will love the combination of flavors, textures, and colors in this simple dish.  It really is the perfect summer salad. 
In the recipe below, I didn't write specific quantities of ingredients because it's really about assembling it the way you like with the seasonal ingredients that you enjoy!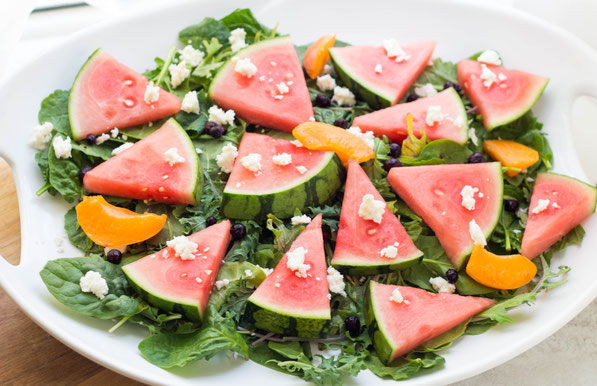 Easy Watermelon Platter Salad
Makes 6+ servings
Ingredients:
1 large bag greens of choice

Fresh watermelon slices
Fresh sliced peaches or apricots
Fresh blueberries or other berries of choice
Panela cheese, queso fresco, feta, or goat cheese
A variety of favorite bottled dressings of choice (a raspberry or balsamic vinaigrette would be great with this salad)
Directions:
Spread the greens out on the base of a large serving platter.  Top with the watermelon slices, fresh fruit, and cheese.  Serve with the dressing of your choice.

 
 Happy Eating!
~Amber
---
---
---