This red, white, and blue fruit platter with yogurt dip is a simple, delicious, and healthy four- ingredient patriotic appetizer!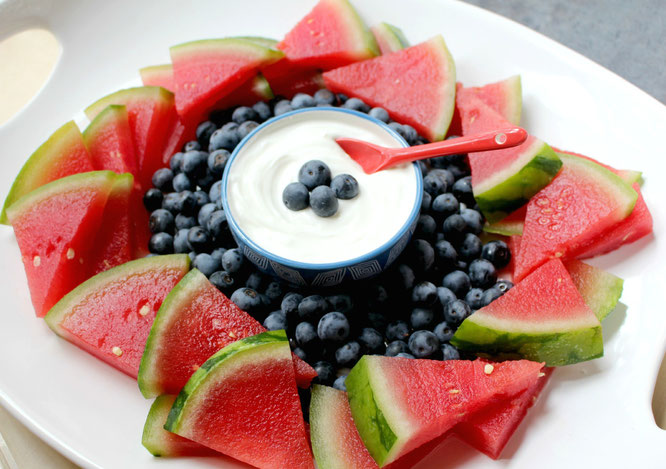 Holiday gatherings with family and friends are always a great time (especially in the summer!), but they aren't always filled with the healthiest food options.  If you're trying to watch what you eat and make healthier choices, it can be really challenging to stay on track at these celebrations.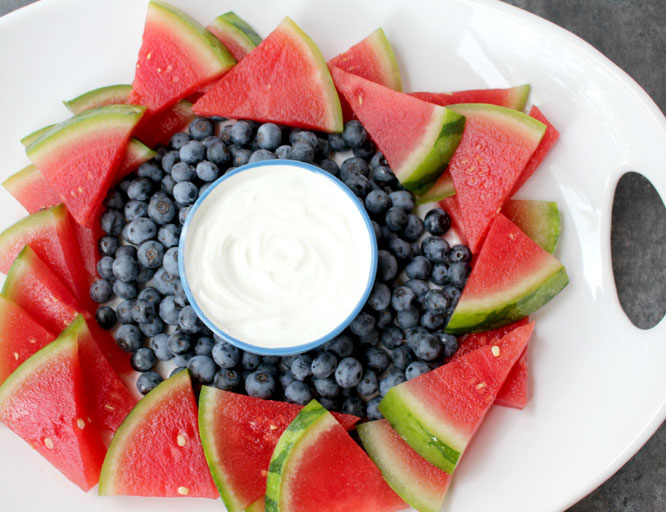 So here's an idea for a fresh appetizer that is so easy to make it really doesn't even need a written recipe - but don't worry, I wrote it out anyway just to take out any of the guess-work. ;)
As you've probably guessed from the pictures, the red and blue come from fruit in this recipe, and the white is a Greek yogurt dip mixed with a little bit of brown sugar to give it an extra-special touch that everyone will enjoy.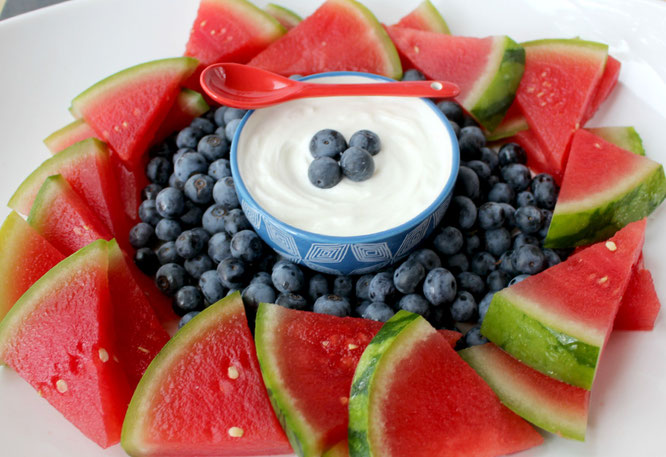 You can add any sweetener you like - honey and maple syrup are generally my go-to sweeteners, but if you've never tried brown sugar mixed into yogurt, it is absolutely delicious.  There's just something really nice about the texture and mild molasses flavor that goes really well with yogurt and as a fruit dip.  

You could also use your favorite jam for more of a fruit flavor to this yogurt dip, just keep in mind that it will change the color of the yogurt, so it might lose some of the "flag" effect.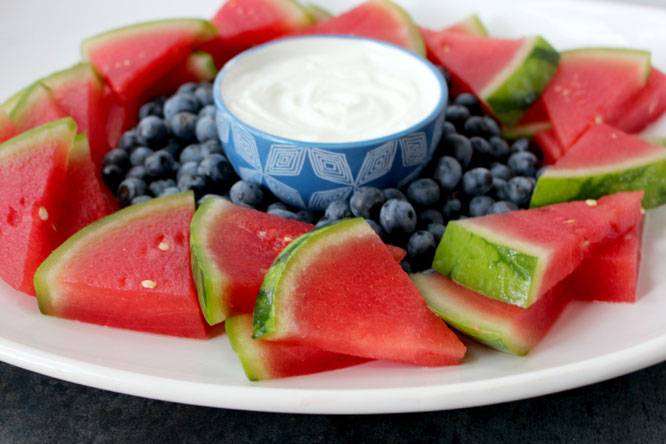 I chose watermelon and blueberries for this recipe not only because they're red and blue, but also because they are both in season right now so summer is the perfect time to take advantage of these beautiful, ripe fruit options.  You can also choose other in-season fruits if watermelon isn't your favorite.  

Strawberries and cherries are also in season during the summer months and would work really well here.  Customize this platter to your taste, and enjoy a lighter dish that will help everyone eat just a little better this summer!

Red, White, and Blue Fruit and Yogurt Dip Platter
Makes about 8-10 servings

Ingredients:
1 cup plain Greek yogurt

3 tablespoons brown sugar, honey, or pure maple syrup
1 small watermelon, cut into small slices or chunks
1 pint blueberries 
Directions:

Add the brown sugar or other sweetener to the yogurt and mix well to combine.  Place the yogurt dip in a small bowl in the center of a large platter. 
Spread the blueberries in an even layer all around the yogurt dip.  Then place the watermelon slices in a circle around the blueberries.  
Happy Eating!
~Amber
---
---