These easy gluten-free blueberry walnut banana pancakes are a delicious, high-protein breakfast treat!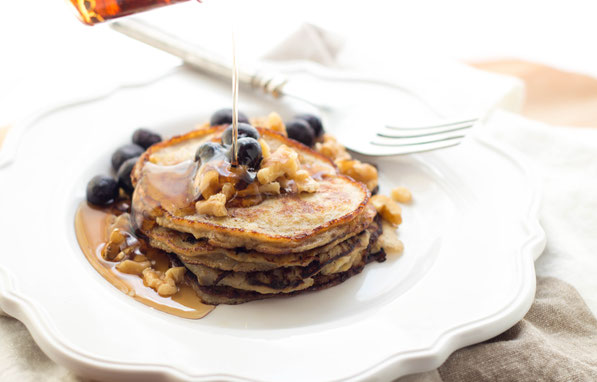 Banana pancakes.  They've been kind of a big deal in the world of healthy recipes lately because they only have two main ingredients:  bananas and eggs.  But I have to admit I was skeptical that bananas and eggs could turn into pancakes, so I hadn't tried them.  But my lovely friend Shannon from Kiss in the Kitchen made these banana beauties on her blog a few months ago and told me that they actually do taste like pancakes and that they're a must-try.
So when I saw the theme for this month's Recipe Redux was making a recipe from a fellow Recipe Redux nutrition blogger, these banana pancakes were the first thing that came to mind!  So finally, after months of hearing how easy and tasty these are I decided to try them.
And I was really (pleasantly) surprised!  Bananas and eggs (plus a touch of oil and baking powder) actually do make "pancakes!"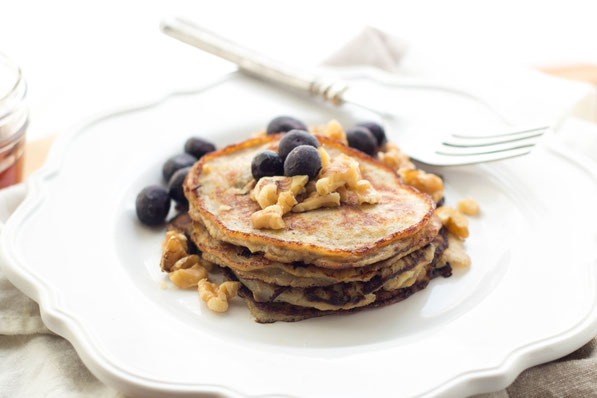 This recipe comes together in just a few minutes, and it's free of flour and added sugar plus high in protein thanks to the eggs.  Shannon uses 2 eggs to 1 banana for these pancakes for a serving, which is super filling and makes one very pretty stack of pancakes.  :)
These pancakes were awesome on their own, and it inspired me to add a few extra ingredients to make them extra-special:  cinnamon, blueberries, and walnuts.  I absolutely love cinnamon in pancakes because I happen to think cinnamon is one of the best flavors to complement pure maple syrup.   And maple syrup is one of the reasons I like pancakes as much as I do.... ;)
If you're a fellow lover of pancakes and bananas, you've got to try these!  And don't forget to head on over to Shannon's blog Kiss in the Kitchen for the original recipe plus lots of other tasty creations!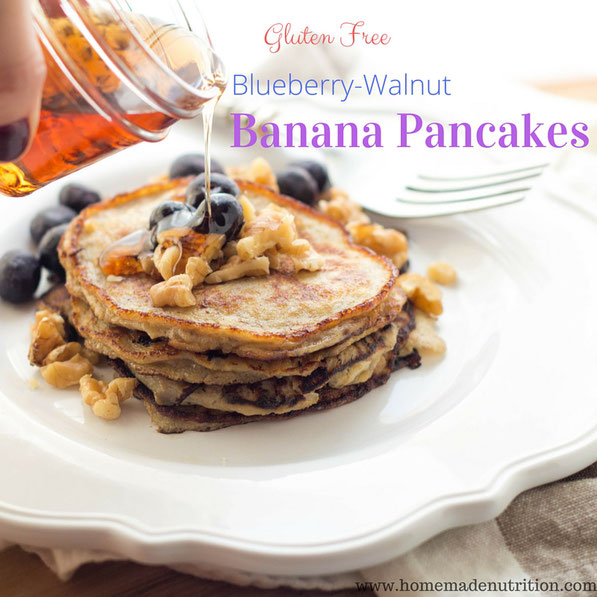 Gluten Free Blueberry-Walnut Banana Pancakes
Makes 1 serving 
Ingredients
non-stick cooking spray

1 large ripe banana (lightly spotted)

2 large eggs
1 tablespoon coconut oil, melted 
1/8 teaspoon cinnamon
1/8 tsp baking powder
blueberries, chopped walnuts, and pure maple syrup for topping
Directions: 
Mash banana with a fork

in a

 medium-sized bowl.

Add the eggs, oil, cinnamon, and baking powder and mix well until all ingredients are almost frothy.
Heat a non-stick skillet on medium-high, spray with cooking spray, and add about 3 Tbsp of batter (use a small ladle or 1/4 cup measuring cup filled a little more than halfway).  The batter should sizzle immediately.
Once bubbles begin to form on the pancakes, carefully flip them and cook for 1 more minute. Remove carefully, top with the blueberries, walnuts, and pure maple syrup and enjoy while warm!
 Happy Eating!
~Amber
*Recipe inspired by and adapted from Kiss in the Kitchen's Three-Ingredient Banana Pancakes
---
---
---
Check out these tasty recipes from fellow nutrition bloggers!