Easy, whole grain fried rice is the perfect hearth-healthy vegetarian lunch or dinner!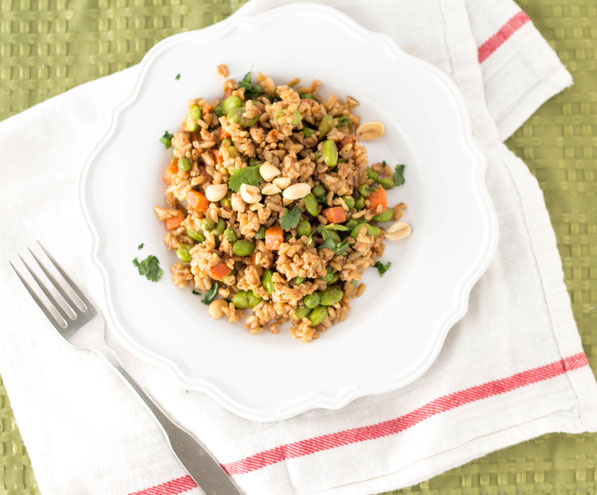 Fried rice is a tasty treat, but it's usually not very healthy.  Even though it looks brown in color, fried rice is typically just white rice that's been "fried" in oil with some soy sauce and a few veggies mixed in.  
It's actually really easy to make this dish at home, which means you also have more control over the ingredients that go into it.  The biggest change to this fried rice recipe is that the base is brown rice instead of white rice.  Brown rice is a whole grain, so it has more fiber, protein, and overall nutrition than white rice.  I've also made this recipe with barley; if you're interested in learning more about barley, check out this barley fried rice recipe. 
---
---
I use frozen edamame and peas and carrots for easy veggies that go perfectly with this fried rice...and I use more veggies than the typical fried rice.   I think more veggies add much more flavor, texture, and color that's really good here.  I like topping this fried rice with chopped peanuts and cilantro for some extra flavor and crunch at the end.  It's a delicious meatless meal that comes together in minutes!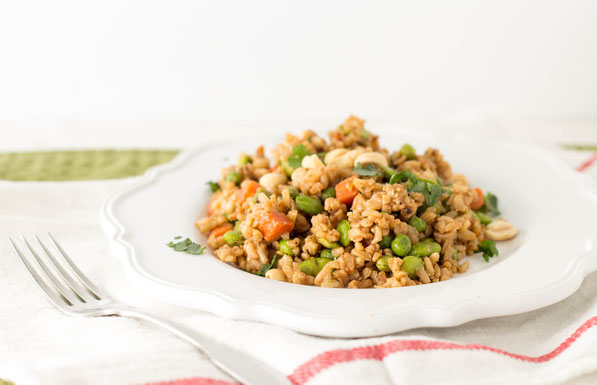 Whole Grain Veggie Fried Rice
Makes 4-6 servings
Ingredients:
1 teaspoon unsalted butter

2 large eggs, cracked and mixed in a small bowl

1 tablespoon light olive oil, separated

4 green onions, sliced

2 cloves garlic, chopped

salt and pepper to taste

1 cup frozen edamame (shelled)

1 cup frozen peas and carrots

3 1/2 cups cooked brown rice*

1/4 cup low sodium soy sauce

1 teaspoon sesame oil

red pepper flakes to taste (optional)
Optional toppings:
chopped cilantro

chopped peanuts
Directions:
Heat a large cast iron or nonstick skillet over medium low heat.  Melt the butter, and cook the eggs until they are scrambled and just barely cooked through.  Remove the eggs from the skillet and set aside.

Turn the heat up to medium high, add 1 teaspoon of the oil, then add the onion, garlic, salt and pepper.  Cook for about 5 minutes or until the onion begins to soften.  Add the edamame and peas and carrots and cook for about 2 more minutes. 

Add the remaining 2 teaspoons of oil, then add the brown rice.  Stir the mixture, then let it sit for about 1 minutes, then stir again and let it sit for another minute (this is to allow the barley to brown).  Repeat 2-3 more times. 

Finally, add the soy sauce, sesame oil, red pepper flakes (if using) and cooked egg and mix to combine everything.  Remove from heat.  Top with chopped cilantro and peanuts for garnish. 
*Pre-cook your rice a day or two in advance for the best texture for the rice and to save time. 
Happy Eating!
~Amber
---