This whole grain yogurt parfait has a unique texture from using cooked whole grains, such as brown rice, farro, or barley.  It's packed with protein and probiotics from the Greek yogurt, sweetness from fresh fruit, and a crunchy bite from almonds.  This is a fantastic vegetarian meal anytime of the day!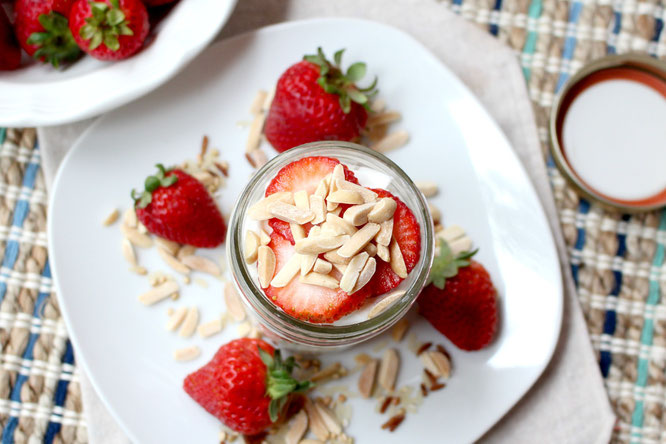 There are several reasons why I love this meal.  First of all, it's simple, affordable, easy to make, can be stored in the fridge for a few days, and very portable so it's perfect for breakfast on the go or a healthy, fresh lunch option on a busy work day.  
This is also a highly customizable recipe - so you can make it however you like!  The first component of the meal is the grain.  I've talked about the benefits of whole grains before, but here's a refresher on them:  whole grains are packed with B vitamins, which are important for energy, soluble fiber which is great for digestion and may help lower cholesterol, protein, and they are considered a source of complex carbohydrates.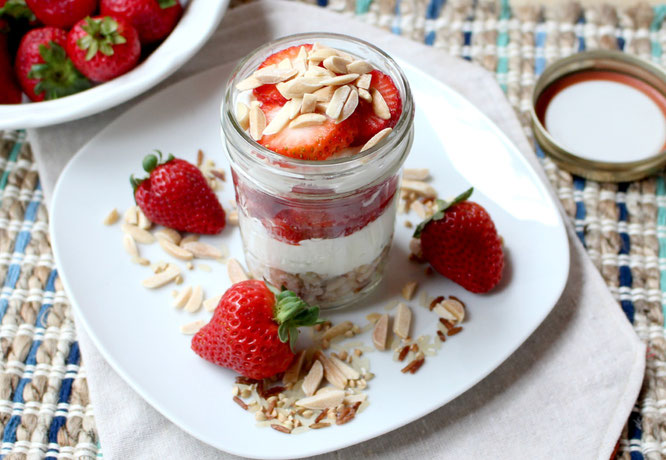 Complex carbohydrates are those that take longer for the body to digest (because of the fiber and protein) so they don't cause the same spike in blood sugar levels as eating a slice of white bread or sugar would.  And if you choose to make this meal gluten free, just use a gluten free grain like brown rice, quinoa, or buckwheat.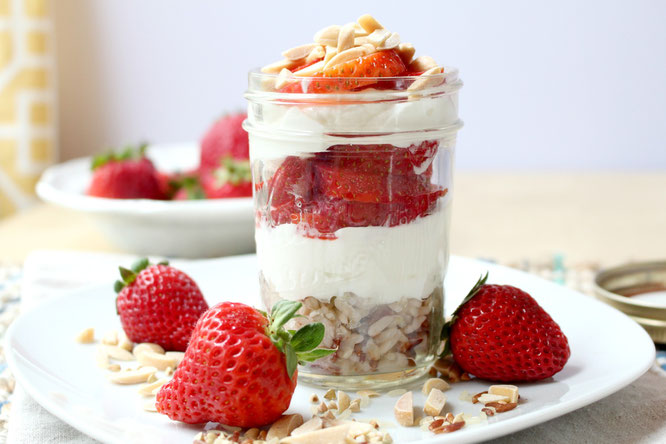 Whichever grain you choose, I recommend using a quick-cooking version to save time.  Whole grains can take a really long time to cook from scratch (usually anywhere from 45-90 minutes depending on the grain).  But because people are getting interested in different whole grains that we didn't used to eat much, most grocery stores now carry quick-cooking or "par-boiled" versions of a variety of grains.  
"Par-boiled" simply means it's been partially cooked then dried so that when you're ready to cook it, the cooking time is drastically shorter.  Where I shop, they've got all sorts of these quick-cooking whole grains located right on the same aisle as the rice.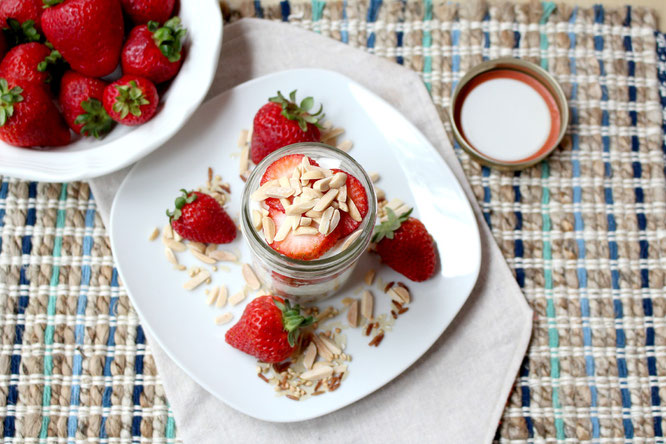 My favorite whole grain for this recipe is farro, and barley is also delicious.  This time, I decided to try a new grain combo I saw at the store - brown rice, red rice, and buckwheat.  This is a recipe I make fairly often, so I like trying new and different combinations of grains, fruit, and nuts in it.  So use the grains you like!  Just make sure it's a whole grain, and make sure whatever you buy has no salt added - and don't add any salt when you cook it, or it will be gross.  ;)
When you mix the grains in with the yogurt, it gives the yogurt a really interesting, hearty texture and also nice nutty flavor from the grains.  You can use whatever unsalted nuts you like in this recipe - nuts are an excellent source of heart-healthy, filling fat and fiber plus add a delicious crunch to this dish.  This meal makes the perfect satisfying breakfast or lunch on the go.  Make it the night before so it will be waiting for you in the morning!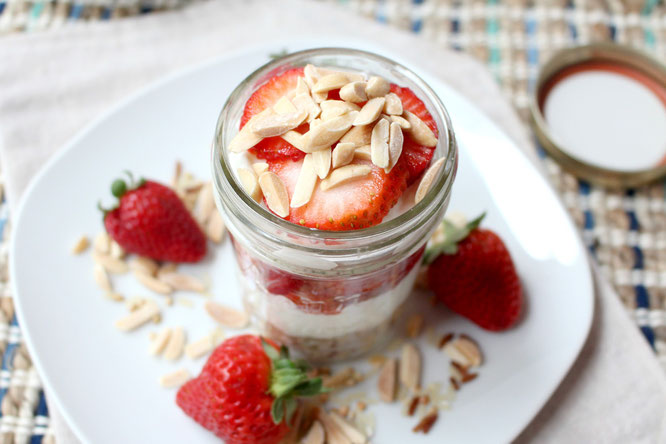 Whole Grain, Fruit, and Yogurt Parfaits

Makes 2 servings

Ingredients:
1/2 cup dried quick-cooking grain of choice (brown rice, farro, barley, buckwheat, or a combination of grains)

1 1/2 cups plain Greek yogurt

1/4 cup jam of choice  or honey (optional)

2 cups berries of choice

1/2 cup sliced or slivered almonds
Directions:

Prepare the grains according to package directions.  Once cooked, let the grains cool completely or place in a colander and rinse with cold water until they have cooled completely. 




In a medium bowl, combine the yogurt and jam or honey (if using) and mix well. 

To assemble the parfaits, layer the grains, yogurt, fruit, and nuts in a jar or bowl (3/4 cup yogurt, 1/2 cup cooked grains, and 1 cup fruit per parfait) - you can make as few or as many layers as you want or just mix everything together. 

Serve immediately or refrigerate overnight.  Enjoy!
Happy Eating!
~Amber
---
---