These easy Asian-inspired beef lettuce wraps are a high protein, gluten-free meal that's packed with flavor and freshness; perfect for keeping things lighter for Spring!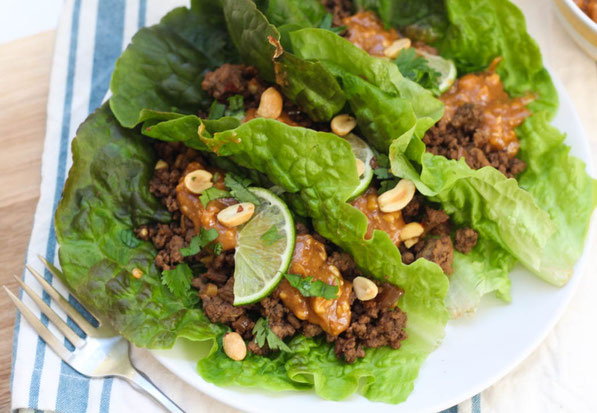 Hello friends, and happy spring! This is one of my favorite times of year because the flowers are blooming and fresh spring veggies are coming into season...just a beautiful time of year! 
And I think the start of spring calls for a beautiful, fresh new recipe!  Which brings us to today's dish:  Asian beef lettuce wraps - these little beauties are absolutely delicious and very filling thanks to the protein-packed beef base.  
The inspiration for this dish came from this month's Recipe Redux theme:  "Cook with at least 3 ingredients that are actually in your refrigerator or pantry right now. Try not to go to the store to buy anything new,"   which sent me scrounging through the kitchen looking for some tasty ingredients to use - and luckily, I didn't have to look very far!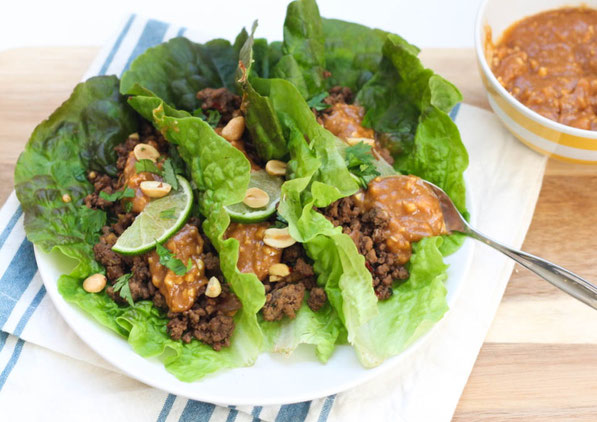 This year I've been focusing a lot more on cooking freezer-friendly meals (like my freezer-friendly oatmeal waffles) and keeping the freezer stocked with plenty of meal prep essentials for quick and healthy food options that are always on-hand.
And because of my recent freezer-adventures, I had a pre-cooked pound of ground beef hanging out in the freezer.  I also had gorgeous crawford lettuce (looks like red-leaf lettuce)  that came from my parent's garden (yay for home-grown produce!).  These leaves made the perfect gluten-free vessel for the filling in these wraps.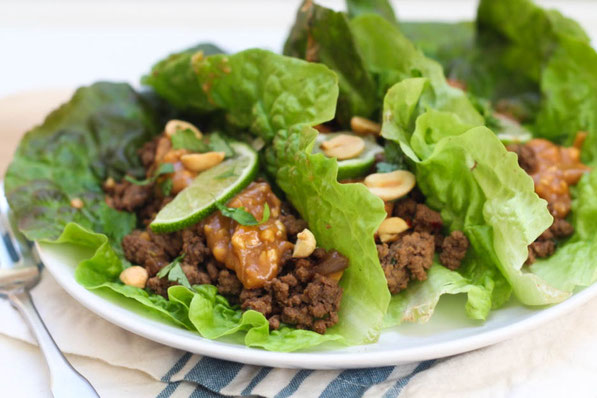 I used half of the pound of beef to make some freezer-burritos (recipe coming soon!), and the other half went into the skillet with some soy sauce, ginger, garlic, onion, red pepper flakes, and some lime juice, all of which I had in the pantry and fridge.  
Since the beef was already cooked, I actually just put it straight into the skillet from the freezer, added the recipe ingredients, and the whole meal was ready in under 15 minutes! 
While the beef mixture was cooking, I whipped up some peanut sauce in the food processor - I really like this recipe because it mostly uses the same ingredients that go into the beef wraps, so there's not much to do by way of getting extra ingredients out for it.   
 To assemble the meal, all you have to do is put some of the beef mixture into each lettuce leaf, top with the sauce, and that's a wrap!!  Sorry...couldn't help myself with the pun, but really, these lettuce wraps are so full of flavor - they're definitely a must-try! :)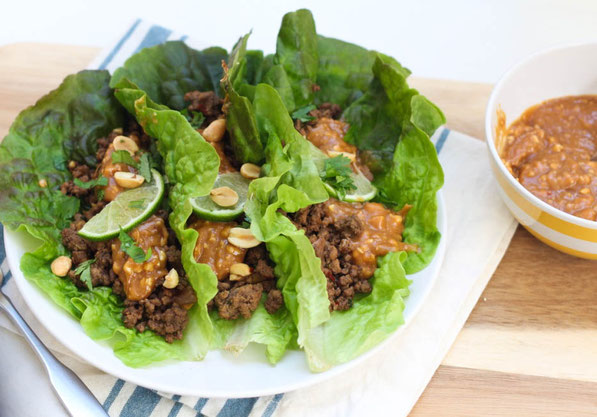 Gluten Free Asian Beef Lettuce Wraps
Makes 2 Servings
For the Beef:
1/2 pound cooked 90/10 ground beef (can also use raw)
1/2 cup chopped onion
1 tablespoon chopped fresh ginger
1 garlic clove, chopped
3 tablespoons lower sodium, gluten free soy sauce
2 tablespoons freshly squeezed lime juice (about 1 small lime)
Red pepper flakes to taste
1 teaspoon sesame oil
6 large lettuce leaves (red-leaf lettuce works nicely here)
fresh cilantro (optional)
For the Peanut Sauce: 
1/3 cup natural peanut butter

1/4 cup unsalted peanuts (reserve a few for garnish if desired)

1/4 cup low sodium gluten free soy sauce

1/2 teaspoon finely chopped ginger

1 garlic clove, chopped

2 teaspoons sesame oil

3 tablespoons sugar

2 tablespoons lime juice (about 1 small lime)
Directions:
Preheat a medium-sized skillet over medium-high heat.  If starting with raw ground beef, cook the beef in the skillet for 7-10 minutes, or until the  beef is cooked through.  Drain any excess fat.  If starting with cooked beef, place the beef in the skillet and heat for 2-3 minutes before adding the remaining ingredients. 
Add the onion, ginger, garlic, soy sauce, lime juice, red pepper flakes, and sesame oil to the beef and stir to combine.  Reduce the heat to low and let the ingredients cook for 5 more minutes. 
While the beef is finishing in the skillet, make the peanut sauce by combining all sauce ingredients in a blender or food processor and blending until mostly smooth. 
To assemble the wraps, Scoop about 1/4 cup of the beef mixture into each lettuce cup.  Top each with 1-2 teaspoons peanut sauce, garnish with cilantro and peanuts if desired, and serve! 
Happy Eating!
~Amber 
---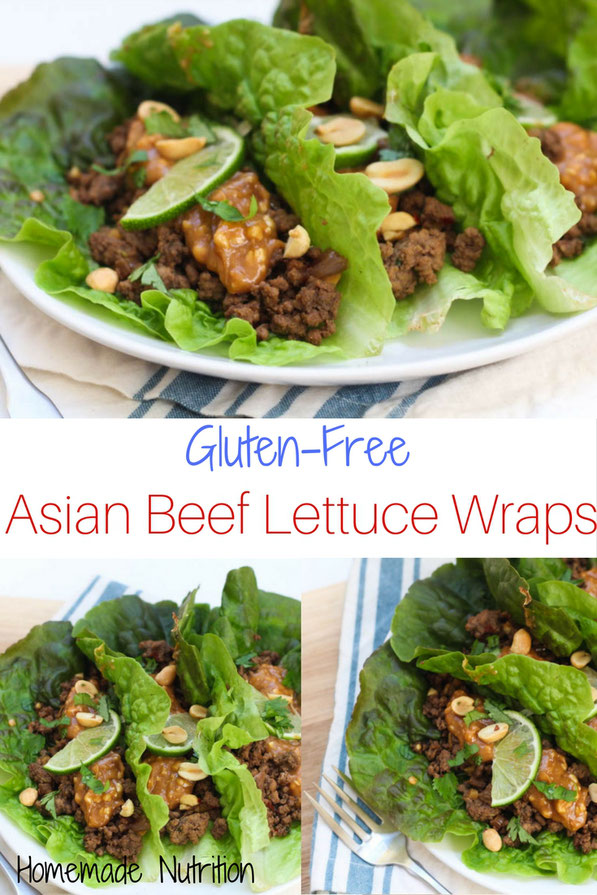 ---
---
---