This creamy, flavorful roasted poblano soup is a beautiful (and light) meal that's ready in 30 minutes!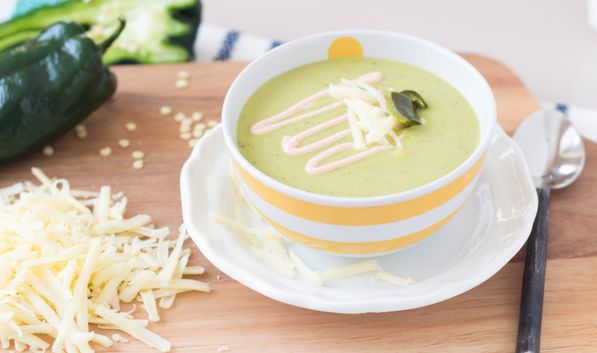 Creamy soups taste SO good!  But they aren't very light, so we don't usually think of them as an "everyday" soup.  But because I love creamy soups and poblano peppers (my absolute favorite peppers!) are in season right now, I couldn't resist making this creamy, cheesy delicious soup.  And it's actually much lighter than most creamy soups - there's not even cream in it. :) 
If you haven't had poblano peppers before, you've got to try them!  They're my favorite pepper because they do have a little bit of heat (not sweet like bell peppers), but not too much, especially if you roast them.  
And they are the perfect peppers for stuffing...I love to stuff these little beauties with beans and cheese and bake them till they're all tender and melty...that recipe is coming to the blog soon, so stay tuned!!
---
---
A few tricks make this soup a little lighter than other creamy soups.  First, I use a lot of veggies as the base.  Peppers, onion, and garlic are roasted together for maximum flavor then blended with water for a rich, flavorful base to the soup.  
Instead of using cream, I make a roux (butter mixed with flour) and add low fat milk.  It basically ends up tasting like cream but without all the extra fat.  Then there's the cheese...No, I don't use reduced fat cheese in this recipe, because the real stuff tastes so much better!  Instead, I like to use extra sharp white cheddar cheese because it has a much stronger flavor than regular cheddar or Monterrey jack, so less cheese is necessary. Then there's yogurt instead of sour cream for garnish.  The result is so rich, creamy, and flavorful, you won't even miss the heavy cream!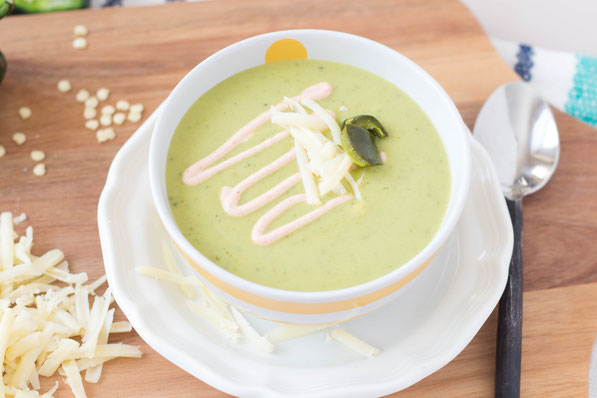 The longest part of this soup recipe is waiting for the peppers, onions, and garlic to roast in the oven.  So if you want this recipe to come together even faster (like in 10 minutes), roast the veggies the night before and pop them in the fridge till you're ready for dinner the next day.  
I like to serve this soup with a green salad on the side for a quick, delicious dinner.  Leftovers of this soup are perfect for lunch the next day, by the way... ;)   Enjoy! 
Creamy Poblano White Cheddar Soup
Makes 6 servings
Ingredients:
3 poblano peppers, washed

1 medium yellow onion, roughly chopped

 2 cloves garlic

1 teaspoon light olive oil

1 cup water

1 tablespoon butter
1 1/2 tablespoons flour

1 1/2 cups low fat milk

1 cup sharp white cheddar cheese, shredded

salt and pepper to taste

plain Greek yogurt mixed with chili powder for garnish (optional)
Directions: 
Preheat oven to 425 degrees.  Cut the poblano peppers in half length-wise and remove the seeds.  Toss the peppers, onion, and garlic cloves in the olive oil and place on a baking sheet.  
Bake for 20 minutes or until the peppers and onion are tender and slightly charred.
Once the peppers are cool enough to handle, peel off skin from the peppers.  Squeeze the garlic cloves to separate the roasted garlic from the skin of the cloves.
Add the peppers, onions, and garlic to a blender with the water.  Blend until the mixture is smooth.  
To make the soup, preheat a sauce pan over medium heat.  Add the butter and flour and stir for about 30 seconds.  Add the milk and whisk for about 1 minute.  Add the blended pepper mixture and continue to whisk for 3-4 minutes or until the mixture begins to thicken.  
Reduce heat to low, add the cheese, salt, and pepper and mix just until the cheese is melted.  Ladle the soup into bowls and garish with a dollop or drizzle of the yogurt/chili powder mixture. 
Happy Eating!
~Amber
---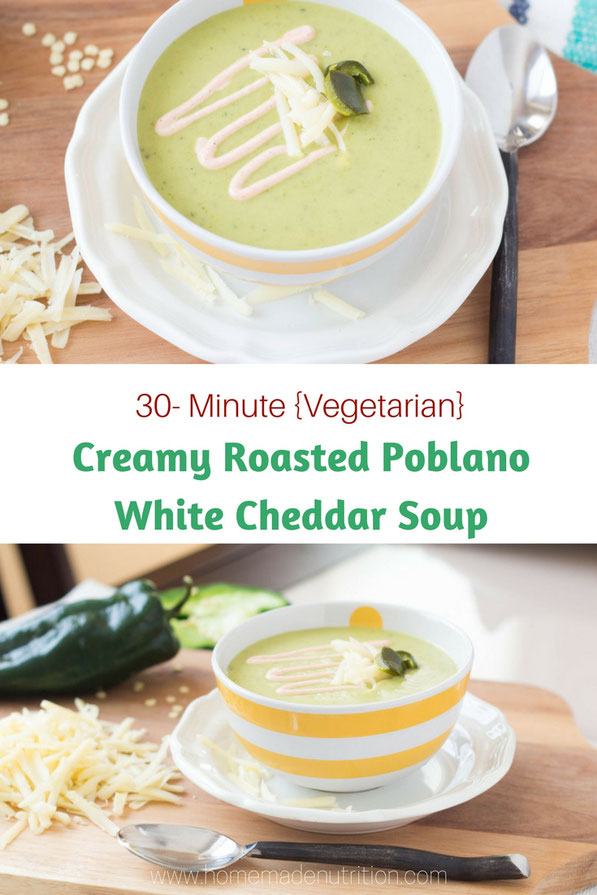 ---