This tasty twist on an egg sandwich is a flavorful and filling way to start the day!  Eggs, hummus, and a whole grain English muffin are the base of this quick, high protein breakfast recipe!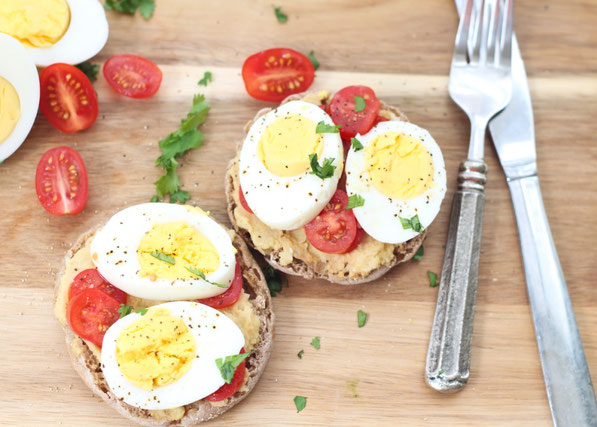 Happy New year!  I hope your 2018 is off to a great start!  2017 was quite a year for our family.  The biggest change was the arrival of our boy/girl twins in June!  The rest of the year pretty much flew by for us,  and now that the babies are six months old, I'm finally getting back into the swing of creating new recipes again. 
Last year, my 2017 food/blog plan was all about focusing on quick, healthy meals that could be made in advance in frozen for easy weeknight dinners.  And while I got started on this with some tasty freezable recipes like my freezer-friendly egg sandwiches, and freezer friendly oatmeal waffles, that's about as far as I got before life had other plans that took me away from the blog for several months.  
This year, I will continue working on make-ahead freezer friendly meals, but I also want to just get back to cooking the food I feel like cooking.  I spent four months of 2017 on bedrest due to twin pregnancy complications, with three of those months spent in the hospital.  Yes, I literally lived in the hospital for all of Spring last year! :O  And the end result of being able to bring home a healthy little boy and girl was completely worth it every moment.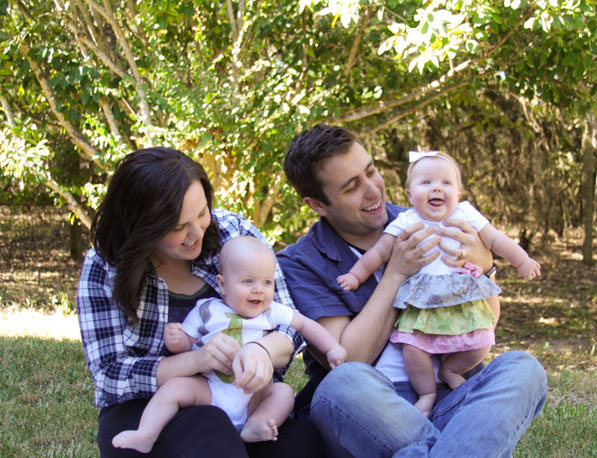 But because of all that time spent in the hospital, I didn't cook for months...and months....and months.  Which you can imagine is kind of torture for someone who's entire career and life basically revolves around food. 
After we came home with the babies, we actually did cook a nice meal a few times a week thanks to using Plated, a meal-kit delivery service that was amazing!  But other than that, it's been hard to find the time and energy to get creative in the kitchen with two small babes around...And that, my friends, is why I'm not making too many firm recipe plans this year.  Instead (at least for a while),  I'm just going to focus on cooking what sounds good, whether it's healthy or a little more indulgent...but don't worry, the recipes will still be delicious as always!  :)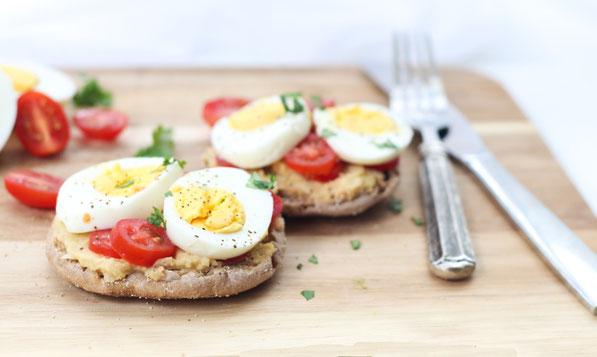 On to today's recipe!  If you're like me and enjoy egg-based breakfasts, this one is for you!  Mornings are busy, so it's important to have the makings of healthy meals prepped and ready to go in the fridge.  And this recipe is extra nice if you're short on time because you have the option to just buy pre-made hard boiled eggs and hummus if you want.  If you have a little more time and want to make your own hummus, my roasted red pepper hummus is a great option!  
I know hummus + eggs might sound a little weird, but it works so well!  Not to mention the combination of the eggs, hummus, and whole grain English muffin being a great source of protein and fiber to really fuel the morning. 
I actually eat this meal for lunch sometimes too because it's so easy to put together; just make sure to pack the ingredients in separate containers or bags and combine them when you're ready to eat to avoid a soggy sandwich.  ;)  Here's to a wonderful 2018!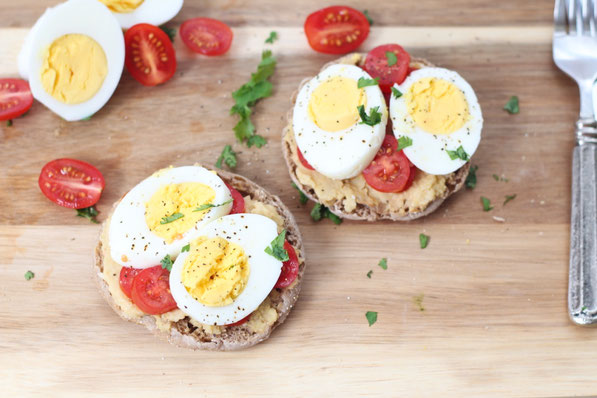 Open-Faced Egg and Hummus Breakfast Sandwich
Makes 4 Servings
Ingredients:
4 whole grain English muffins
1 cup hummus, homemade or store-bought
4 large hard boiled eggs, peeled and sliced
1/2 cup sliced cherry tomatoes (or 1 sliced roma tomato)
chopped cilantro for garnish (optional)
Directions:
Slice and toast the English muffins. 
Spread 2 tablespoons of hummus on each slice of English muffin, and top with the sliced eggs, tomatoes, and cilantro (if using).
Happy Eating!
~Amber 
---
---
---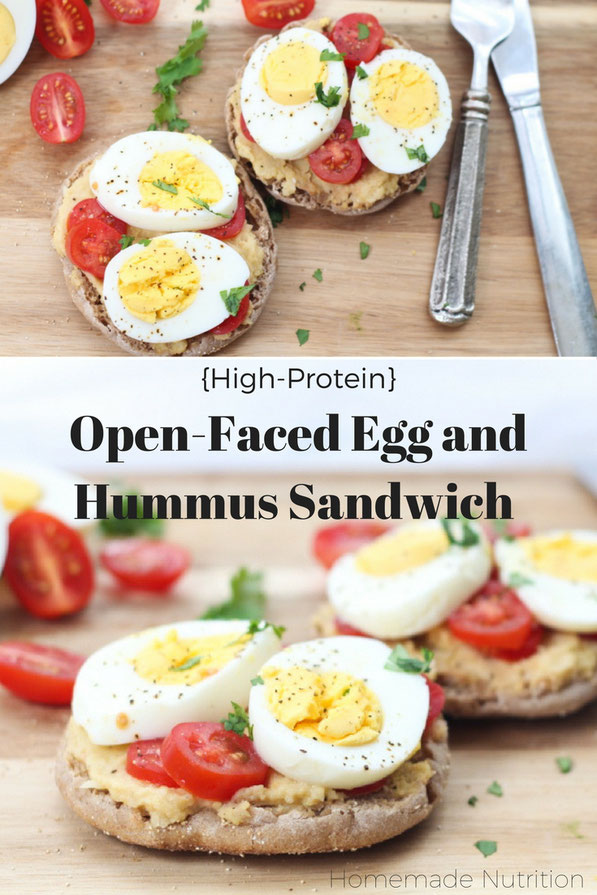 ---