Weekday mornings just got a little more delicious with these easy make-ahead freezer ham and egg sandwiches with pepper jack cheese...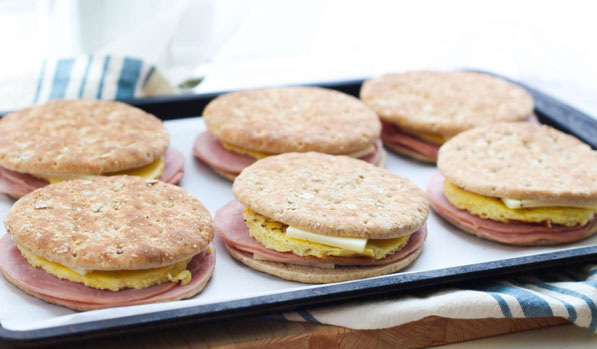 I've said it many times before, but breakfast is hands-down my favorite meal of the day!  It doesn't matter what time of the day (breakfast for dinner anyone?!), I just love the delicious sweet and savory flavor combinations in many breakfast foods, plus the endless possibilities of things that can be made with eggs.  
Which brings us to today's recipe.  During my most recent Pinterest search of "breakfast recipes," I kept seeing easy freezer-friendly breakfast sandwiches pop up on the feed.  And I'm SO glad I finally decided to try making freezer breakfast sammies for many reasons...but mostly this one:  they're a two-minute breakfast that tastes amazing and is packed with protein to get my day off to a great start.  :)
Lately I've been trying to get up earlier and be more productive first thing in the morning (total work in progress), which means I don't always have the time I'd like to think about what to make for breakfast.  That's where this comes in handy.  It's basically a homemade, healthier, and cheaper version of those egg sandwiches you can find in the freezer section of the grocery store.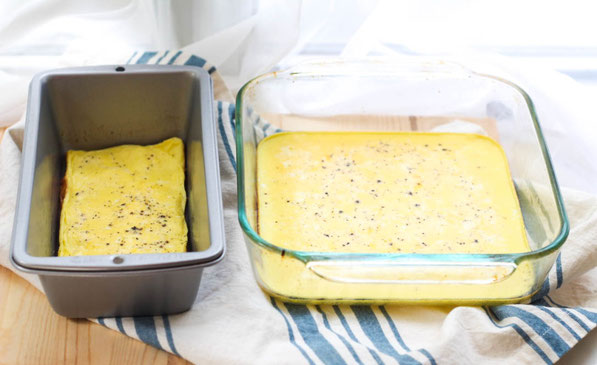 To make these breakfast beauties, it starts with the eggs.  I've seen this done many different ways, such as baking individual eggs in ramekins or large muffin tins, but I found a couple of problems with those.  First, not everyone has a large muffin tin.  And as for using ramekins, I don't have six of them to use at one time, and even if I did, I don't want to wash six individual ramekins if I don't have to. 
So instead, I found a cup in my kitchen that has a rim almost the exact size as the sandwich thins I use for the bread.  Then I found two baking dishes that would give me exactly six egg rounds cut out with the rim of that cup.  For the size I needed, an 8x8 baking dish plus a small loaf pan were the perfect size to get six egg rounds from.  
So I mixed and baked the eggs, used the rim of the cup to cut out individual rounds, and I was good to go!  The extra little bit of eggs around the parts you cut out with the cup can go into an extra sandwich or just pop in the fridge for a quick taco later!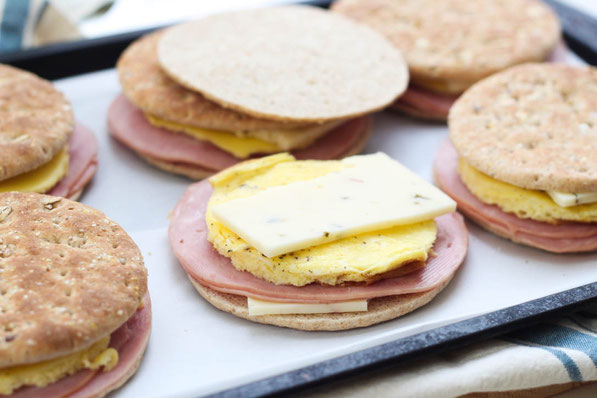 The assembly of the sandwiches is nice and easy.  I just lined up bread, put half a slice of cheese on the bottom of each sandwich, followed by two slices of ham, one egg round, and the other half of the cheese.  
I used pepper jack cheese in this recipe because I love the extra boost of flavor, but you can use any cheese you like.  I also like to put half the cheese on the top and bottom of the sandwich because it acts as the "glue" holding the sandwich together.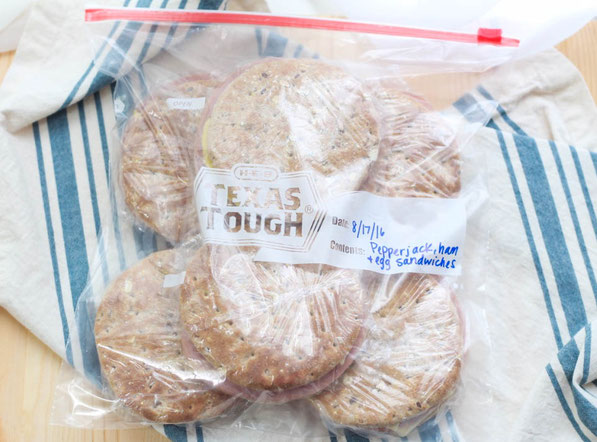 Once a cute little army of breakfast sandwiches is assembled, the only thing left to do is wrap them in plastic wrap, place in a dated and labeled zip-lock bag, and pop them in the freezer.  
When ready to eat, just unwrap one of the frozen sandwiches, wrap in a paper towel, and microwave 1-2 minutes till it's ready to enjoy!  Here's to healthy, homemade "fast food" for breakfast!!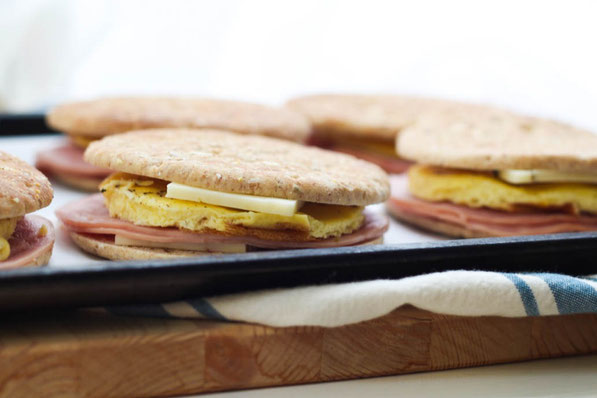 Freezer Ham, Egg, and Pepper Jack Sandwiches
Makes 6 servings
Ingredients:
non-stick cooking spray
6 large eggs
salt and pepper to taste
3 tablespoons milk
6 whole grain sandwich thins or bagel thins
12 slices deli ham (preferably "uncured" or "nitrite free")
6 slices pepper jack cheese, cut in half
Directions: 

Preheat oven to 350 degrees.  Mix the eggs, salt, pepper, and milk in a large bowl. Spray one 8x8  baking dish and a small loaf pan with non-stick cooking spray.*
Pour 3/4 of the egg mixture into the larger baking dish and the remaining 1/4 in the loaf pan.  Bake for 10-12 minutes or until the eggs have set.  Remove from the oven and set aside to cool.  
Once cooled, use the rim of a drinking cup or glass (with a rim size similar to the size of the bread) to cut six egg "rounds" for the sandwiches. 
To assemble the sandwiches, separate the tops and bottoms of the sandwich thins.  Place 1/2 slice of cheese on the bottom of each sandwich thin, then top each with 2 slices ham, 1 egg round, and the other 1/2 slice of cheese.  Place the tops of each sandwich thin on the sandwiches, then wrap each sandwich in plastic wrap. 
Place the sandwiches in a gallon-sized zip-lock bag labed with the date and name of the recipe and place in the freezer.  
When ready to serve, take a sandwich from the freezer and remove the plastic wrap.  Wrap the sandwich in a paper towel and microwave 1 - 1 1/2 minutes or about 2-2 1/2 minutes on 50% power until the sandwiches are heated through. 
*Note:  These pan sizes work well for a 3 1/2 inch ring or rim of a drinking cup. 
Happy Eating!
~Amber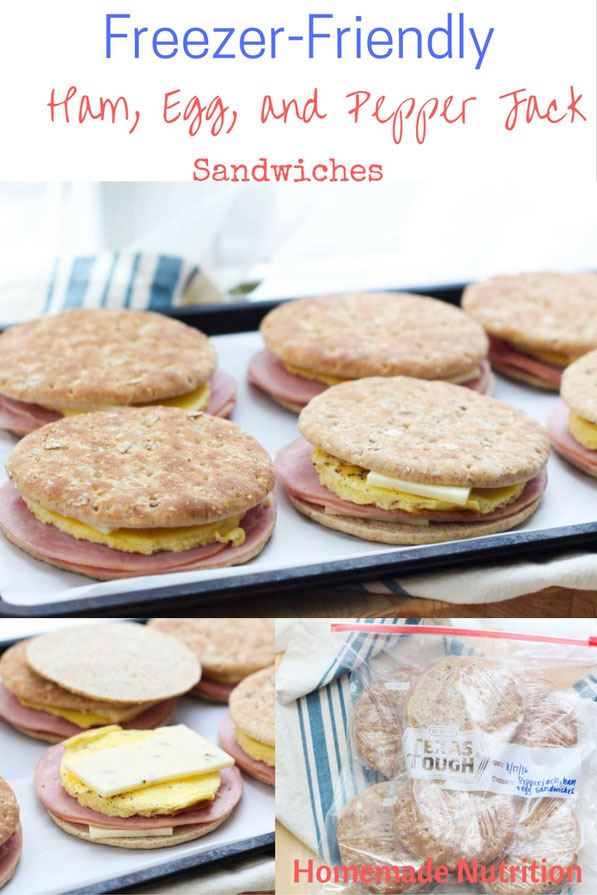 ---
---
---