These chocolate-cinnamon overnight oats taste like dessert for breakfast!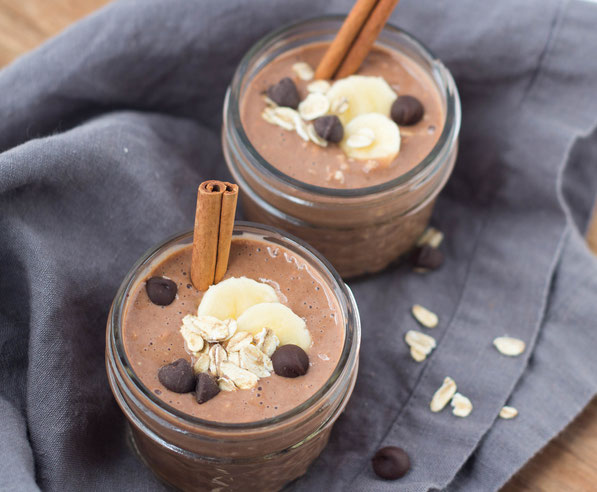 Overnight oats have truly become one of my favorite options for an easy breakfast or lunch.  They're thick, creamy, filling, and don't even require any cooking, so prep time is under five minutes. 
I also love that you can use the same base of oats, milk, and Greek yogurt, and then add your own flare of flavor to suit your taste.  The most popular overnight oats recipe up on the blog is my raspberry-chia overnight oats, but today's version is really tasty too!
This recipe was inspired by a coffee date I had at this adorable little coffee house with one of my very best friends, Beka.  We met in the evening, which for me definitely means regular coffee wasn't an option if I wanted to be able to sleep that night.  Caffeine and me do not mix after about 1:00 pm.  : /
So we both opted for Mexican hot chocolate instead.  Mexican hot chocolate is basically regular hot chocolate that has cinnamon or other spices (like nutmeg) and usually vanilla added to it.  It's quite tasty.  And if you haven't tried it yet, cinnamon and chocolate actually are delicious together; definitely food BFF's! ;)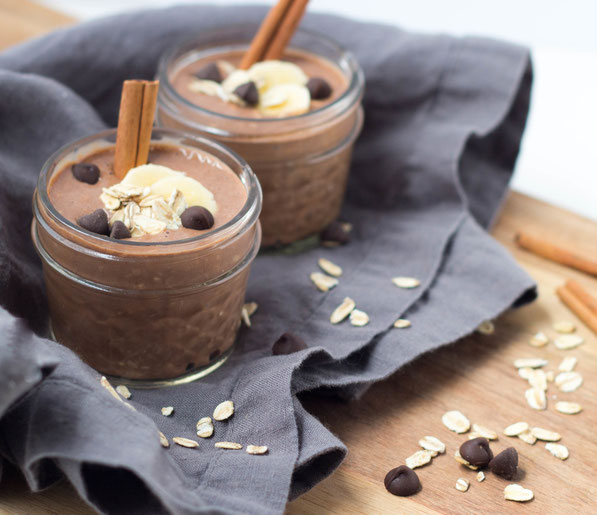 You can add a splash of vanilla to this recipe if you want, but I opt for just using cinnamon because to me vanilla can be a little strong in such a small recipe, especially if it isn't cooked. 
One other ingredient I love to include in my overnight oats is chia seeds.  They add fiber and protein, but also add a great texture to the oats, so it's definitely worth adding them in.  And on a side note, I have another tasty overnight oats recipe in the works that will be coming to the blog soon, so stay tuned for even more "no cook" oat recipes!!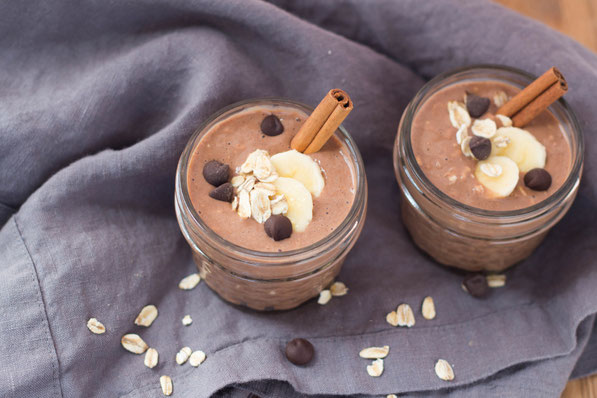 Chocolate-Cinnamon Overnight Oats
Makes 1 Serving
Ingredients:
1/3 cup instant or quick-cooking oats (can also used steel cut or rolled oats)
1 tablespoon chia seeds
2 teaspoons cocoa powder
pinch of cinnamon (about 1/8 teaspoon)
1/3 cup Greek yogurt
1 tablespoon pure maple syrup or honey
1/3 cup milk
small splash of vanilla, about 1/8 teaspoon (optional)
1/2 banana, sliced for serving
Directions:
In a small bowl, mix the oats, chia seeds, cocoa powder, cinnamon, yogurt, syrup, milk, and vanilla if using.  Once combined,  transfer the mixture to a mason jar or container with a lid, cover, and refrigerate for at least 2 hours or overnight. 
Serve with fresh sliced banana or another fruit if desired.
Happy Eating!
~Amber
---
---
---