The abundance of fresh summer produce was the inspiration behind this simple refrigerator jam made of fresh tomatoes, ripe peaches, and jalapenos.  The "sweet heat" flavor from this jam makes for a surprising twist on the typical jam or jelly recipe!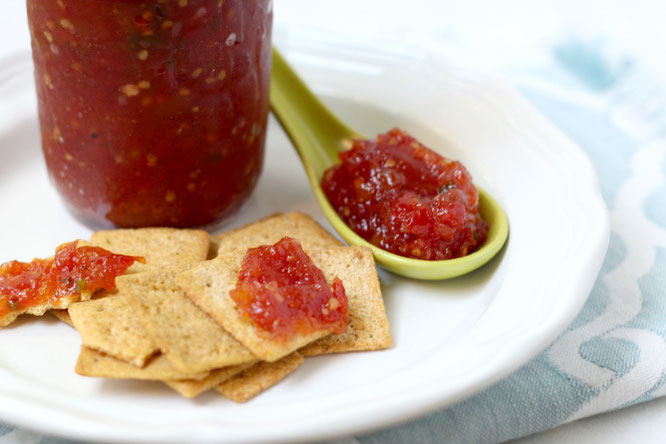 This months' recipe theme from Recipe Redux was "fresh from the garden," which couldn't be more perfect given the time of year and abundance of fresh produce I've been able to come across this year.  I love gardening, and have a small backyard garden that I try to keep up all year round so I can experiment with growing different veggies and herbs.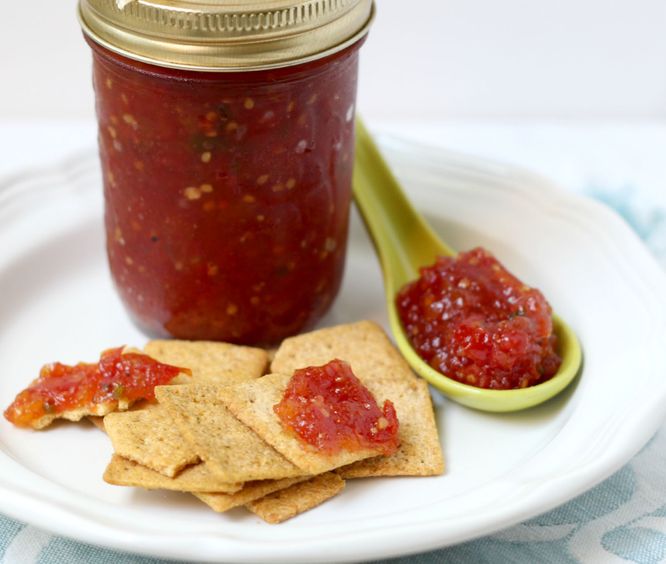 And I have to say, growing my own produce has given me a true appreciation for farmers, because it's definitely not as easy as it looks.  I'm much more successful with growing things these days, but I have had my share of plant and herbs that have not survived under my care despite my best efforts.  I'm finding that like most things in life, gardening takes some practice.  :)  
In addition to my backyard garden, my parents have a huge garden that is bursting at the seams with fresh tomatoes, zucchini, patty-pan squash, green beans and peppers (so yes, I'm pretty spoiled with basically my own personal farmer's market just a short drive away!).  This week I was lucky enough to snatch up about 3 pounds of fresh Juliet tomatoes (which are kind of like large cherry tomatoes) from their garden, along with a whole bunch of jalapenos.  When trying to decide what to do with so many tomatoes, jam came into mind.  And since I love sweet and savory/hot flavor combinations, it was a natural fit for me to add the jalapenos and some fresh peaches to this jam.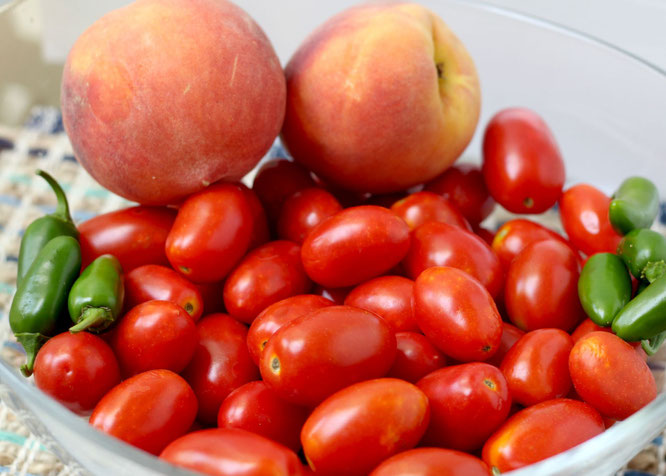 There are a couple of things I had in mind when developing this recipe to try to keep it easy to make, but also to retain as much nutrition as possible.  The first is that I really wanted to keep the skins of the tomatoes rather than boiling and peeling them. Tomatoes are an excellent source of lycopene, which is a powerful chemical giving tomatoes their red color that is thought to have a significant role in protection from heart disease and also promotion of prostate health in men.  Cooking tomatoes increases absorption of lycopene in the body, and keeping the skins of the tomatoes helps retain more lycopene in the recipe.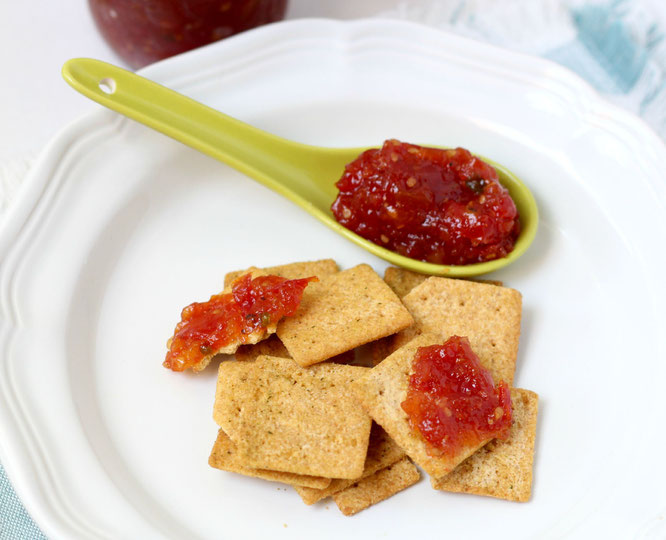 So I decided to simply blend the whole tomatoes to break up the skins, and it worked! You can't detect any chewy tomato skin pieces in this recipe.  They cook right into the jam beautifully.  
The second thing I wanted to try was to slightly reduce the sugar in this jam.  Jams and jellies need sugar to really come together correctly, but using a sweet fruit like fresh peaches means I was able to add less sugar to the overall recipe.  
There's also a hint of cinnamon and black pepper in here, making for a warm and subtle flavor.  If you're looking for a simple jam to make and keep on-hand in the fridge, you've got to give this one a try!  And if you're into canning and you want to preserve this recipe go right ahead, but I like to make this in small batches to keep in the fridge because it doesn't last long at my house!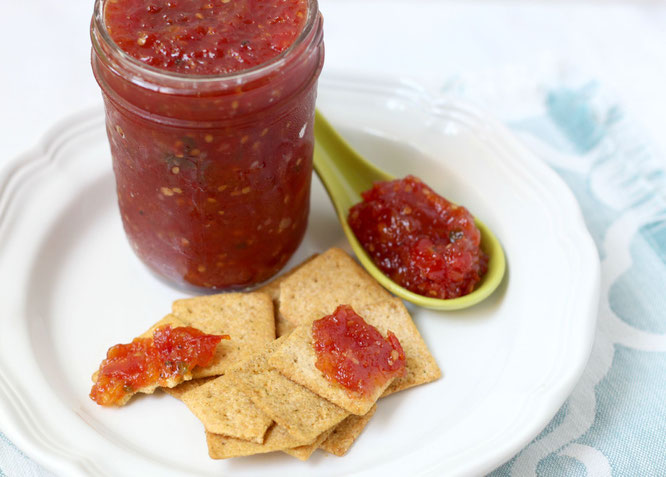 Easy Summer Tomato, Peach, and Jalapeno Jam
Makes about 2 cups

Ingredients:
1-1/2 pounds cherry or grape tomatoes (makes about 2-1/2 cups pureed)

1 large peach, peeled and roughly chopped
1 large jalapeno, chopped and most seeds removed (or leave seeds for hotter flavor)
juice of 1 lemon
3/4 cup sugar
1/8 teaspoon black pepper
1/4 teaspoon cinnamon
1 package fruit pectin
Directions:

Place the tomatoes, peach, jalapeno, and lemon juice in a blender or food processor and pulse until the tomatoes are broken up into chunks but the mixture is not completely pureed.




Add the mixture to a quart-size pot and bring to a boil.  Reduce heat to a simmer, and add the sugar, pepper, and cinnamon.  Use a spoon to skim the foam from the surface as the mixture simmers, and stir frequently for about 10 minutes.  

Add the fruit pectin and use a whisk to continue stirring the mixture for 5-10 more minutes, or until the mixture begins to thicken slightly.  

Remove from heat and let cool for 5-10 minutes, stirring occasionally.  

Pour the mixture into glass jars or desired containers and let cool completely before placing the jam in the refrigerator.  Store in the refrigerator up to 2 weeks.  
*Note:  the directions for this jam do not include instructions on how to can this jam to store in the pantry.  It is meant to be stored in the refrigerator and consumed within 2 weeks.  
 Happy Eating!
~Amber
---
---
---
Check out some more tasty recipes using fresh summer produce below!