Nothing says summer like this salad!  Grilled peaches, fresh cherries, pecans, and bacon make for the ultimate combination of sweet and salty flavors.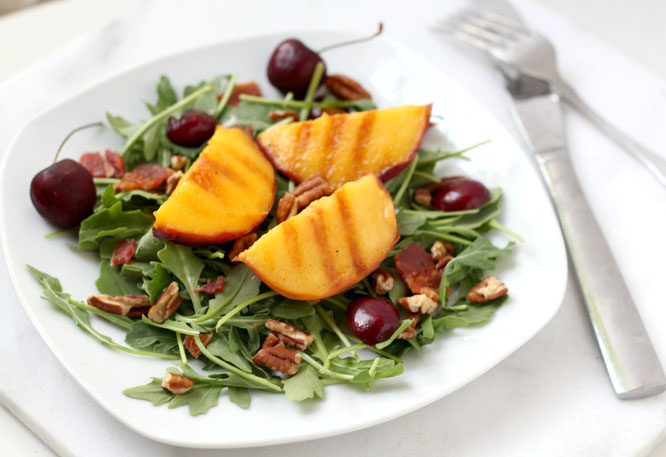 My second grilled peach recipe for the week is here!  Yesterday I shared my grilled peaches with sweet Greek yogurt and cinnamon, and today's recipe is a delicious light summer lunch!  
Grilled peaches are simple to make and can be cooked in a large batch, refrigerated, then enjoyed throughout the week.  This salad is full of color, which means it provides several different vitamins, minerals, and disease-fighting antioxidants.  Peaches are an excellent source of vitamin C and good source of fiber.  And adding pecans to this recipe not only adds a nice texture, but adds healthy fat which helps the body to better absorb vitamins from the fruit and greens.  
The flavor combination of the sweet peaches and fresh cherries with the salty bacon, crunchy pecans, and peppery arugula make this salad a foodie's dream!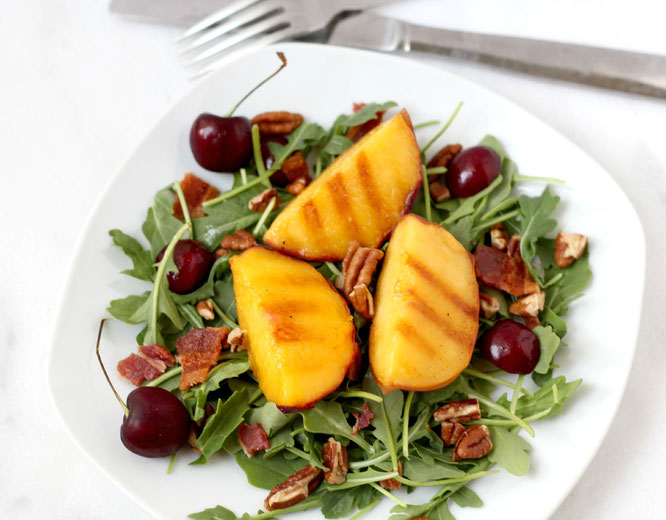 Grilled Peach and Arugula Salad with Cherries, Pecans,
and Bacon
Makes 2 servings
Ingredients:
2 ripe peaches, cut in half and pits removed




non-stick cooking spray




4 cups arugula or other leafy greens




½ cup fresh cherries, pitted

½ cup chopped pecans

2 slices cooked bacon (uncured or "nitrate free" variety), chopped




vinaigrette of choice (raspberry vinaigrette would go really well here)
Directions: 
Preheat grill, panini press, or non-stick skillet over medium-high heat.   Lightly spray the cut side of each peach half with the cooking spray and place on the grill, face-side down.  Cook for 5-10 minutes, or until the peaches are tender and have grill marks.  Remove from heat and set aside. 




Cut the all of the grilled peaches in half.  To assemble each salad, place 2 cups of arugula on each plate.  Top with 4 peach slices, half of the cherries, half of the pecans, and half of the bacon.  Serve with your favorite vinaigrette.  Enjoy!
Happy Eating!
~Amber
---
---