Open-faced garden tuna sandwiches are a delicious, light summer lunch or dinner packed with fresh flavors that will make it easy to get more seafood into your weekly meal plan!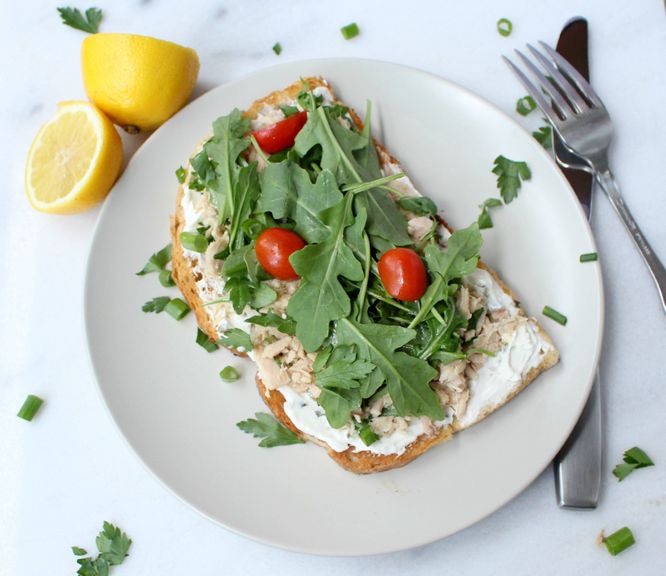 By posting this recipe I am entering a recipe contest sponsored by Bumble Bee Seafoods and am eligible to win prizes associated with the contest. I was not compensated for my time.
 Tuna is one of my favorite go-to foods because it's high in protein, easy to prepare (because, hey it's already cooked!), affordable, and versatile.  I've always recommended tuna to clients because it's such a simple way to prepare more meals at home and is very budget-friendly.  
It's also one of the easiest ways to eat more seafood on a regular basis:  The FDA and EPA encourages everyone to eat at least 8 to 12 ounces (2 to 3 servings) of seafood per week, so most of us need to be getting more seafood in our weekly meal plans!  In addition to protein, tuna is also a great source of selenium, niacin, and b-vitamins which are all important for healthy metabolism, energy, and more - so you really get a lot of nutrition bang for your buck!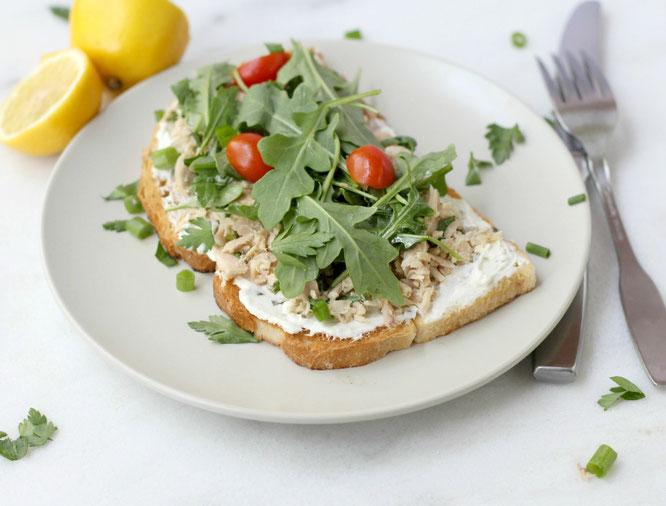 For this contest, Bumble Bee Seafoods challenged us to create fun, unique recipes to inspire people to eat more seafood.  For this recipe, I used their Prime Fillet Solid White Albacore in Water because it's light and flaky, but the flakes are a little heartier than regular albacore.  It works perfectly in this dish!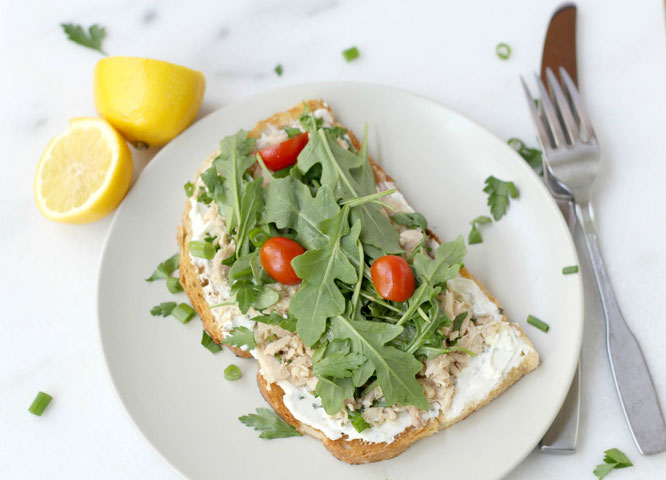 This dish is fresh, light, and perfect for summer.  It was inspired by an open-faced "garden" sandwich I had recently at a local restaurant that was simply amazing!  I love sandwiches, and that garden sandwich inspired me to use fresh herbs and a creamy chive and onion cream cheese for a great texture and amazing flavor in this dish.  
There is also a light dressing made with lemon juice, parsley, green onions, and olive oil that gets used in the tuna, added to the bread before it's grilled, and also tossed with the greens, so there's flavor in every part of this sandwich!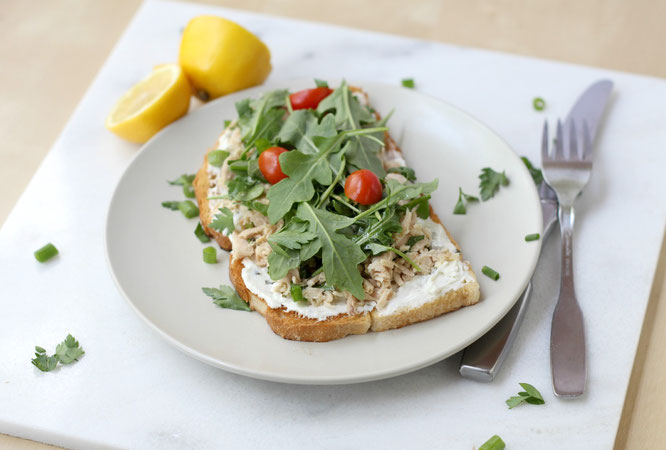 ---
Open-Faced Garden Tuna Sandwich
Makes 2 servings

Ingredients:
1 5-ounce can Bumble Bee® Prime Fillet® Solid White Albacore in Water, drained
2 tablespoons extra virgin olive oil
2 tablespoons freshly squeezed lemon juice
2 tablespoons fresh parsley, chopped
pepper to taste
2 green onions, sliced
2 slices hearty whole grain or sourdough bread
1/2 cup fresh arugula or other leafy greens
1/4 cup cherry tomatoes, sliced
1/4 cup chive and onion cream cheese
Directions:

Place the tuna in a medium bowl and set aside.  In a separate bowl, add the oil, lemon juice, parsley, pepper, and green onion and whisk to combine.  
Pour 2/3 of the oil mixture into the tuna and mix well.  
Using a spoon or pastry brush, lightly coat both sides of the bread with some of the remaining oil mixture and grill the bread in a non-stick skillet over medium high heat until it's golden on both sides.  Toss the remaining oil with the arugula. 
To assemble the sandwiches, spread 2 tablespoons of the cream cheese on each slice of the grilled bread.  Add 1/2 of the tuna mixture to each slice, then 1/2 of the greens, and 1/2 of the cherry tomatoes.    
Happy Eating!
~Amber
---
---
---
Check out the recipes below for some additional seafood inspiration!