Jalapeno-lime honey glazed carrots are the perfect spring veggie side dish!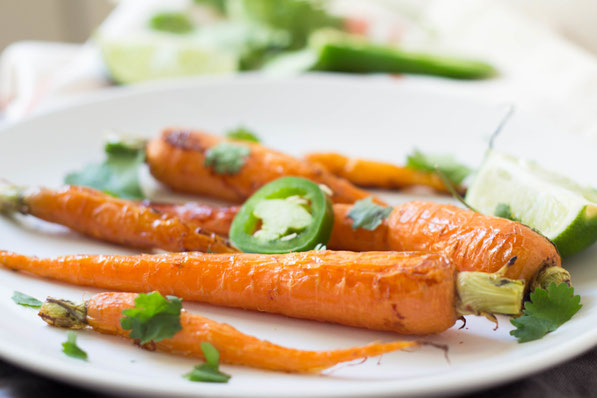 I am one lucky girl.  I have the best parents in the world AND they have an amazing garden that yields a whole lot of delicious produce all year round! 
And right now, carrots are coming up like crazy.  Well, the tops are coming up.  The carrots stay in the ground till you pick them... ;)  Freshly harvested carrots (like the kind that still have the greens on top) are so sweet and delicious.  The little beauties I used in this recipe came straight from the garden and were on our dinner plates the same day -  "farm to fork" food at it's finest! 
You can buy bunches of fresh carrots at most farmer's markets and at the grocery store - they're usually over by the herbs in the produce sections - not necessarily by the regular bagged carrots.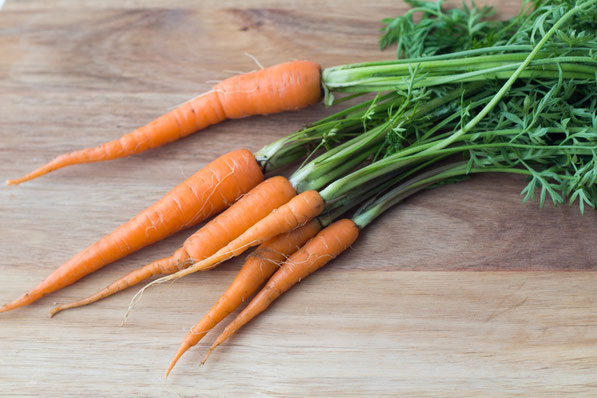 I've been cooking with a lot of spring produce lately, so I decided that for my upcoming recipes that feature spring produce, I want to include a few interesting facts about each fruit or veggie.  So here are a few things you may or may not already know about carrots! 
Fun fact #1:  Most of the carrots we eat are orange, but they actually come in several colors - white (different than parsnips), purple (my personal favorite), yellow, and red.  Side note:  I don't think I've seen a red carrot before, but now that I know they exist, I'll be looking out for some and will definitely share pics if I find them!
Fun fact #2:
There is such a thing as baby carrots (aka carrots that aren't fully grown, like those cute itty bitty carrots on the sides of the plate in the pic below ) - but they aren't the same as the packaged baby carrots we buy at the store. 
Those are actually "regular" large carrots that have been cut down into smaller pieces and made smooth and round by machines.  If you can find smaller fresh carrots, they taste so much sweeter than baby carrots from the grocery store!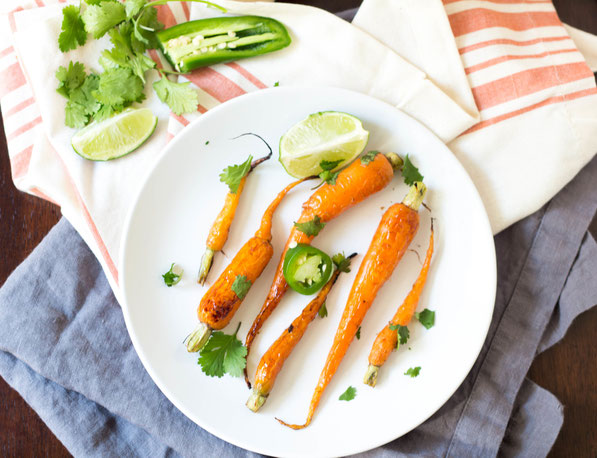 Fun fact #3: 
We actually absorb more nutrients from cooked carrots than we do from raw carrots.  That's because cooking them makes it much easier for us to absorb the beta carotene, which our body then converts into vitamin A.  So cook those carrots!  But you can eat them raw, too.... :)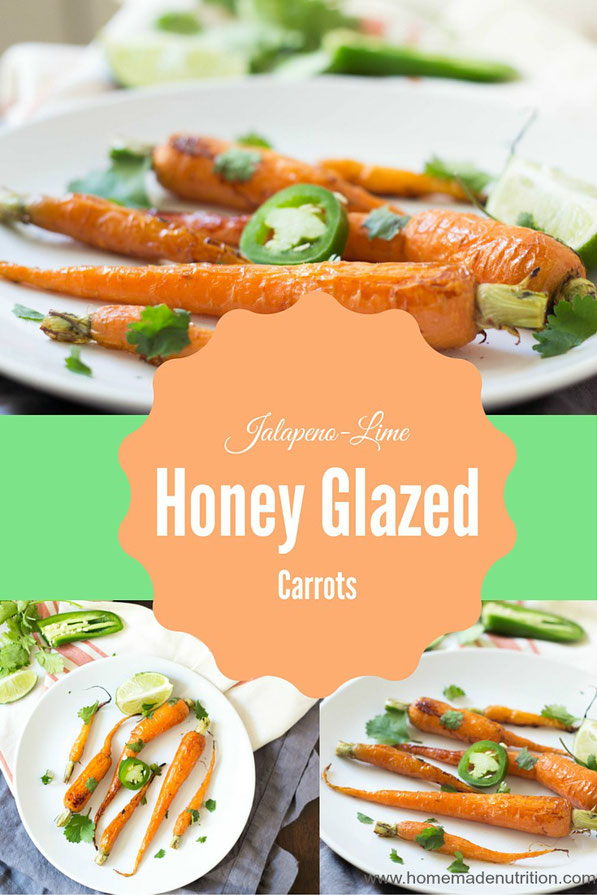 I hope you enjoyed my carrot facts!  Now onto the recipe:  this recipe is very simple to make.  It starts by whisking some light olive oil, honey, lime juice, lime zest, and chopped jalapeno in a bowl, and pouring the mixture over the carrots. 
Next the carrots go into the oven and bake until they become slightly tender.  I like to leave them a little crunchy, but that's just me - you can cook them to be as soft and tender as you like.  That's the beauty of cooking at home - everything is cooked to your own liking!   The carrots soak up all of that sweet-heat flavor coming from the honey-jalapeno dressing in this recipe.  It's delicious.  :)
Jalapeno-Lime Honey Glazed Carrots

Makes 4 servings

Ingredients:
4-6 medium carrots (greens trimmed off of the top, if they have greens)
2 teaspoons light olive oil
2 teaspoons honey
1 small jalapeno, seeded and chopped
juice of 1 lime (about 2 tablespoons)
1/4 teaspoon lime zest (optional)
pinch of salt
fresh chopped cilantro for garnish (optional)
Directions:

Preheat oven to 400 degrees.  In a small bowl, lightly whisk the oil, honey, jalapeno, lime juice and zest, and salt.


Place the carrots in a single layer on a foil-lined baking sheet that's been lightly greased or sprayed with non-stick cooking spray. 

Pour the dressing over the carrots, and bake for 25-35 minutes, or to desired tenderness. 

Sprinkle with fresh cilantro for garnish and serve.
 Happy Eating!
~Amber
---
---