This light cinnamon buttermilk coffee cake is the best way to say"hello weekend!"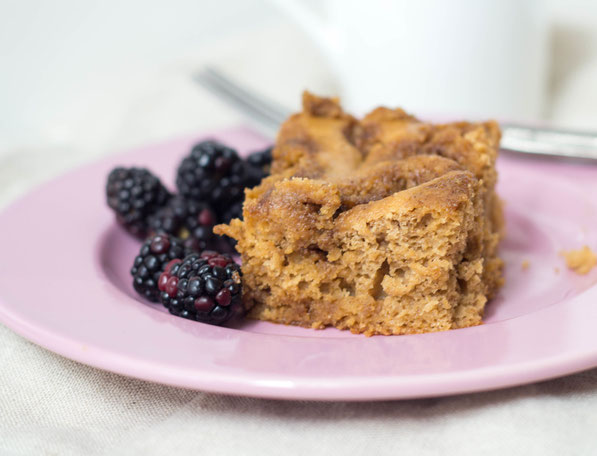 It's Friday!! And if you're like me, you might be thinking ahead about what's on the menu this weekend.  It seems like I spend most Fridays food day dreaming about weekend brunch.  Because brunch is my favorite.  It's just like breakfast (which is my normal favorite meal of the day), but a little later in the day, and a lot less rushed than weekday breakfasts. #winwin ;)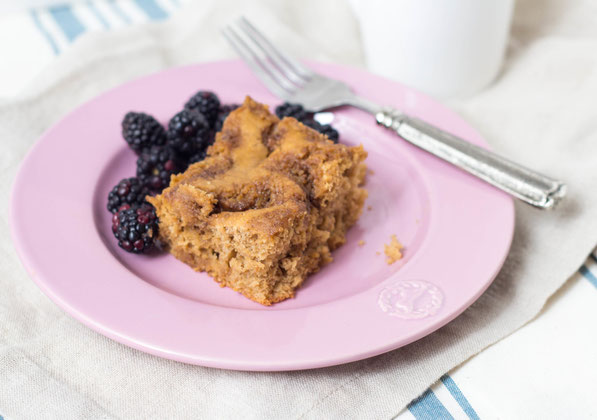 That brings us to today's recipe - cinnamon buttermilk coffee cake.  I LOVE coffee cake - in fact, I really haven't met a coffee cake I didn't absolutely love at first bite.  But alas....most coffee cake recipes are pretty heavy, so it really is more like eating just plain cake for breakfast - which is fine sometimes, but I want coffee cake more than just sometimes.  
So I took a really tasty coffee cake recipe from my trusty Better Homes and Gardens cookbook, made a few (more like quite a few) tweaks, and the result was this beautiful, light, and moist coffee cake.  One that I'll definitely be making more than just sometimes.... :D
Here's to a great weekend, and happy brunching!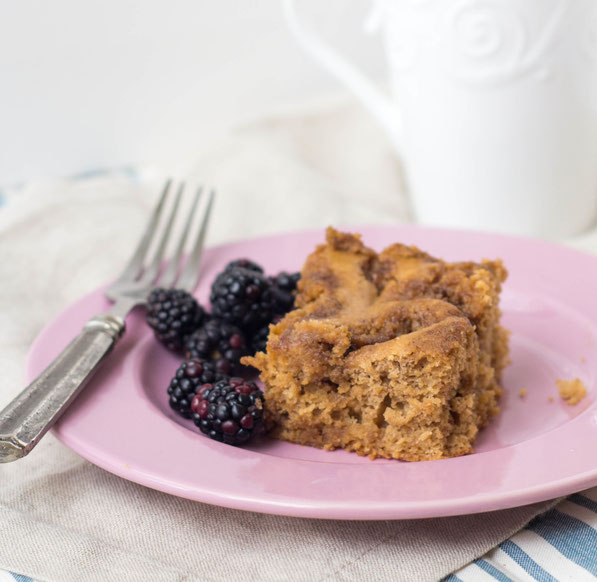 Cinnamon Buttermilk Coffee Cake
Makes 12 servings

Dry Ingredients:
1 cup all purpose flour
1 1/2 cups white whole wheat flour
1 teaspoon cinnamon
2 teaspoons baking powder
1/2 teaspoon baking soda
2/3 cup brown sugar
Wet Ingredients:
1/2 cup unsweetened applesauce
2 eggs
1 1/2 cups buttermilk
Streusel Topping:
4 tablespoons butter, cut into small cubes
1/4 cup brown sugar
1/4 teaspoon cinnamon
Directions:

Preheat oven to 350 degrees.  Combine dry ingredients in a medium bowl, whisk together, and set aside. 
Add wet ingredients to a large bowl and whisk well to combine.  Add the dry ingredients to the wet, and whisk just until the batter comes together. 
Pour the batter into a lightly greased 8x8 square baking pan. 
To make the topping, add the streusel ingredients to a small bowl and use a pastry cutter or fork to combine the ingredients into a course mixture.  Sprinkle the topping evenly over the batter in the pan.
Bake the coffee cake for about 30-40 minutes, or until a toothpick inserted in the center of the cake comes out clean. 
 Happy Eating!
~Amber
 *Recipe adapted from Better Homes and Gardens New Cookbook, Buttermilk Coffee Cake, page 136
---
---
---