This vegan cranberry-orange oatmeal bread will make the whole house smell like the holidays!  This moist, tender bread is a tasty breakfast and makes a perfect holiday gift for friends and family!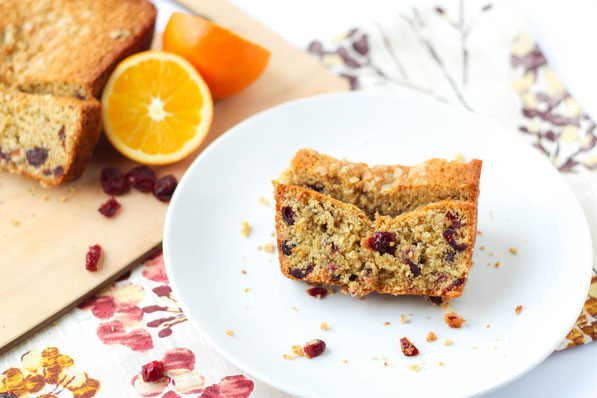 This months' theme for The Recipe Redux is "creative quick breads."  The holiday season is officially upon us, which also means this is the time of year when we start baking and sharing goodies with all of our friends, family, and neighbors.  
I've admitted it before, but I haven't always been a great baker.  In fact, I've really made some pretty bad experimental baked goods in the past... :/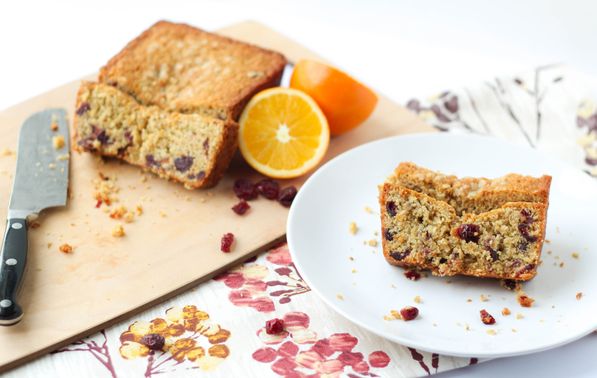 But fortunately I've learned from my mistakes and with lots (and lots) of practice my baking skills have drastically improved over the past year (much to the satisfaction of my husband, who has quite the sweet tooth)!
For this recipe, I decided to combine two of my favorite flavors that I believe are basically food soul mates:  orange and cranberry.  And I wanted to be sure that if I called this bread "orange-cranberry," you can actually taste both the orange and cranberry, so I packed in plenty of fresh orange zest, orange juice, and a whole cup of chopped cranberries.  This means you get plenty of cranberries in every bite with a beautiful orange flavor.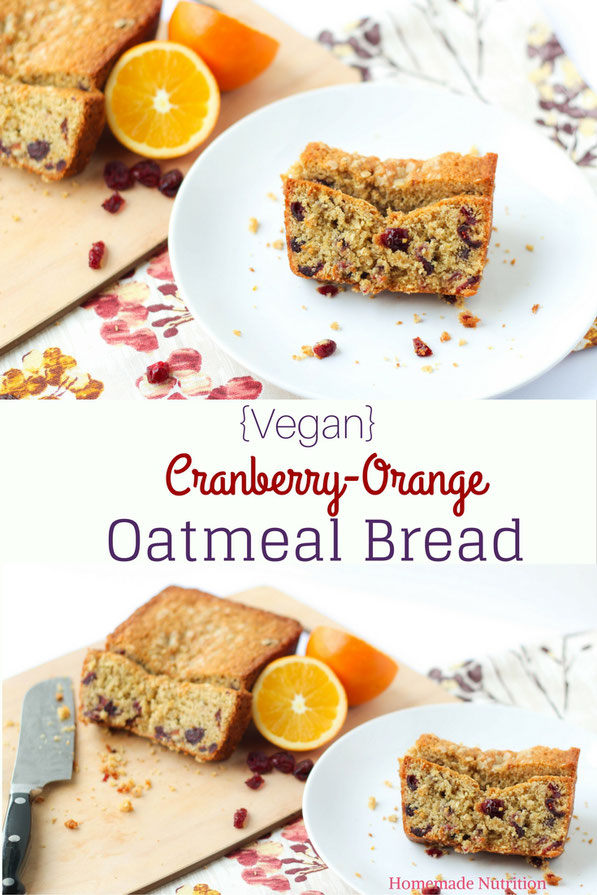 I also used coconut oil, which makes the bread super moist and has a very subtle coconut background flavor.  I try to make my breads a little healthier, so this one is made entirely with whole grains (oats + white whole wheat flour), and there are no animal products (no butter, milk, or eggs), so it's vegan.  I also used ground flax seeds to give a boost of healthy fat and also to add moisture and beautiful texture to this bread.  
Make sure to let this tender bread cool completely before slicing it, because it is delicate.  But it is completely worth the wait...this is one of my favorite new bread recipes, and I ate more of this bread than I'd like to admit... ;)  
Happy baking!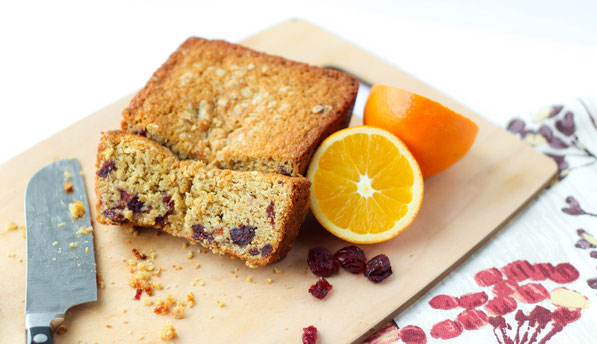 Vegan Cranberry-Orange Oatmeal Bread
Makes 1 loaf – about 12 servings
Dry Ingredients:
 1/2 cup oats (instant or rolled), blended into a course "flour-like" texture

 1 cup white whole wheat flour

¼ cup ground flax

1 teaspoon baking powder

½ teaspoon baking soda

2/3 cup sugar

1/8 teaspoon salt
1 cup chopped dried cranberries
Wet Ingredients:
1/4 cup coconut oil
2 teaspoons orange zest (1 large or 2 small oranges)
1/2 cup freshly squeezed orange juice (1 large or 2 small oranges
1/4 cup water
1 teaspoon vinegar
Directions:
In a medium bowl,  combine the dry ingredients.  In a separate, large bowl, combine all of the wet ingredients. 

Next, add the dry ingredients to the wet and whisk until smooth. 

Pour batter into a lightly greased small to medium loaf pan, and spread out to be even. 

Bake at 350 degrees for about

20-30 

minutes or until toothpick inserted into the center of the loaf comes out clean.   

Let cool completely, remove from pan, and slice.  Enjoy!
Happy Eating!
~Amber
---
---
---
Check out these other healthy bread recipes from fellow nutrition bloggers!