This spiced apple-cardamom coffee cake is nothing short of delectable.  It's the perfect breakfast to welcome the weekend.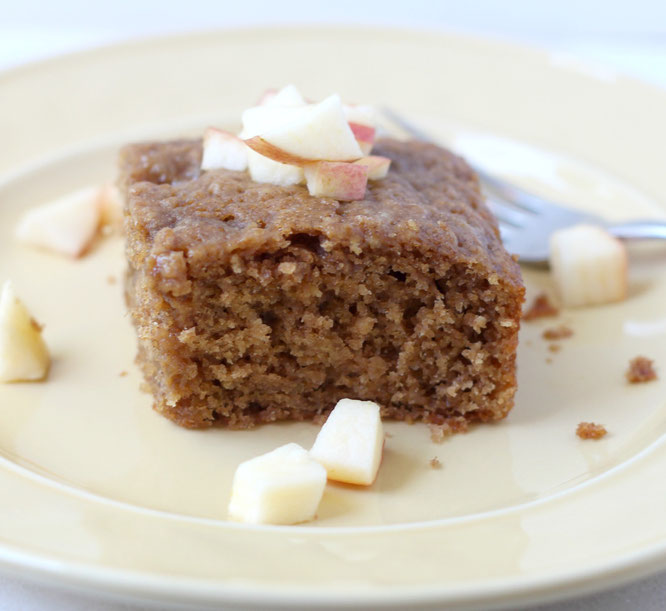 This beautiful recipe is everything you'd expect from coffee cake plus so much more!!  It's moist, tender, fluffy, and flavorful!  The streusel topping adds an extra touch of sweetness, and I can honestly say this is one of the tastiest coffee cakes I've had.  And there's the bonus of this coffee cake being quite a bit lighter than  "regular" coffee cake and more nutrition! 
To make this recipe healthier, I did a few things:  first off, there's a little whole grain flour mixed in with regular flour, so the cake still maintains the nice fluffy tender quality we love, but with a bit of extra protein and fiber.  I also added ground flax, which gives a boost of heart-healthy omega 3 fat and fiber, and apple for more nutrients and fiber (yay fiber!).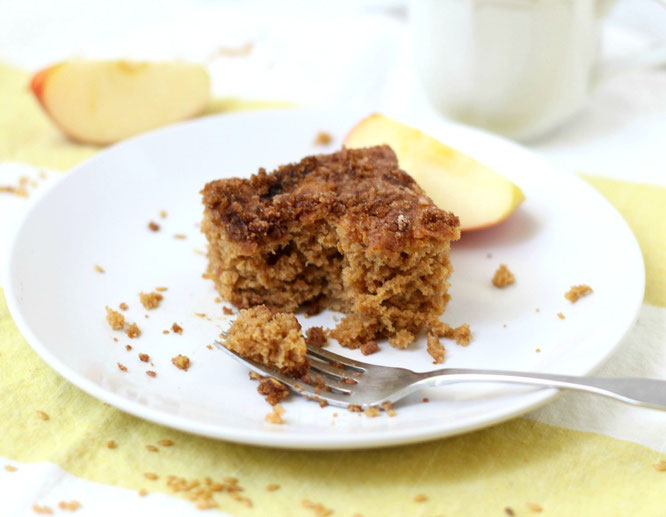 The other main differences that make this coffee cake a little more waistline-friendly is that there's much less fat and sugar than traditional recipes call for.   Because of the apple, less fat is needed for moisture and less sugar is needed since apples are naturally sweet and delicious! 

Cardamom is a very special element to the flavor of this recipe.  Cardamom is a spice very common in Indian and Middle-Eastern cooking.  It has a very strong flavor that's very bright and almost a little lemony.  A little goes a long way, but it goes beautifully in many recipes.  I especially like it combined with cinnamon.  You can find it in the spice aisle of most major grocery stores these days.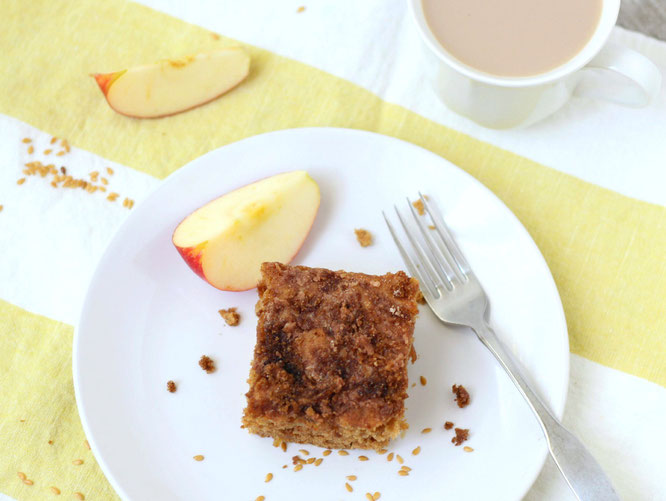 My favorite way to enjoy this coffee cake is to prep the batter the night before, then pop it in the oven right when I wake up on a Saturday morning.  Then I eat it with a big cup of coffee and fresh fruit on the side.  I can't think of a better way to start the weekend! 
And if you're worried about eating the whole coffee cake in one sitting (hey, it happens!), go ahead and portion it out into individual slices, and put those slices in small zip lock bags and place in the freezer, where they will be safe and sound (and fresh) for later.  :)  Enjoy!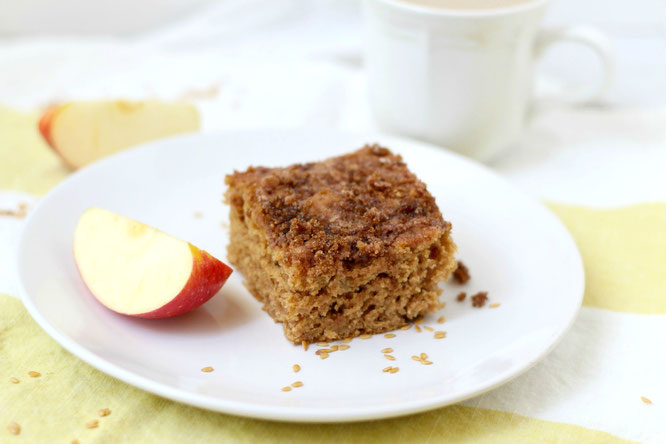 Spiced Apple-Cardamom Coffee Cake
Makes 12 servings

Dry Ingredients:
1 cup all purpose flour
1/2 cup white whole wheat flour

1 1/2 teaspoons baking powder

1/2 teaspoon baking soda

1/4 teaspoon ground cardamom

1 1/2  teaspoons ground cinnamon

1/4 teaspoon salt

1/2 cup brown sugar

1/4 cup ground flax

Wet Ingredients:

1 egg

1 teaspoon vanilla

2 tablespoons coconut oil

1 cup buttermilk

1/2 cup grated apple (about 1 medium apple)

Streusel Topping:

1/4 cup brown sugar

2 tablespoons flour

1/8 teaspoon ground cardamom

2 tablespoons butter, cut into cubes

Directions:

Preheat oven to 350 degrees.  Combine dry ingredients in a medium bowl, whisk together, and set aside. 
Add wet ingredients to a large bowl and whisk well to combine.  Add the dry ingredients to the wet, and whisk just until the batter comes together. 

Pour the batter into a lightly greased 8x8 square baking pan. 
To make the topping, add the streusel ingredients to a small bowl and use a pastry cutter or fork to combine the ingredients into a course mixture.  Sprinkle the topping evenly over the batter in the pan.

Bake the coffee cake for about 30 minutes, or until a toothpick inserted in the center of the cake comes out clean. 

 Happy Eating!
~Amber
---
---
---