Sausage, sweet potato, onions, and black beans roast together  beautifully on a baking sheet to create the base of these delicious  (and gluten free) one-pan tacos for two!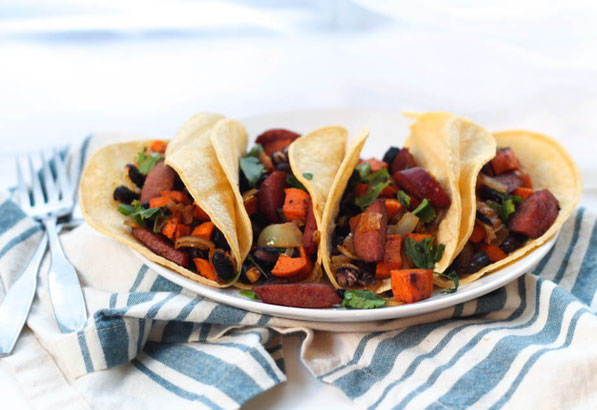 This month the Recipe Redux challenged us to share some of our favorite healthy taco recipes.  And since we eat tacos quite a bit at our house, I decided to try something different:  making the taco filling on a baking sheet instead of a skillet.  And this might just be my new method for taco-making, because it's SO easy!
All you have to do for this recipe is toss the sweet potato, onion, and sausage in a bowl with a touch of oil and seasonings, then spread it out on a baking sheet and walk away while the ingredients cook themselves to perfection.  :)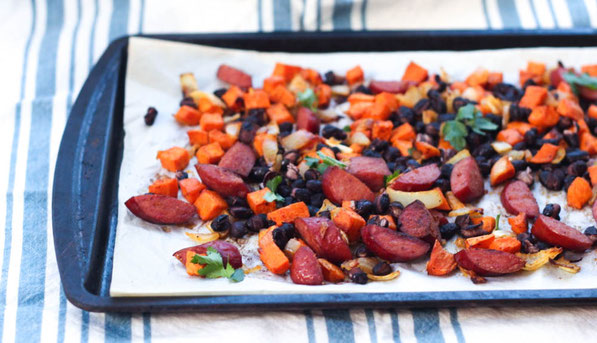 After about 20 minutes in the oven, the sweet potatoes will be slightly golden on the outside and perfectly tender on the inside.  The onion becomes tender and sweet, and the sausage gets a nice crispy layer on edges, just like it would if you had taken the time to brown it in a skillet. 
The last step is adding the black beans (rinsed and drained) to the pan and returning everything to the oven for 3-5 more minutes so the beans heat through.  The beans will also get slightly crispy on the outside from the oven, which I think is a really tasty touch to this wonderful combination of ingredients!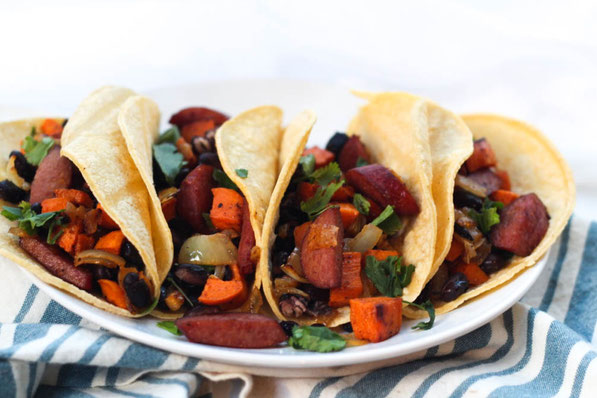 Quick note on the sausage:  You can choose whatever fully cooked link sausage you prefer, but to keep things on the lighter side, I used a nitrate-free (or "uncured") turkey sausage.  It has way less fat which translates into a non-greasy recipe that just tastes better (and is better for you).  :)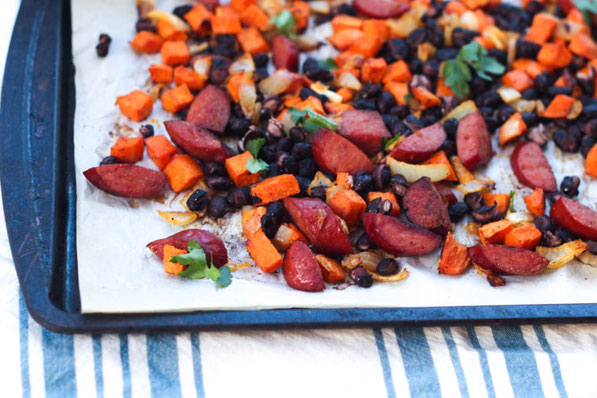 And one more cooking note:  Lately I've started baking on parchment paper versus foil or just cooking directly on the pan because the food doesn't stick to it, and it helps keep the pan from getting dirty so clean up is a breeze!  I also find parchment paper makes for more even cooking of the ingredients versus using foil.  
Since I cook for two at our house, I made this a two-serving recipe, but feel free to double the recipe and use a second (or one bigger) baking sheet as needed.  Enjoy!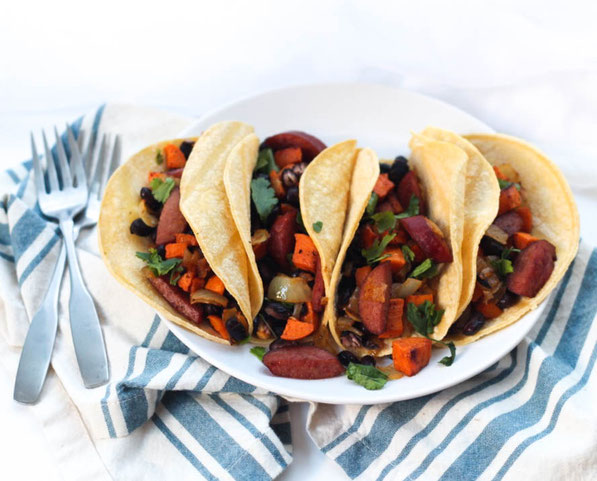 One-Pan Sausage and Sweet Potato Tacos
Makes 2 Servings
Ingredients:
1 medium sweet potato, peeled and chopped (about 1 cup)
1/2 medium onion, chopped
1/3 of a 13-ounce link natural turkey sausage, sliced (I used this one)
2 teaspoons light olive oil or canola oil
1/2 teaspoon paprika
1/4 teaspoon salt
pepper to taste
1 cup canned low sodium black beans (1/2 can), rinsed and drained
cilantro for garnish (optional)
4 corn tortillas
Directions:
Preheat oven to 425 degrees.  Add the sweet potato, onion, sausage, oil, and spices to a large bowl and toss to combine.  Pour out onto a baking sheet lined with foil or parchment paper and spread in an even layer.
Bake for 20 minutes.  Add the beans to the pan and stir to mix them in with the other ingredients.  Bake for 5 more minutes, or until the beans and sausage are cooked to the desired crispness. 
To serve the tacos, heat the tortillas, top with the sausage and sweet potato filling, and top with cilantro if desired. 
Happy Eating!
~Amber 
---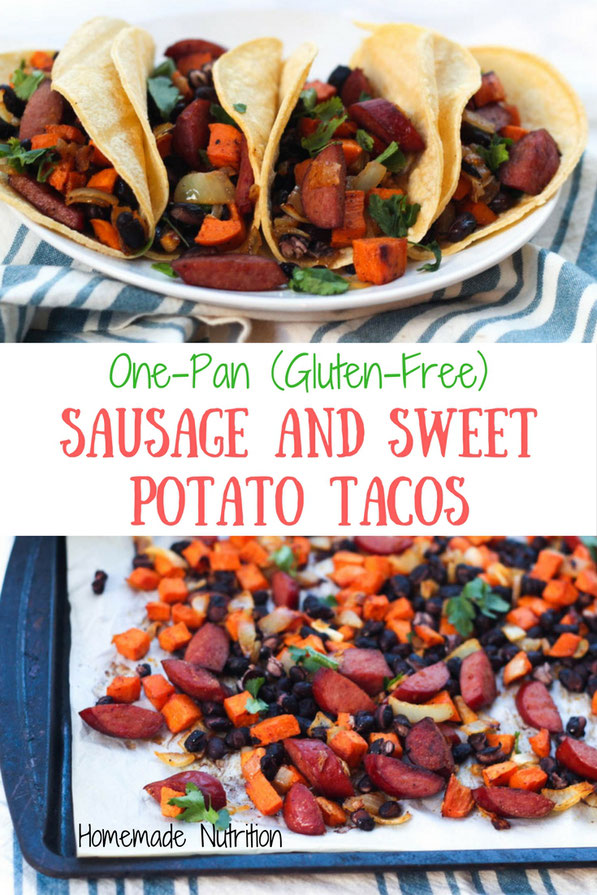 ---
---
---