The classic tuna melt gets a delicious makeover!  These tuna melt quesadillas are still everything you'd want from the savory, comforting classic, but are much lighter and take just a few minutes to make.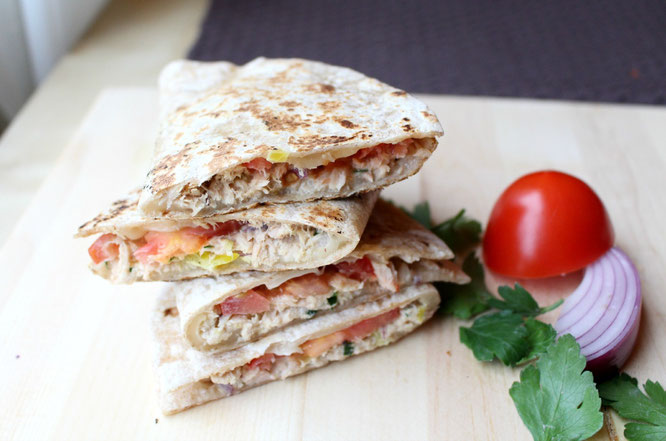 One of my goals this year is to include more fish in my diet.  It's an excellent source of lean protein and fatty fish like salmon offer heart-healthy omega 3 fats, so you really can't go wrong adding a little more fish in place of some of the other meats common in the American diet.  One of the most frequent nutrition tips I offer clients is to start making a few substitutions in their eating patterns by finding one "less healthy" food item they eat regularly and replacing it with a more nutritious option.  Any time you can eat a little more of something healthy and a little less of something that's "not-so-healthy," you will come out ahead!  So if you're able to have salmon, tilapia, or tuna once a week instead of a weekly hamburger, you will be having the double benefit of a leaner protein with heart healthy fat plus removing a fattier food with a refined burger bun from your eating plan. 
This works with other foods too.  Think of one "treat food" that's a common part of your eating routine.  Maybe you eat a couple cookies for dessert every night after dinner - instead of the cookies, if you had a smoothie or fruit, you'd not only be removing the extra sugar and refined carbohydrates found in the cookies, you'd also be adding fiber and nutrients from the fruit.  Give it a try!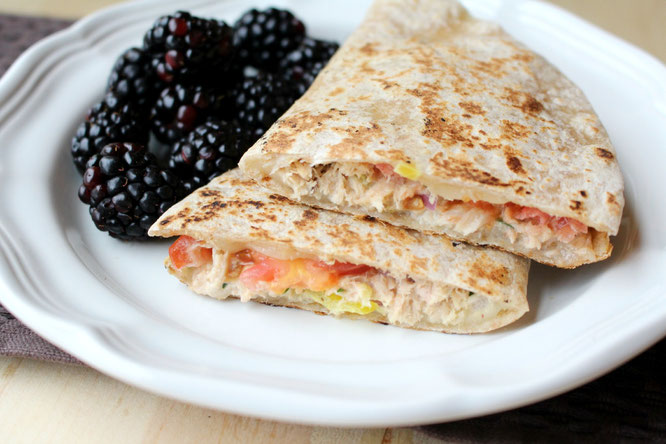 Tuna melts have two classic components that I wanted to be sure to include in this recipe:  cheese (obviously, for the "melt" effect), and tomatoes.  Anytime I've had a tuna melt, it's always had some sliced tomato between the tuna and cheese.  I don't know if that's the way it always is or just how I've always eaten it.  Either way, I think the tomatoes just belong there.  I reduced the amount of mayo in this recipe significantly and added a little Greek yogurt for creaminess, but there is plenty of additional flavor packed into this tuna. 
I recently started using chopped banana peppers instead of pickles in my tuna salads, and what a difference it's made!  They add such an awesome and different flavor from the standard sweet pickles, and I don't think I'll be able to go back to go back.  If you haven't tried pickled banana peppers before, you can find them right by the regular pickles at the grocery store.  They have both mild and hot peppers, so choose whichever you prefer - I've been eating the hot ones lately and don't think they are that hot (less hot than pickled jalapenos). 

In addition to the banana peppers, I wanted to bring some fresh flavors to the tuna melt to brighten up the dish, so I used finely chopped red onion and fresh parsley.  I always try to add something fresh to canned foods like tuna because I feel like it really "wakes them up."  It's a great way to use a more affordable canned food as the base of a meal with fresh flavors that don't make it taste like it's from a can.  I hope you enjoy this delicious, melty (and healthy) treat!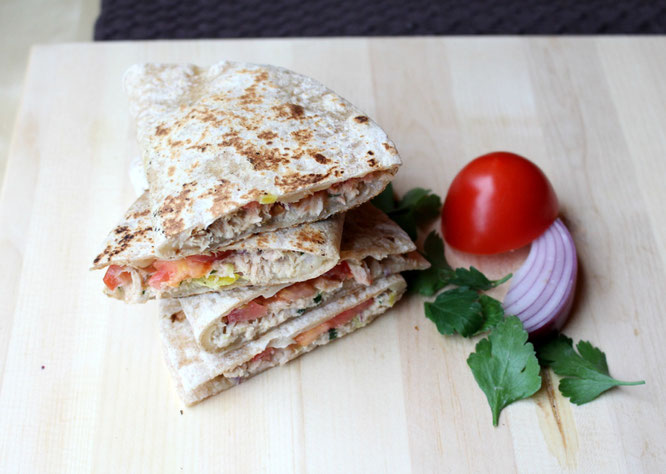 Tuna Melt Quesadillas
Makes 2 servings
Ingredients:
1 6-ounce can tuna, packed in water or oil, drained

1 teaspoon plain Greek yogurt

1 teaspoon mayonnaise

2 tablespoons chopped banana peppers or pickles

2 tablespoons chopped parsley

2 tablespoons finely chopped red onion

black pepper to taste


1 small tomato, sliced

2 whole grain tortillas


3 slices provolone or mozzarella cheese, each cut into 4 pieces



Directions:
In a medium bowl, mix together the yogurt, mayo, peppers, parsley, onion, and black pepper. Then use a fork to flake the tuna into the bowl and mix everything together. 

Heat a non-stick or cast iron skillet over medium high heat. 

To assemble the tuna melts, lay the two tortillas out flat.  Place 3 of the cheese sections over half of each tortilla, then spread half of the tuna mixture over the cheese on each tortilla.  Place the tomato slices over the tuna, then the remaining cheese on top of the tomatoes. 

Fold each tortilla in half, then place in the skillet.  Cook for 3-4 minutes per side or until the tortilla is golden and the cheese is melted.   

Serve with fruit and a small salad or carrot sticks on the side. 



Happy Eating!
~Amber

---