This meatless Philly cheesesteak sandwich features hearty portabella mushrooms.  It's packed with flavor and melty, cheesy goodness the whole family will love!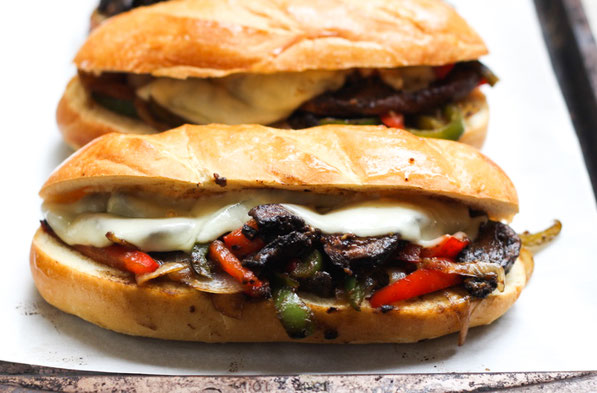 I'm excited to partner with Monterey Mushrooms, the largest fresh mushroom grower in North America, for this post.  All opinions are my own, and I only partner with brands and products I use in my own kitchen.
---
Sandwiches are one of my favorite go-to meals anytime of the day.  I think some people are just hard-wired to love their meals packed between two slices of bread or stuffed into a bun.  :)   And this love of sandwiches constantly inspires me to find new things to try when it comes to the filling. 
Today's recipe is an ooey-gooey delicious Philly cheesesteak-inspired sandwich, but with one main swap:  I used portabella mushrooms in place of the steak.  It's the perfect way to add a meatless meal to your weekly routine, and no one will even miss the meat in this sandwich!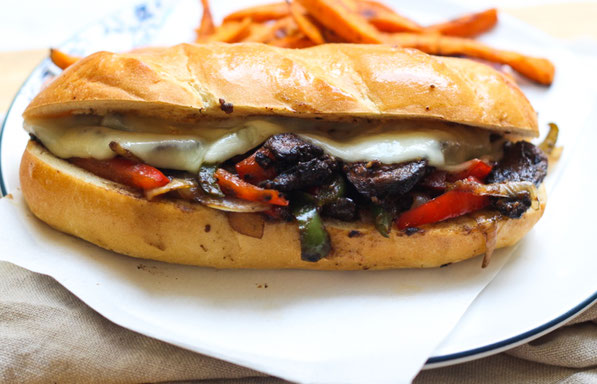 Using mushrooms in place of (or in addition to) meat is a great way to boost the nutrition content of meals.  Another benefit of using more mushrooms is that they're an extremely sustainable crop.
Interesting mushroom fact:  One million pounds of mushrooms can grow in the space of just one acre while requiring minimal water and are ready to harvest in just a matter of days. This makes them one of the most earth-friendly and renewable crops available!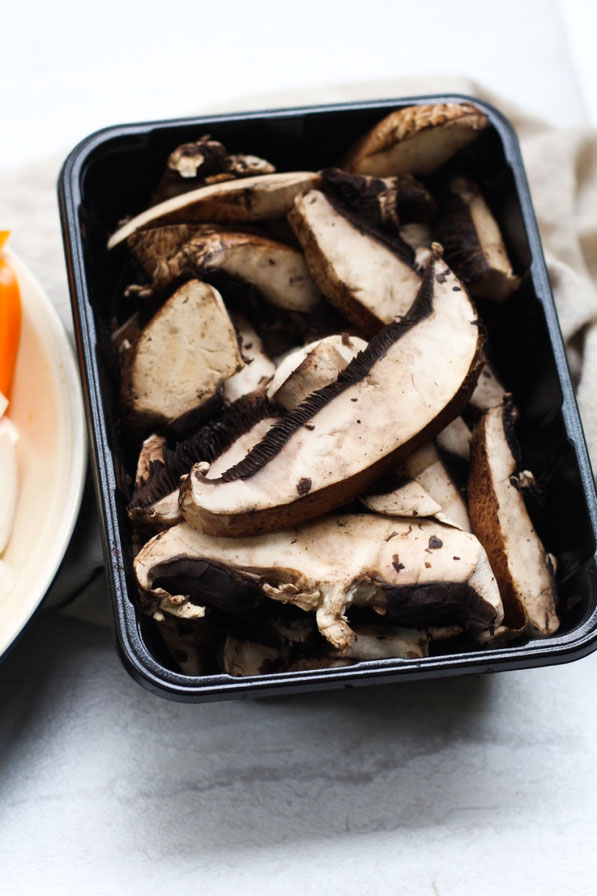 Now, in order to pull off a meatless sandwich like this one that would be a hit at our house, I needed to use the mushroom I felt would be the most steak-like in texture. 
For me, that option is hands-down the portabella mushroom.  It has a more robust flavor than white mushooms, and when cooked, portabellas have a nice hearty texture. That lovely texture adds more substance to the filling in these sandwiches.  The mushrooms also cook up to be super tender and moist!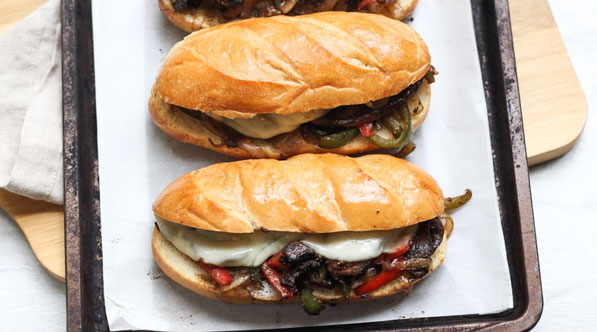 For today's recipe I used Monterey Fajita Time Sliced Portabellas, which are available at HEB grocery stores. They come in a 12-ounce package and include a seasoning packet and easy recipe for mushroom fajitas on the back.  The fact that these mushrooms are pre-sliced and have that seasoning packet was what originally drew me to this particular product, and it makes a delicious, perfectly seasoned meatless fajita meal!
So when making today's recipe, I went straight for these beauties since I knew they'd be ready to add right into the dish without any prep work.  I simply set aside the seasoning packet to use another time since this recipe has different flavors than a fajita recipe would. 
If the Fajita Time mushrooms aren't available where you shop right now, no worries!  2 8-ounce packages of Monterey Whole Portabella Mushroom caps are the perfect substitute; you'll just need to slice them yourself before using them in this recipe.  Montery also offers pre-sliced baby portabella mushrooms as another option, but I prefer the larger ones for their texture in this sandwich.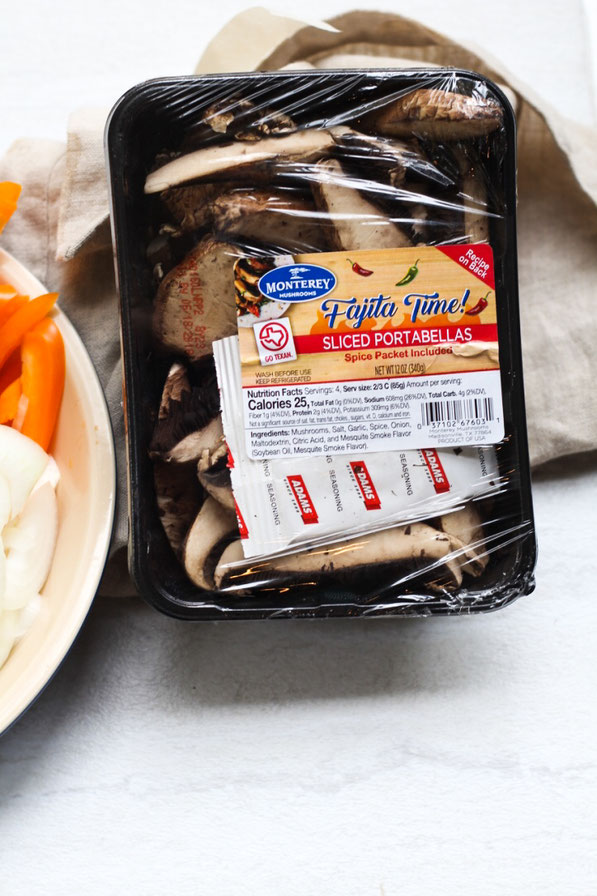 This meal comes together with just a few steps, and takes around 30 minutes from start to finish.  The most important thing to me in this recipe was getting the mushrooms to have the same flavor you'd get from a steak, and steak seasoning is my favorite way to bring that flavor to the dish.  Any brand you like will work great for it. 
That, combined with a few other seasonings like garlic and onion powder, dried parsley, and a little balsamic vinegar and Worcestershire sauce make for a rich flavor that is perfect in these sandwiches.  
After the mushrooms are seasoned, the first step for cooking the filling is to cook the mushrooms in a large skillet.  I like to cook them alone in the skillet instead of adding all the peppers and onions at the same time because the mushrooms will cook better and get slightly seared edges.  This also allows the mushrooms to release their moisture. 
It takes 8-10 minutes to get those mushrooms tender, but I think it's time completely well spent for the delicious result!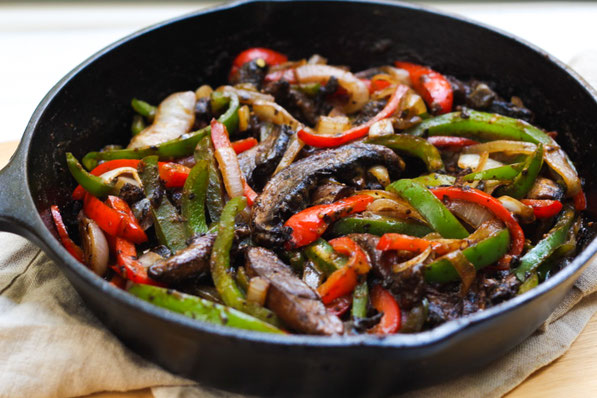 Once the mushrooms are cooked, they are removed from the pan and the peppers and onions get cooked in the same pan until they're tender, again, around 10 minutes.  Then comes the first part of the cheesy goodness.
The mushrooms go back to the pan with the peppers and onions and then all of it gets mixed with sharp cheddar cheese.  The cheese coats all the veggies and makes the filling so flavorful and decadent!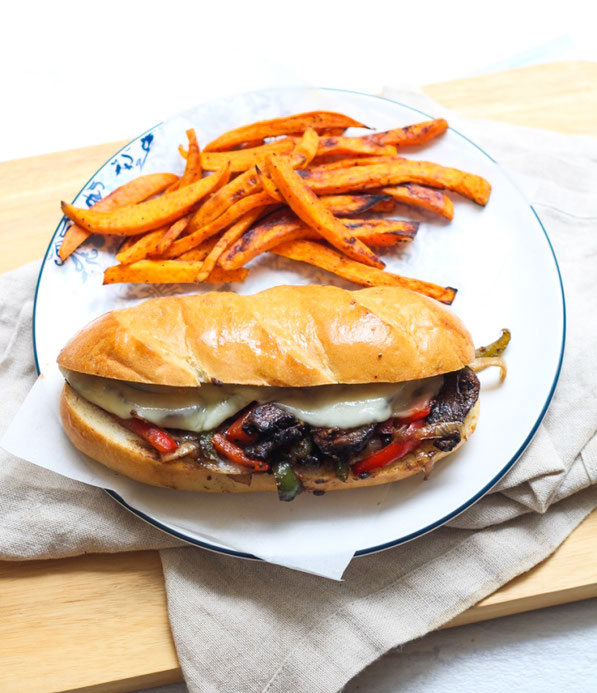 The final steps are to assemble and heat the sandwiches.  You can use hoagie rolls or white sub rolls; the main thing here is to scoop out some of the bread from the inside of the sliced rolls to make room for all the filling.  
Top each sandwich with provolone cheese, and bake for 5 minutes at 400 degrees for the ultimate meatless Philly Cheesesteak goodness!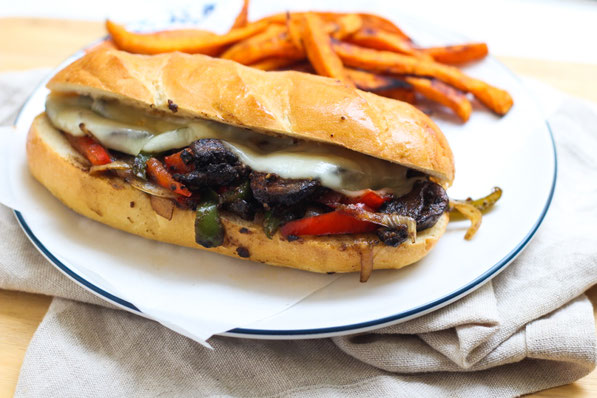 Mushroom Philly Cheesesteak Sandwiches
Makes 4 sandwiches
Ingredients:
1 14-ounce package Monterey Fajita Time Sliced Portabellas OR 2 8-ounce packages Montery Portabella Caps, sliced*
1 tablespoon steak seasoning
1 teaspoon onion power
1/2 teaspoon garlic powder
1 teaspoon dried parsley
2 tablespoons balsamic vinegar
1 tablespoon Worcestershire sauce
1 tablespoon + 1 teaspoon light olive oil or canola oil
1 large onion, sliced
1 green bell pepper, sliced
1 red bell pepper, sliced
3/4 cup sharp cheddar cheese
For the sandwiches: 
4 hoagie rolls or white sub sandwich rolls
6 slices provolone cheese, sliced in half
Directions:
Preheat oven to 400 degrees.  In a large bowl, add the mushrooms, spices, balsamic vinegar, and Worcestershire sauce and toss to combine.*  
Heat a large cast iron or nonstick skillet over medium-high heat, and add the 1 tablespoon of oil and mushrooms.  Cook the mushrooms for 8-10 minutes until they are tender, stirring them only once or twice.  Remove mushrooms from the pan and set aside.
Add 1 teaspoon of oil to the same skillet and add the sliced onions and peppers.  Cook for about 10 minutes or until tender.  
Add the mushrooms back to the skillet with the peppers and onions, then add the sharp cheddar cheese and mix until the cheese melts and coats the veggies.  Remove from heat. 
To assemble the sandwiches, slice the rolls in half length-wise and scoop out some of the inside of the rolls to make room for the veggie filling.  Add 1/4 of the veggie mixture to each sandwich, top each with 3 of the half-slices of cheese and place the top of each roll back on the sandwiches.  
Bake for 5 minutes until the cheese is melted and the sandwiches are slightly crisp on the outside.  
*Note:  If using the Fajita time mushrooms, remove the seasoning packet that comes in the package.  If using the Portabella caps, you'll only need about 3/4 of the sliced mushrooms for this recipe. 
Happy Eating!
~Amber
---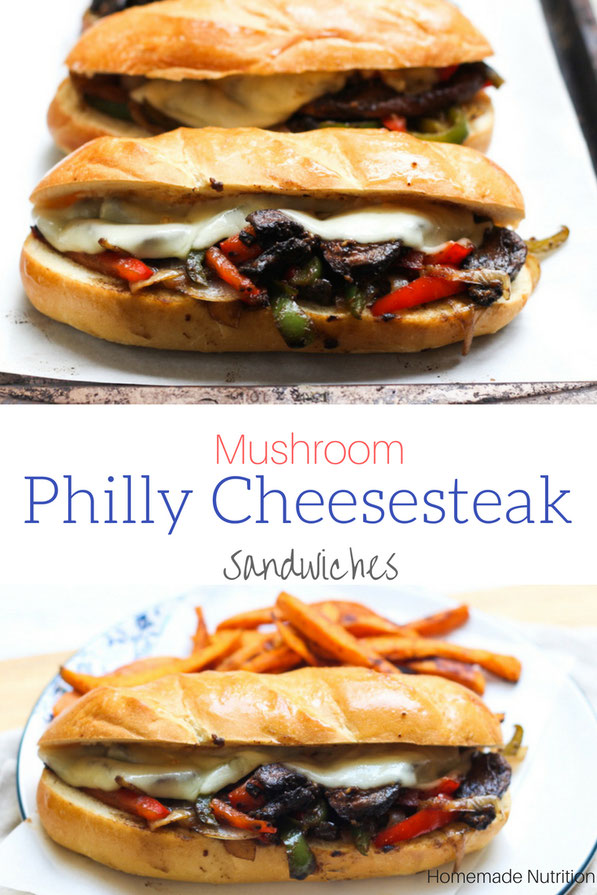 ---