This easy brown rice and veggie casserole is made entirely from freezer and pantry staples!  It's a quick vegetarian go-to meal for a busy weeknight!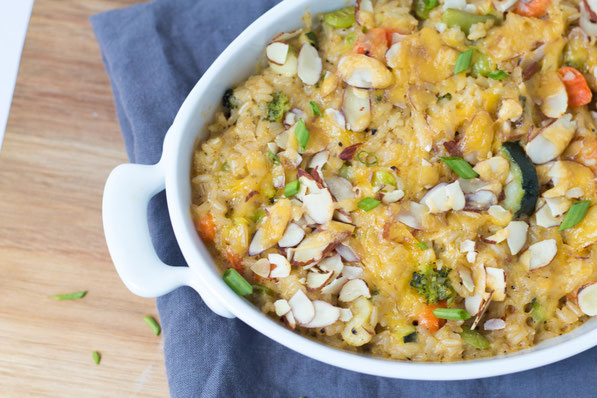 There are certain ingredients I always have on hand in the freezer and in my pantry at home, and I love being able to come up with quick meal ideas from those ingredients on nights when I didn't have another dinner planned.  
This casserole is the perfect example of one of those "pantry dinners."  I keep several types of frozen veggies on-hand all the time because they're already washed, chopped, and ready to cook - which saves a TON of prep time in the kitchen.  
Lately, I've also been buying pre-cooked grains from the freezer section at the store. These are absolutely amazing because the grains are always perfectly cooked and can either steam right in the bag for just a few minutes, or I'll take them out of the bag and heat them in a glass bowl.  It's a great shortcut to enjoying heart-healthy whole grains in minutes!
---
---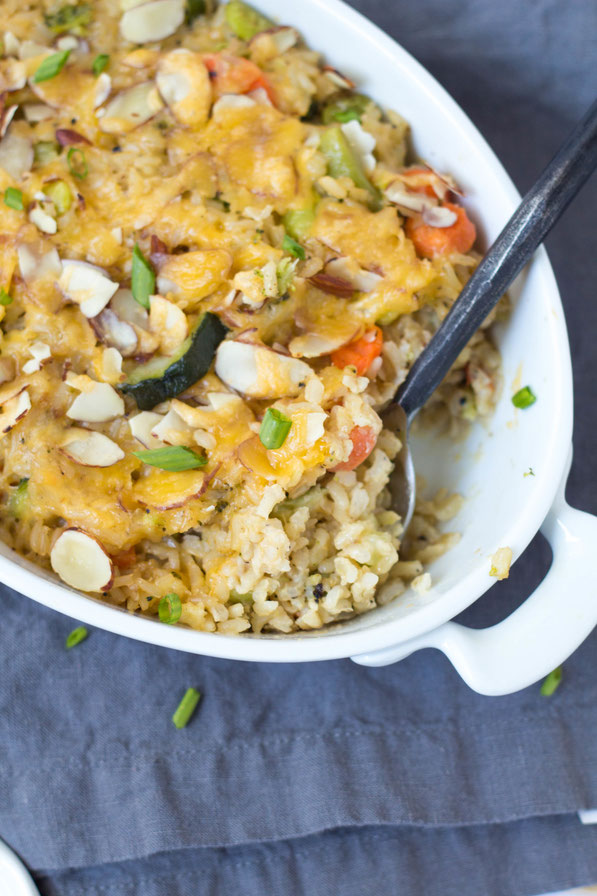 So on a night when I didn't have much else planned, I combined my frozen veggies and rice with some cheese,  milk, low sodium veggie broth and spices - and this tasty meal was born!  
I like to top this casserole with sliced almonds (which I also always keep around) because they add a tasty crunchy topping, but you can use any nuts you have on hand.  You can also use any combination of frozen vegetables you want.  You could even switch up the grain and use frozen quinoa - the possibilities are endless!  :)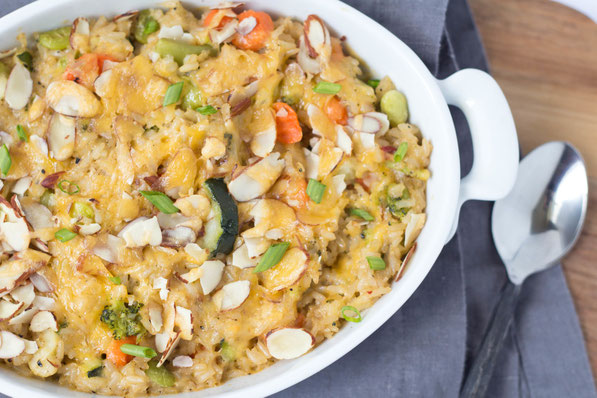 Cheesy Brown Rice Veggie Casserole
Makes 4-6 servings
Ingredients:
1  bag frozen pre-cooked brown rice (2 cups), cooked according to bag directions
1/2 tablespoon unsalted butter
1/2 tablespoon light olive oil
1 cup frozen chopped broccoli
1 cup frozen mixed veggies of choice ( I used a Mediterranean veggie blend)
1/2 teaspoon onion powder
1 teaspoon garlic powder
salt and pepper to taste
1 tablespoon cornstarch
1/2 cup milk 
3/4 cup low sodium vegetable broth
1 cup shredded sharp cheddar cheese
1/2 cup sliced almonds
sliced green onion for garnish (optional)
Directions: 
Preheat a medium cast iron or non-stick skillet over medium high heat.  Add the butter, oil, frozen broccoli and mixed vegetables to the skillet.  Cook for about 5 minutes. 
Add the onion powder, garlic powder, salt, pepper, and cornstarch to the skillet and stir for 1 minute.  
Add the milk and vegetable broth to the skillet and mix until the mixture is bubbly, about 2-3 minutes.  
Add the cheese and cooked rice to the skillet and stir to combine everything.  If using an oven-safe skillet, top the casserole with the sliced almonds.  If not, transfer the casserole mixture to a small casserole dish and top with the almonds.
Bake at 350 degrees for 15 minutes.  Top with green onions if desired.  
Happy Eating!
~Amber
---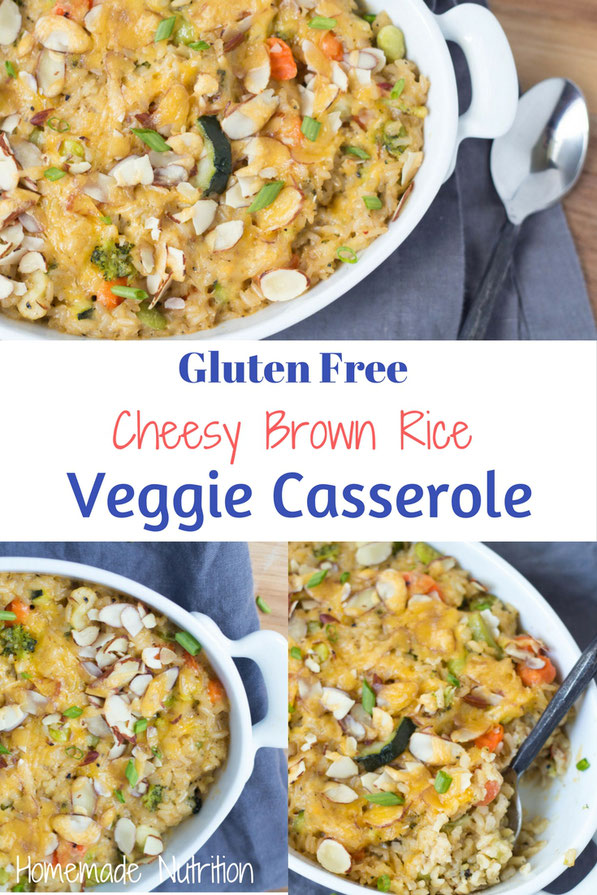 ---