These BBQ roasted chickpeas are the perfect substitute for chips!  If you like salty, crunchy treats but still want a high-fiber, high-protein snack, this recipe is for you!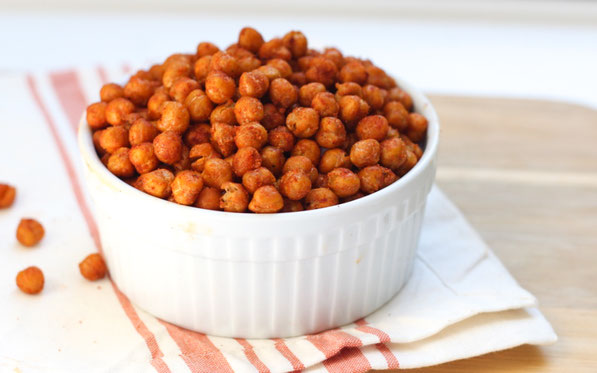 I like chips a lot.  And I know as a dietitian, you might not expect me to say things like that, but hey, we're real people too! ;)  In fact, if you talk a dietitian, most of them will tell you that they really do enjoy all foods, just in moderation.  So I eat chips sometimes, but  the rest of the time when I'm craving a salty, crunchy treat,  I try to stick with healthier alternatives. 
And today's recipe fits in perfectly with this month's Recipe Redux theme, where healthy food bloggers are challenged to come up with healthy recipes:
"Whether headed to the beach, or headed back to school, or ready for football – we're craving crunchy snacks. Show us your favorite healthy snack recipe with crackle and crunch." 
So when I thought of the crunchy snack I've really been enjoying lately, I knew this post had to be about roasted chickpeas.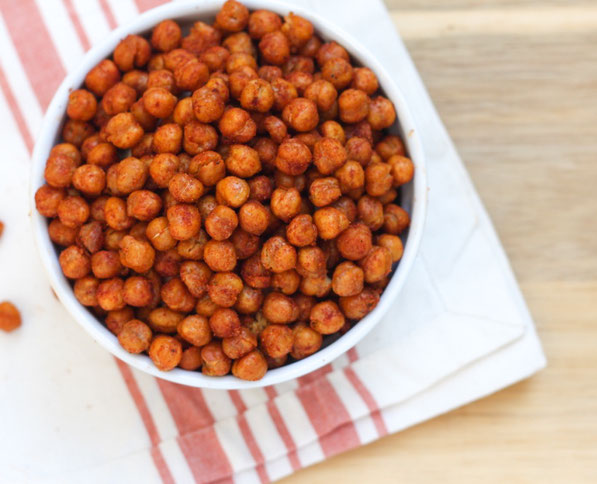 I've made roasted chickpeas on the blog a long, long time ago, but since then, I've learned some tricks to getting the perfect crunchy result and how to best season the beans. 
The reason I love making roasted chickpeas (aka garbanzo beans) is because they're a salty, crunchy snack alternative to chips that you can actually make ahead and keep on hand for a week or more without losing any quality in the taste or texture.  Perfect for school lunches or afternoon snacks for kids of any age. :)

The key to roasting the perfect chickpea is patience.  And an eagle-eye.  I usually stick with recipes that are really simple to pop in the oven and come back to when they're done, but with these, you have to really watch them because they go from perfect to burnt in what feels like a split second.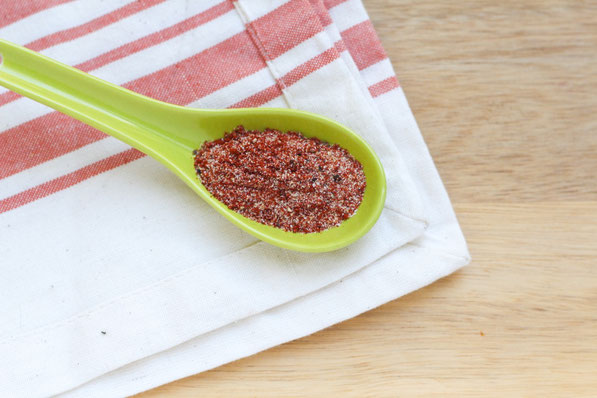 So, I set my oven at 400 degrees and cook the canned chickpeas (which have been rinsed, drained, dried with a paper towel, and tossed with oil and salt) for 20 minutes.  From tat point on, I peek in the oven and take one out to test about every 3-5 minutes. 
I've made these many times, and I have definitely had different cooking times for different brands of beans and even from one can to another.  The ones I made today took 32 minutes to get to crispy perfection, but sometimes it's just 25 minutes if the beans are a little smaller or not as moist inside.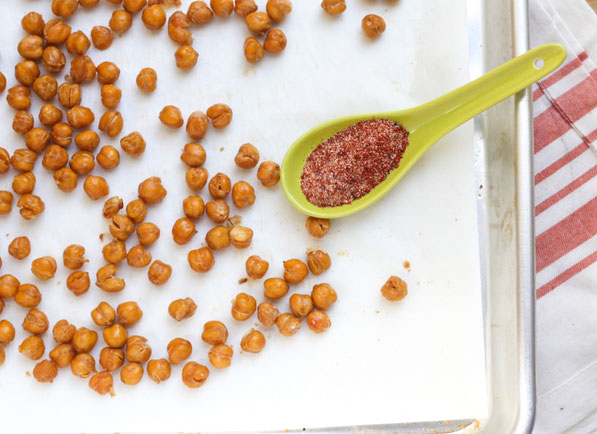 Now on to the seasoning....again, after many trials (and errors), I've found that the best way to season roasted chickpeas is to cook them plain with a touch of oil and salt, and wait to season them until they are fresh out of the oven. 
I used to season them before baking, but I found the seasoning would burn and would never really have the flavor or color I was looking for.  Tossing them with the seasoning while they're still hot allows it to stick to the beans while still keeping all the color and flavor you need for them to be perfect and delicious. 
For these barbecue flavored chickpease I used smoked paprika along with garlic powder, onion, powder, salt, and pepper, to deliver a really nice smoky flavor that replicates the flavor profile of BBQ chips.  Yum. :D  Next time you're craving a salty snack, drop the chips and give these a try!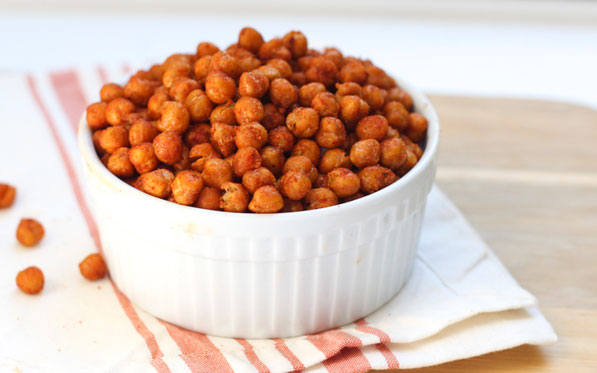 Crunchy Barbecue Roasted Chickpeas
Makes 4 (1/2 cup servings)
Ingredients:
1-15 ounce cans low sodium garbanzo beans (chickpeas), drained and rinsed, then patted dry with a paper towel
1 tablespoon light olive oil or canola oil
1/2 teaspoon salt
1/2 teaspoon smoked paprika (or more to taste)
1/4 teaspoon onion powder
1/4 teaspoon garlic powder
black pepper to taste
Directions:
Preheat oven to 400 degrees.  In a large bowl, combine the beans, oil, and salt.  Toss to coat the beans well.
Mix the smoked paprika, garlic powder, onion powder, and pepper in a small bowl and set aside. 
Spread the beans onto a baking sheet lined with parchment paper or foil.
Bake for about 25-35minutes, or until the beans are completely crunchy, but not burned.  Watch them very closely after about 20 minutes, because there is a fine line between perfect and burnt.  Check them by taking one of the beans out and tasting it to determine if it's crunchy.  
While the beans are still hot, sprinkle the spice mix over the top and toss them well to combine.  Let them cool on the baking sheet before placing in an airtight container to store them up to one week. 
Note:  you can also increase the quantity of spices if you want a bolder flavor or to tailor to your taste!
Happy Eating!
~Amber
---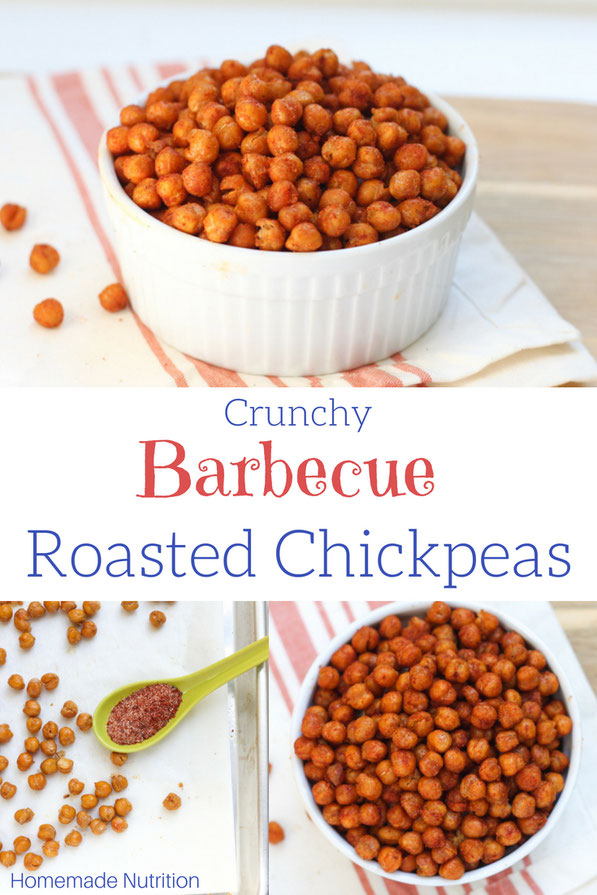 ---
---
---