This hearty slow cooker sixteen bean and sausage soup is the perfect make-ahead meal for a busy week!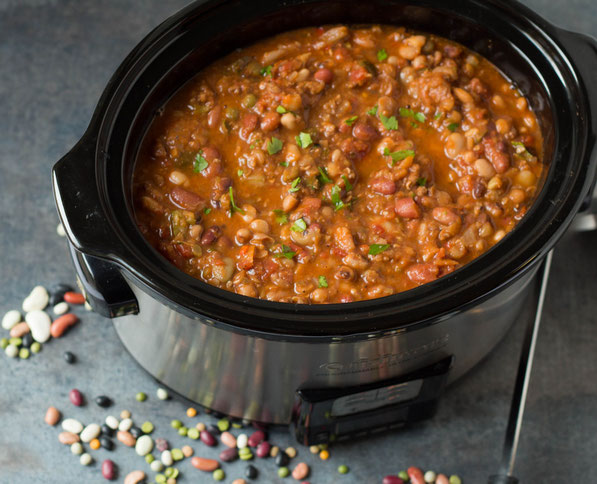 ---
---
Slow cookers (aka crock pots) are a pretty wonderful tool to have in the kitchen.  They are the ultimate time-saver when it comes to making delicious meals that basically cook themselves while you're out working or doing whatever you want that doesn't involve being in the kitchen. :)  
And if you're one of those people who has a poor dusty slow cooker living in the back of a cabinet in the kitchen that only gets used once or twice a year, get that little beauty out of the pantry, dust it off (and maybe give it a quick rinse) and make this recipe!  You won't regret it.  
 Now on to the topic of beans...there are lots of reasons to have them on-hand for meals, but here are the main reasons I love them.  First, beans are cheap.  I mean really cheap. They're one of the most affordable healthy foods you can find in the store.  The one pound bag of beans (that has 16 different varieties) I used in this recipe was $2, and this recipe makes 10-12 servings!  
Beans also happen to be very nutritious - they're a great source of protein, fiber, iron, and other vitamins, minerals, and antioxidants.  They're the perfect plant-based heart healthy food!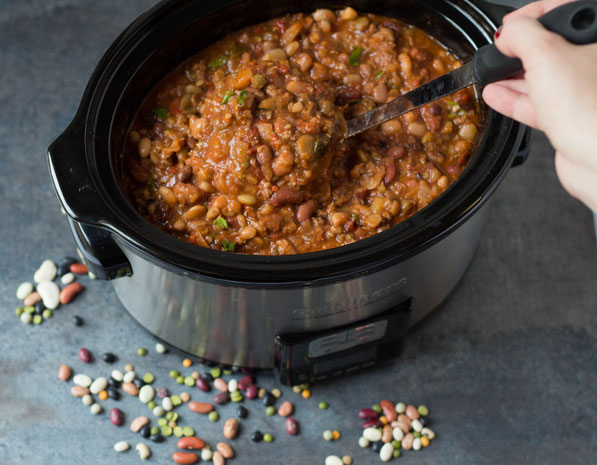 This recipe is easy to make and literally feeds a small army.  Or a small family for a whole bunch of meals.  Since I usually cook meals for two,  most of this soup gets portioned out into zip-lock bags (in single or double serving portions) and placed in the freezer so we don't get tired of eating bean soup over and over and over again all week.  Now I have enough stashed in the freezer for quick lunches and dinners any time I want!  But if you do cook for a small army, this recipe is perfect as-is! ;)  
The biggest thing that makes this soup different from the regular "bean soups" out there is that I skip that little seasoning packet that comes in the bean soup mix (because those packets are usually full of salt and weird ingredients) and season it myself with different herbs and spices.  It's delicious and better-for-you!  And a little bit of light breakfast sausage brings a hearty texture, yummy flavor, and makes this soup more than just a big pot of beans. 
On a side note, after this soup has been cooled and refrigerated, the beans will soak up more of the liquid as they sit.  So when you go to re-heat this soup, you may need to add some water to the bowl before heating it up.  Enjoy!!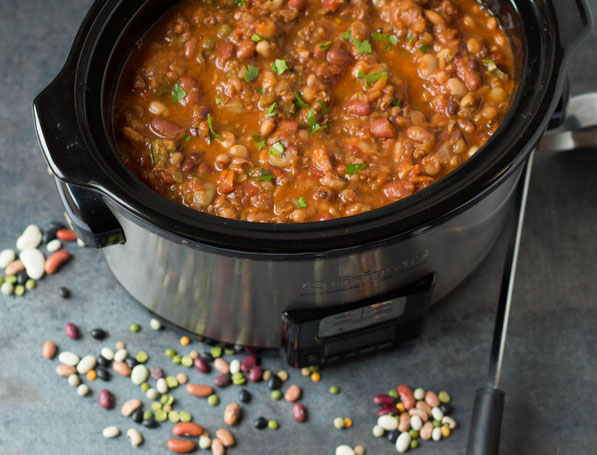 ---
Slow Cooker Bean and Sausage Soup
Makes 10-12 servings
Ingredients:
1 pound bag sixteen bean mix (dried beans), seasoning packet removed

1/2 pound light breakfast sausage

1 red onion, chopped

1 large zucchini, chopped

1/2 red bell pepper, chopped

1-28 ounce can crushed tomatoes

2 cups water

2 teaspoons garlic powder

1 1/2 teaspoons season salt (can use regular salt)

2 teaspoons dried thyme
1 teaspoon dried oregano
1 1/2 teaspoons onion powder
1 dried bay leaf
pepper to taste
parsley for garnish (optional)
Directions:

Sort through the dried beans and place in a large bowl.  Fill the bowl with water, covering the beans with about an inch of water above them.  Let the beans soak for 8 hours or overnight.  Rinse the beans and place in slow cooker. 
Heat a small skillet over medium-high heat.  Cook the 1/2 pound of sausage, using a wooden spoon or spatula to break the meat into crumbles as it cooks.  Drain any excess fat from the cooked sausage. 
Place the sausage, onion, zucchini, bell pepper, water, and all of the spices in the slow cooker and mix with the beans to combine.*  
Cook on low for 8-10 hours or high for 5-6 hours.  Ladle soup into bowls and top with fresh parsley to serve. 
*If you have a smaller slow cooker (4 quart size), I recommend making a 1/2 batch of the recipe. 
Happy Eating!
~Amber
---
---
---