You just can't beat a recipe that only has three ingredients and cooks in one pot.  That's the beauty of this easy homemade spaghetti o's recipe; it's simple, family-friendly, and perfect for a busy weeknight!
This months' recipe theme from Recipe Redux is all about getting back into the kitchen and around the dinner table, which is perfect because that's what I'm all about with Homemade Nutrition!  So for this months' recipe, I decided to update a childhood classic and make it SO easy to make, there's no reason to buy it anymore!  And the food I chose was....Spaghetti O's!  I think most of us grew up enjoying those little pasta o's in that sweet, mild tomato sauce. 
When I decided I wanted to recreate this classic in a simple way, I reached for one of my favorite pantry staples:  pre-made roasted red pepper soup.  I pretty much always have a box (carton)of either low sodium tomato or low sodium roasted red pepper soup in the pantry because I love the base that it makes in dishes that normally call for tomato sauce.  I buy a natural version of these soups - the ingredients are what you'd expect to find in a soup - tomatoes, red peppers, veggie stock, a bit of cream, and salt.  I've used this soup in another recipe on the blog:  my one-pot pasta and meatballs, which is so simple and perfect for a weeknight meal.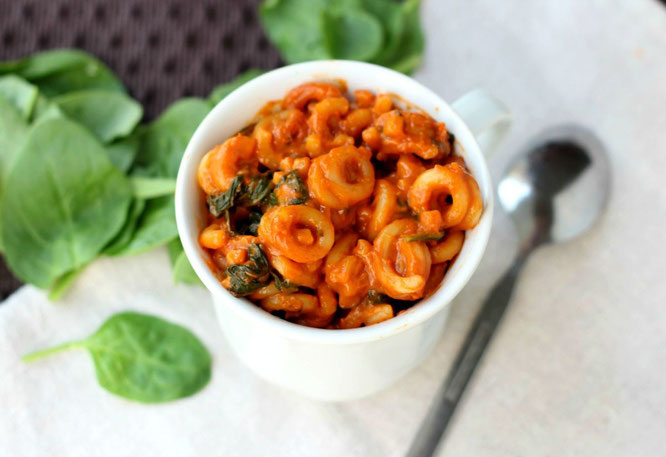 But back to today's recipe!  I actually didn't expect it to be this easy, but it really was.  There are only three ingredients in this recipe:  low sodium tomato or roasted red pepper soup, small "o" shaped or elbow pasta pasta, and spinach.  I added the spinach for a veggie-boost in this dish, because hey, this is a nutrition blog after all!  ;)  But you really don't even notice the spinach since it wilts right into the dish.  There are literally two steps to making this recipe.  First you put the pasta and soup in a pot, bring it to a simmer, and cook for about 20 minutes or until the pasta is nice and tender. 
Then you toss the spinach in, mix it up till it wilts, and voila! Dinner is served!  This is really tasty on it's own, but I'd recommend serving some baked or grilled chicken on the side for a boost of protein.  I hope this simple recipe will inspire your to get back into the kitchen and enjoy a homemade meal around the table with your family! :)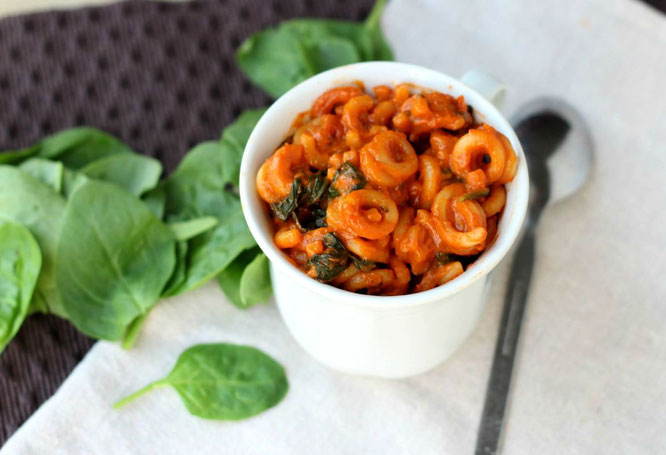 Easy Homemade Spaghetti O's
Makes 4 -6 servings

Ingredients:
1 32-ounce container low sodium tomato soup or roasted red pepper soup
2 cups uncooked "o" shaped pasta or other whole grain small pasta

4 cups baby spinach

Directions:

Pour the soup in a large pot.  Bring to a light boil and add the pasta.  Reduce the heat to low, cover, and simmer for 20-25 minutes, stirring occasionally, until the pasta is tender

Add the spinach to the pot and gently stir the mixture for 1-2 minutes, until the spinach has wilted into the dish. 

 Happy Eating!
~Amber
---
---
---
Check out these tasty dinner ideas below!