Meatballs are one of those classic comfort foods everyone loves but can sometimes be time consuming to make and not always very light.  This one-pot healthy version of pasta and meatballs uses healthy whole grain pasta, lean turkey, a special secret ingredient, and comes together in about 30 minutes!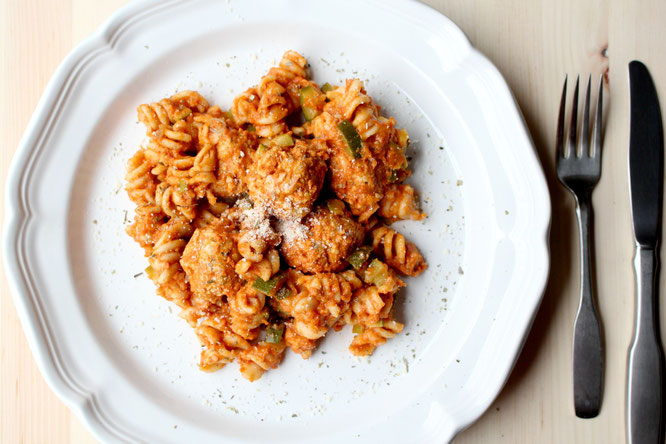 Everybody loves a good meatball.  But they can take a while to make depending on how you prepare them.  Many people will make a meatball mixture, brown the meatballs, then either bake them or finish them in a sauce, and cook the pasta separately before putting it all together, which can take some time (not to mention lots of dishes to wash!).
These meatballs take just a few minutes to get together and everything cooks in the same pot, so at the end of the day, you only have the bowl from the meat and one pot to wash! 
The main thing that makes these meatballs lighter is the type of meat - ground turkey breast.  Beef and/or pork are the typical choices of meat for this recipe, which can get a little greasy.  The meatballs themselves are also really quick to make.  I like to start by combining eggs, seasonings, and breadcrumbs in a bowl.  I mix them together first so that once the meat is added everything gets mixed in evenly, and without over-mixing the meat, which can make the meatballs tough.  After the meat mixture is ready, I set it aside because the meatballs will get dropped directly into the sauce.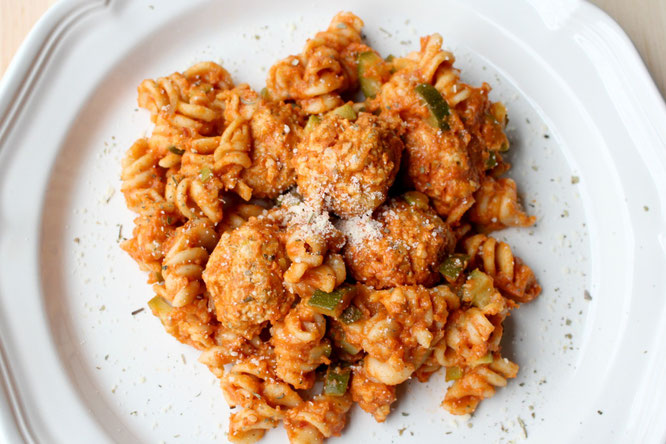 Then there's my secret ingredient:  tomato soup.  The reason I use tomato soup instead of a typical marinara sauce is that I find it has a milder flavor and gives a really nice overall texture to the overall dish.  The pasta and meatballs also soak up much of the flavor and liquid as they cook, making for a really nice finished product full of flavor!  No, it's not traditional, but it is delicious!  The tomato soup I get comes in a 32-ounce carton similar to a carton of chicken broth.  You can use any brand you like (I normally use either Pacific Organic Tomato Soup or Trader Joe's Tomato Soup and like the results from both). 
This is a great one-pot dinner because once the meatball mixture is made, you simply pour the tomato soup in a big pot and turn on the heat.  While the soup is heating, start dropping meatballs directly into it.  To make the meatballs the same size, I usually use my hands to divide the mixture into 8 equal sections then make about 3-4 meatballs out of each section.  It takes less than 5 minutes to make all of the meatballs and drop them into the soup mixture.  When the mixture comes to a boil, add the zucchini and pasta and reduce the heat to low.  Let it cook for about 20-25 minutes or until the meatballs are cooked through.  The pasta will absorb much of the soup as it cooks, which means it also absorbs a bunch of flavor! 
After it's ready, if you turn off the heat and leave the meal to sit for about 10 more minutes in the pot, it will absorb even more of the soup.  If you find it's still a little more liquid-y than you like, next time you make it, add another 1/2 cup dry pasta and it will absorb more of the liquid.  And if you like a little spice, try adding  some roasted red pepper flakes to the soup, or even venture out to try roasted red pepper soup instead of plain tomato soup.  The possibilities are endless!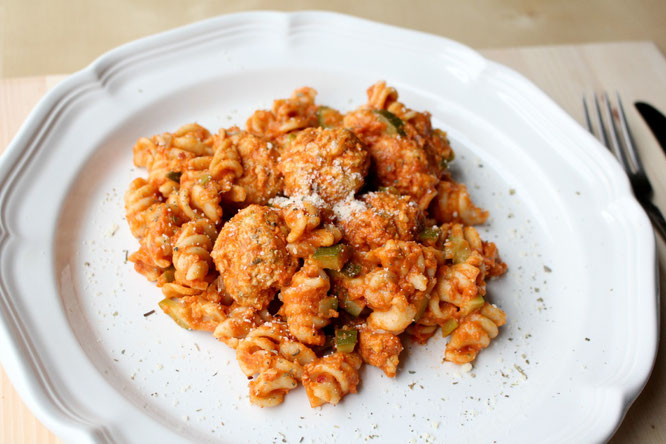 Turkey Meatballs with Pasta

Makes 4-6 servings
Ingredients:
1 pound ground turkey breast

2 eggs

1 tablespoon dried Italian Seasoning

1/2 teaspoon garlic powder

1/2 cup plain whole grain breadcrumbs

1/4 cup grated parmesan cheese

salt and pepper to taste

4 cups (32 ounces) low sodium tomato soup (look for a natural or organic brand)

2 cups dried whole grain short-cut pasta of choice (penne or spirals)

1 large zucchini, chopped
Directions:
To make the meatballs, in a large bowl mix the eggs, breadcrumbs, Italian Seasoning, cheese, garlic powder, salt, and pepper.  Add the meat and mix everything together until well combined. 

Heat a large pot over medium-high heat and add the tomato soup.  While the soup is heating, make the meatballs (about 2 tablespoons each in size) and drop them into the soup. 

Once all the meatballs are in the soup and the mixture has come to a boil, reduce the heat to low, and add the pasta and zucchini (Note: If you like your pasta aldente, wait 5-7 minutes before adding it to the pot). 

Cover and simmer for 20-25 minutes, stirring occasionally, or until the meatballs are cooked through and the pasta is done.  Let sit for about 10 minutes after removing from heat so more of the liquid will get absorbed into the pasta.  Garnish with a sprinkle of Italian Seasoning and grated parmesan cheese if desired.  Enjoy! 
Happy Eating!
~Amber
---