These roasted veggie wraps are a wonderful light option for lunch or dinner.  They're packed with flavor from the roasted portabella mushrooms, zucchini, red peppers, and hummus, and are still hearty enough to count as a satisfying meal even without any meat!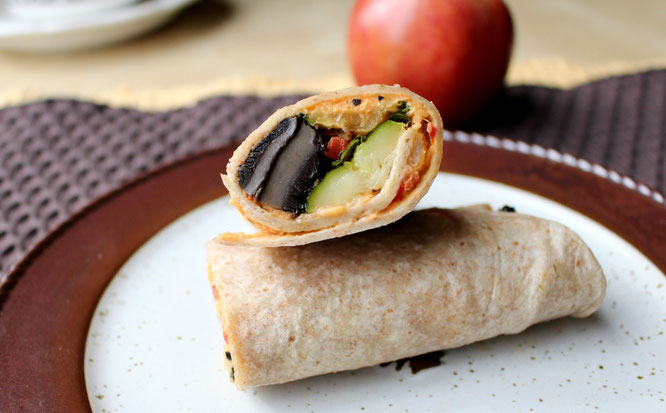 Wraps and Sandwiches are one of my absolute favorite categories of food.  I love them not only because they're a great way to put a whole meal into a convenient, portable package, but also because they make it easy to pack a bunch of nutrition into a meal any time of day, and with almost endless possibilities for different combinations of foods.
This wrap is perfect for vegetarians, vegans, or anyone looking to swap out a meat-based  meal or two each week such as for Meatless Mondays.  And just because it sounds simple doesn't mean it's boring!  Roasting vegetables is one of the best ways to cook them, because magical things happen to veggies when you roast them in the oven!  Roasting brings a truly delicious flavor and texture from almost any veggie you cook this way.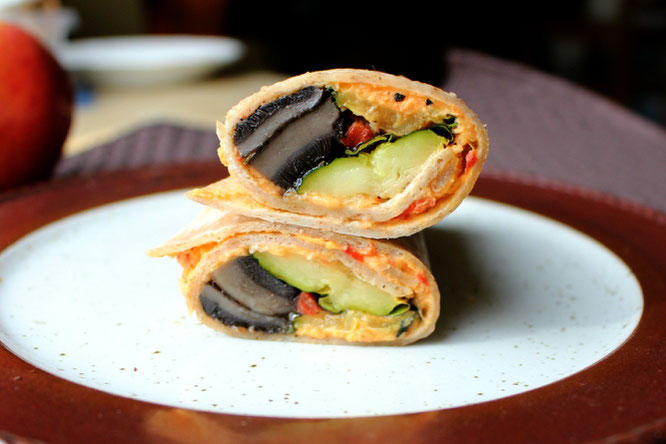 One of the star ingredients in this recipe is the portabella mushroom.  These are the mushrooms you see at the store that are the size of a typical hamburger patty, which is why they are often used as vegetarian burger alternatives.  They also have a really hearty, meaty texture that is very satisfying if you're a carnivore that doesn't want to miss that meat-like experience. 

One thing I think we often overlook when it comes to mushrooms is their nutrition contribution to a meal.  Most of us know they are technically considered a fungi, not a vegetable, so we see them more as a random filler in our food rather than something that is full of nutrients.  It turns out, they are a pretty good source of protein and fiber.  One large portabella mushroom (about 2 grams) only has about 20 calories, but has 3 grams of protein and 3 grams of fiber.  There aren't many foods that have that amount of protein and fiber in only 20 calories worth of a serving.  Now, you probably aren't going to eat enough mushrooms in one sitting to count as the same amount of protein you'd find in a serving of whole grains, beans, or meat, but they're still a surprisingly good nutrition addition to any meal. 

The vitamin that makes mushrooms very special in terms of nutrition is vitamin D.  Vitamin D is know as the "sunlight vitamin," because our bodies are actually able to convert sunlight to vitamin D which is pretty amazing!  It is absolutely essential for allowing our bodies to absorb calcium and maintain healthy bones.  However, in food vitamin D is pretty scarce, and most of the general population is actually deficient in this vitamin.  All mushrooms contain some vitamin D, but because most mushrooms these days are grown indoors they are exposed to UV light, which makes their vitamin D content increase significantly.  In fact, eating 1 large portabella mushroom has 100% of the USDA daily recommendation of vitamin D, which is incredible!  So don't underestimate these natural bone-building wonders! ;)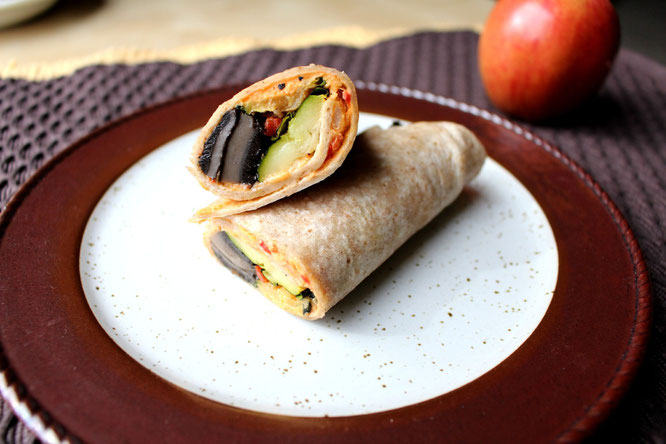 Homemade Vegan Roasted Veggie Wraps

Makes 2 Servings

Ingredients:

3 large portabella mushrooms, stems removed and any dirt wiped off




1 large zucchini, cut length-wise into 1/4 inch strips




1 tablespoon canola oil or light olive oil




1/2 teaspoon garlic powder




1/4 teaspoon dried thyme




1/4 teaspoon dried rosemary




salt and pepper to taste




1/2 cup roasted red bell peppers, drained if from a jar



1/3 cup hummus of choice (try my perfect roasted red pepper hummus!)


2 whole grain wraps (about 9 inches in diameter)



Directions:

Preheat oven to 425 degrees.  Line a baking sheet with foil and spray with cooking spray or spread with a light layer of oil. 




In a small bowl, combine the oil, spices, salt, and pepper.  Spread the vegetables into a single layer on the baking sheet, and brush or spread a little of the oil mixture onto each one.  Flip the veggies over and oil the other side of each of them. 




Bake for 18-20 minutes, turning the vegetables over half way through the cooking time.  Remove and let cool. 

Cut each mushroom into 4 slices. 




To assemble the wraps, place the two whole grain wraps on a cutting board.  Spread each one with half of the hummus. 

Place a layer of the mushroom slices in a line down the center of each wrap, followed by a later of the zucchini and roasted peppers. 




Carefully roll the wraps tightly and secure with 2 toothpicks per wrap.  Cut them each in half. 




Refrigerate until ready to serve.  These will hold for a few days in the fridge so you can make them in advance for lunches during the week!



Happy Eating!

~Amber

---