These BBQ roasted chickpeas are the absolute perfect substitute for chips!  If you like salty, crunchy snacks but still want to eat well, these are for you!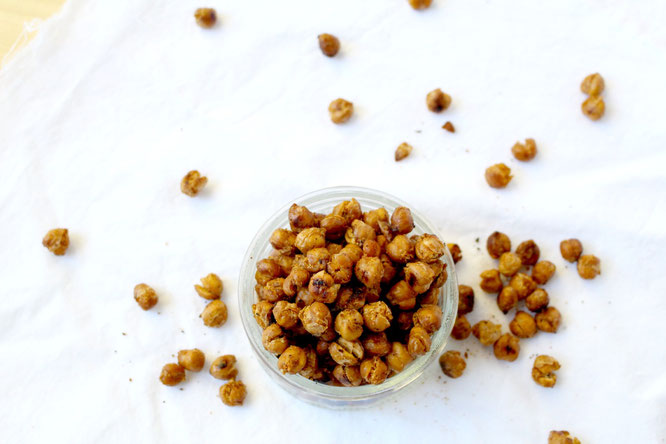 I like chips a lot.  And I know as a dietitian, I'm not really supposed to say things like that, but hey, dietitians are real people too! ;)  In fact, if you talk to most nutritionists or dietitians, they will tell you that they enjoy all foods, just in moderation.  So I do eat chips sometimes, but for the rest of the time when I'm craving a salty, crunchy treat, I'm always looking for healthy alternatives.  One that I really like is making my crispy kale chips, which I posted a while back - if you missed that one, check it out here! 

Another favorite I make all the time is roasted chickpeas.  These are the perfect crunchy snack alternative to chips, and unlike the kale chips, these are great to make ahead and keep on hand for a week or more without losing any quality in the taste or texture.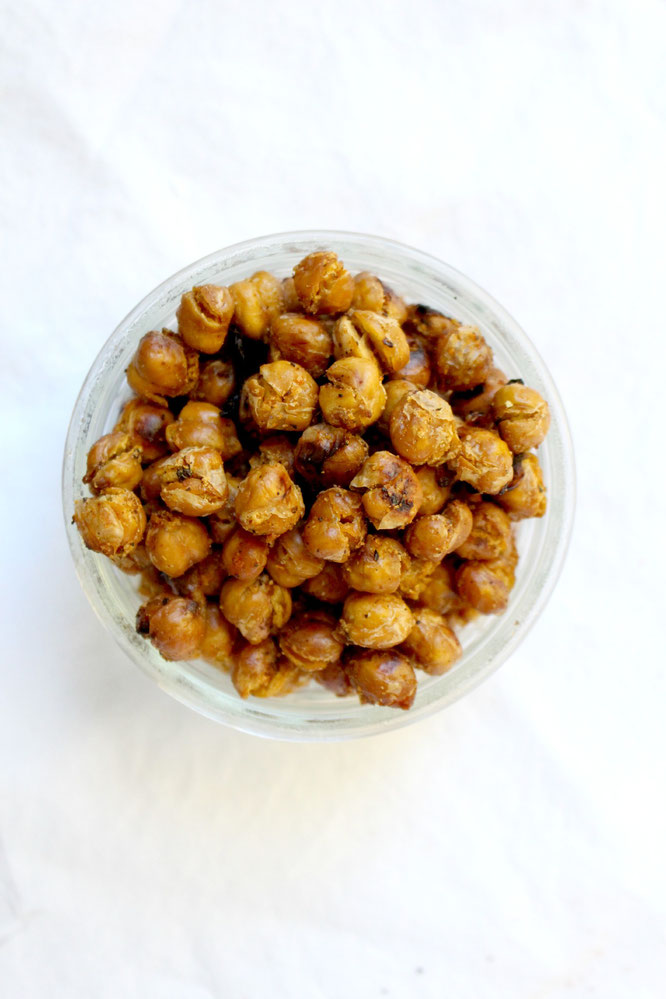 There are a few things that make this snack go above and beyond in terms of nutrition.  First, chickpeas (garbanzo beans) are beans.  So they are an excellent source of protein, fiber, iron, vitamins and minerals, and complex carbohydrates which give long-lasting energy.  They also happen to be really low in fat by nature, and since they are baked in this recipe, I add only the amount of oil needed to really help them crisp up and make the seasonings stick.  So the bulk of the calories you get from eating these really comes from nutrient rich sources.  Unlike regular potato chips, there's not a bunch of excess fat and calories that your body probably won't use so instead will convert to fat. 

I make several different varieties of roasted chickpeas, which is one of my favorite things about them, but this one is really special!  I used smoked paprika along with garlic powder, onion, powder, salt, and pepper, to deliver a really nice smoky flavor that replicates the flavor profile of BBQ chips.  Not exactly the same, but pretty darn close and delicious. :)  And if you can't find smoked paprika or don't want to go out and buy it, just use the regular paprika, it just won't taste as smoky.  Next time you're craving a salty snack, or have people over to watch a game, drop the chips and give these a try!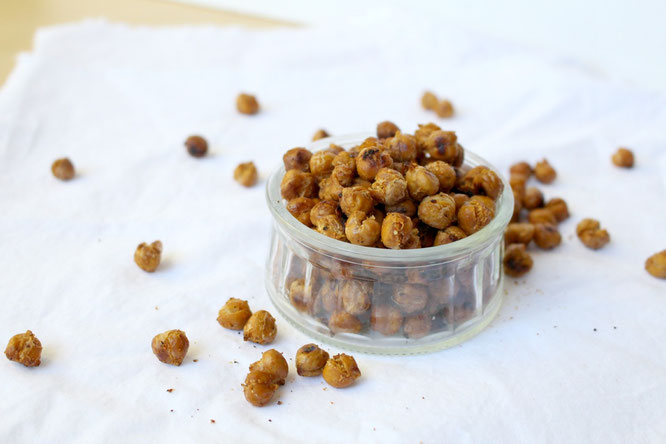 BBQ Roasted Chickpeas
Makes 8 (1/2 cup servings)
Ingredients:
2-15 ounce cans low sodium garbanzo beans (chickpeas), drained and rinsed

2 teaspoons canola oil

1/2 teaspoon salt

1/2 teaspoon garlic powder

1/2 teaspoon smoked paprika

1/2 teaspoon onion powder

black pepper to taste
Directions:
Preheat oven to 400 degrees.  In a large bowl, combine the beans, oil, and spices.  Toss to coat the beans well. 

Spread the beans onto 2 baking sheets lined with foil and sprayed with non-stick spray, or brushed with a little more of the oil. 

Bake for about 25-30 minutes, or until the beans are completely crunchy, but not burned.  Watch them very closely after about 20 minutes, because there is a fine line between perfect and burnt.  Check them by taking one of the beans out and tasting it to determine if it's crunchy enough.  (Note:  you can also increase the quantity of spices if you want an even more bold flavor.  These are a nice starting point but tailor to your taste!) 
Happy Eating!

~Amber

---