This five-ingredient sandwich is a delicious summer spin-off to the traditional BLT sandwich.  Grilled peaches, bacon, and arugula make the perfect combo for a quick lunch on the go!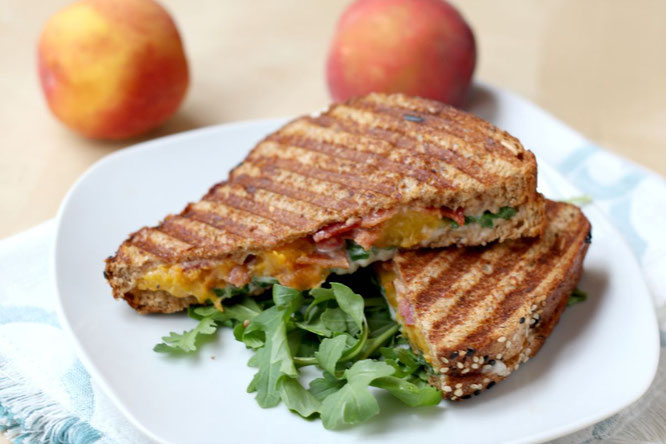 What was supposed to be my "week of grilled peaches" has actually turned into "two weeks of peaches" on the blog.  I thought I could squeeze all of my favorite peach recipes into one week, but I love peaches so much, it just wasn't possible!  In case you missed any of the peach recipes I've created over the past 2 weeks, here's a recap:

My recommendation would be to buy a bunch of ripe peaches and try all of them, because they are all simply delicious, light, and easy to make! 

This recipe came from the abundance of grilled peaches I had leftover from my other adventures with grilled peach recipes last week.  I love sandwiches, and happen to absolutely love a good BLT.  And since the the sweet/salty combo of peaches and bacon go well together, I decided to do a little update to the traditional BLT.  
I toasted a thick slice of sourdough bread, but use any hearty bread you have on-hand - a hearty whole grain bread would be delicious here.  Next I spread a thin layer of mayo over the bread, topped it with peppery arugula, cold leftover grilled peaches, and a thick slice of bacon.  This is one tasty sandwich!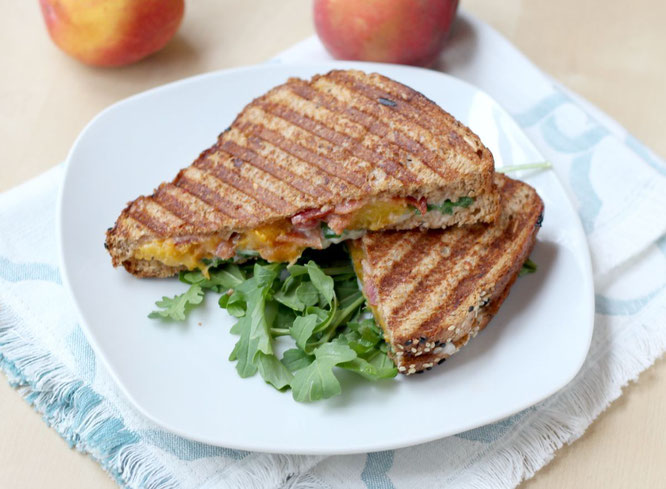 Grilled Peach, Bacon, and Arugula Sandwich
Makes 2 servings
Ingredients:
2 ripe peaches, cut in half and pits removed




non-stick cooking spray




1/2 cup arugula or other leafy greens

4 slices cooked bacon (uncured or "nitrate free" variety), cut in half



2 tablespoons mayonnaise 

4 slices hearty whole grain bread, sourdough, or ciabatta
Directions: 
Preheat grill, panini press, or non-stick skillet over medium-high heat.   Lightly spray the cut side of each peach half with the cooking spray and place on the grill, face-side down.  Cook for 5-10 minutes, or until the peaches are tender and have grill marks.  Remove from heat and set aside (once cooled, the grilled peaches can be refrigerated for up to 5 days). 




Cut the all of the grilled peach-halves into 4 slices.  To assemble the sandwiches, spread a thin layer of the mayo on each slice of bread. Top with the arugula, peaches, bacon, and other slice of bread.  

Lightly spray the outside of each sandwich with cooking spray, and place back on the panini press or skillet, and cook until the bread is golden and the sandwich is heated through. 

Happy Eating!
~Amber
---
---