Grilled Peaches make the perfect sweet topping for this easy overnight oats recipe.  This breakfast is packed with whole grains, protein, and fresh peach flavor perfect for summer!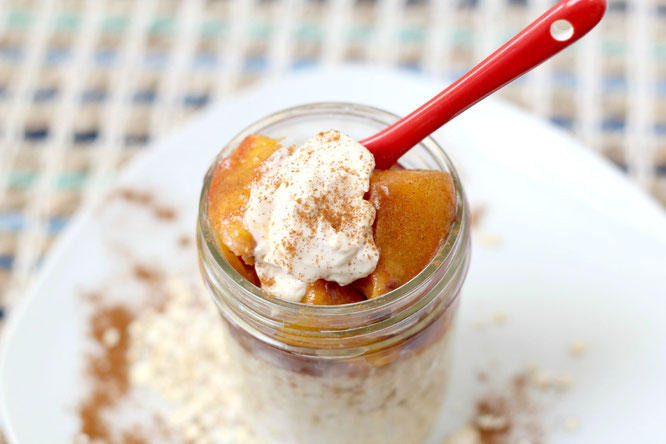 The third recipe to my "week of grilled peaches" is here!  This week I've been celebrating the deliciousness of fresh, ripe grilled peaches.  If you missed the first two recipes, you'll definitely want to check them out:
Grilled peaches with sweet Greek yogurt and cinnamon
Grilled peach and arugula salad with bacon, pecans, and cherries 
This recipe is a variation on one of the most popular recipes on my blog for overnight oats.  Peach preserves are mixed into plain Greek yogurt before being added to the oats, giving the whole mixture a mild peach flavor.  
Grilled peaches are the sweet topping that makes this such a flavorful, perfect summer breakfast.  It's a delicious way to enjoy a high protein, filling breakfast that also has whole grains for energy and fiber, plus a serving of fruit.  It's a great way to start the day!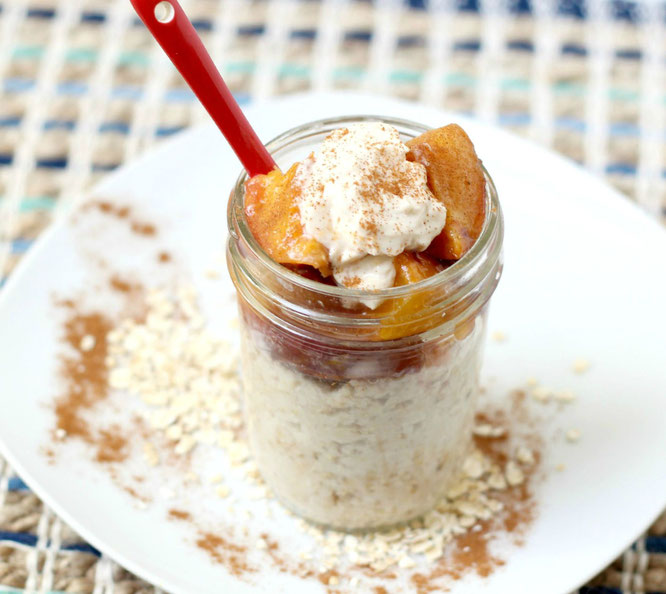 Grilled Peach Overnight Oats
Makes 2 servings

Ingredients:
2 peaches, cut in half and pits removed


1/2 cup quick cooking (instant) oats

3/4 cup milk of choice (1%, skim, almond, or soy)




1/2 cup plain Greek yogurt




1 tablespoon peach preserves

ground cinnamon to taste (optional)
Directions:

To make the grilled peaches:  Preheat grill, panini press, or non-stick skillet over medium-high heat.   Lightly spray the cut side of each peach half with the cooking spray and place peaches on the grill, face-side down.  Cook for 5-10 minutes, or until the peaches are tender and have grill marks.  Remove from heat and set aside to cool.  Once cooled, chop the peaches and place them in an air-tight container and refrigerate until ready to serve with the oats.  

Place the oats and milk in a bowl.  In a separate bowl, mix the peach preserves into the yogurt to combine, then add to the oat mixture and mix everything together.

Cover and refrigerate for at least 2 hours or overnight.  Top with the peaches when ready to serve and garnish with additional Greek yogurt and cinnamon if desired.   
 Happy Eating!
~Amber 
---
---
---