These easy crispy beef tacos take just a few ingredients and a few minutes to make. They're high in protein, gluten free, and completely delicious!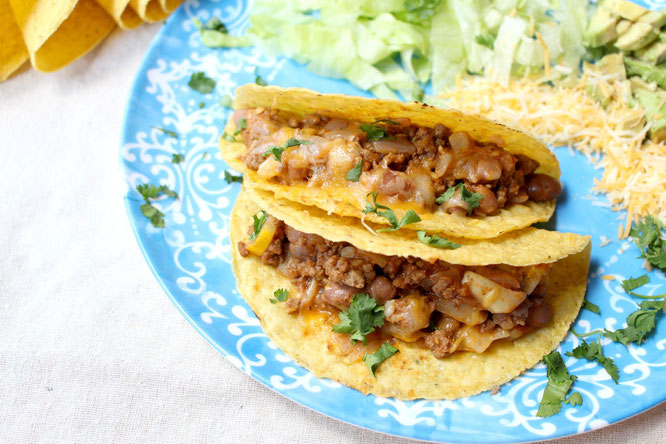 Growing up Texan means you grow up eating tacos.  Lots of tacos!  Crispy tacos like these were even served on a weekly basis in grade school where I grew up, so I guess it seems natural that I enjoy most types of tacos and make them on a regular basis.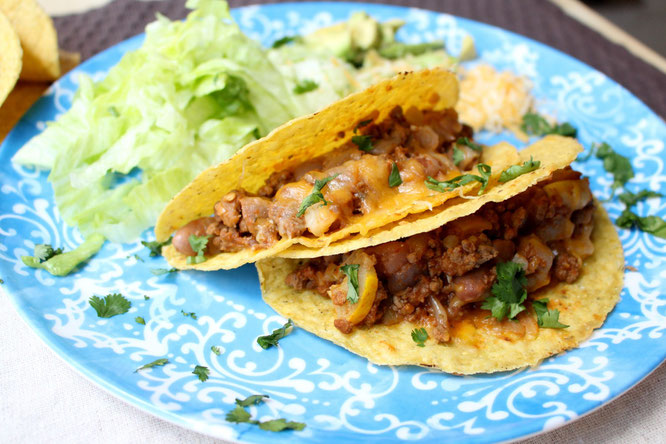 There are ways that tacos can either be really healthy or really "not so healthy."  Ways to make sure your tacos are healthier include: 

Using lean meat:  Chicken breast, lean ground beef, grilled fish, lean cuts of pork or brisket are the best bet - it's important to limit fatty meats like sausage, fatty cuts of beef, and fried foods. 




Including a plant based protein:  I try to do this as much as I can with tacos, and it's  usually in the form of beans.  Beans provide an excellent addition of protein, fiber, nutrients, and also bulk up a meat mixture so you can actually use less meat in the tacos.  And eating more plants and a little less meat is great for health and saving money. 




Adding vegetables to the cooked mixture and on the side:  I also use vegetables in almost every taco mixture because they cook right into the mix very easily and just like the beans, add bulk and a boost of nutrition.  After that, adding lettuce, tomato, or spinach on top is like "icing on the cake" because you get even more veggie-goodness!




Using a whole grain tortilla option:  Skip the flour tortillas most of the time.  In general, the best tortilla options would be corn tortillas or whole grain tortillas or wraps.  "Spinach" or "Sun-dried tomato" tortillas may look like a healthier option than regular flour tortillas, but these are almost always white tortillas disguised with a little bit of color to give the illusion of having a vegetable base.  Don't let those fool you!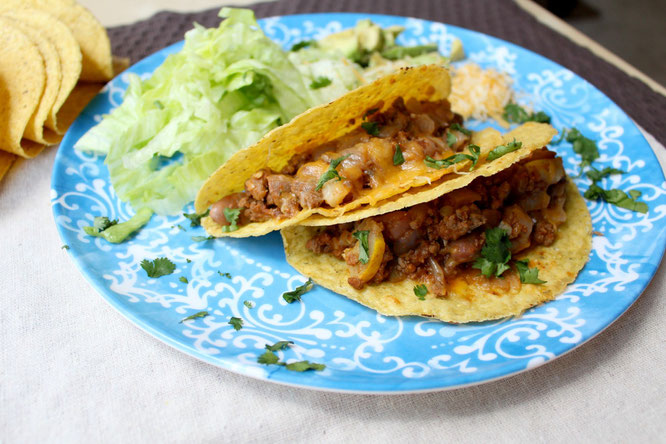 This means the things to watch out for are pretty much the opposite of what we just talked about above: 
Refined-grain tortillas:  Skip those white tortillas!  They are just like eating white bread, but with the added "bonus" of lard or shortening, which can be harmful to heart health. 




Fatty fillings:  Skip those fatty meats discussed above, and if you're out at a restaurant, look for fillings that are made up of whole, sliced meats or beans, not saucy, shredded meats as those tend to have a lot more grease. 




Don't over-do the cheese:  A little goes a long way.  Don't go cheese-crazy :)




No veggies "just meat":  This is really important to avoid!  You need veggies - most of us don't eat nearly enough vegetables and our overall health and waistlines often reflect this.  Veggies are so important, so don't let your tacos be without them!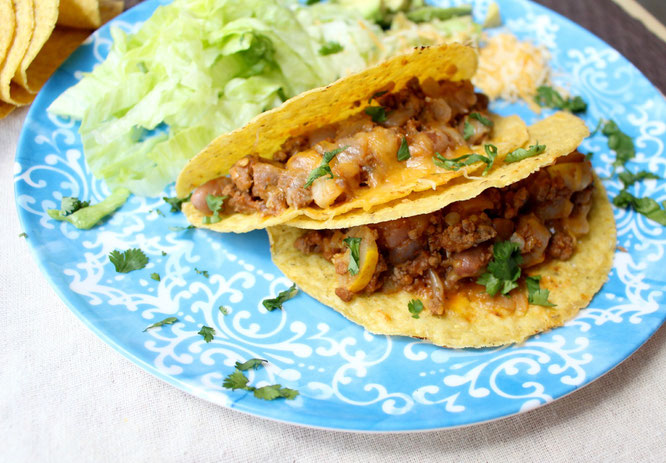 These tacos are a family favorite at my house and they also happen to be really easy to make.  This is a one-skillet meal that starts with lean ground beef (95/5), an onion, some zucchini or squash, and some beans and salsa.   Once you brown the meat and drain off any extra fat (if needed), you basically just combine everything else in the skillet and cook for about 15 minutes to let the flavors come together.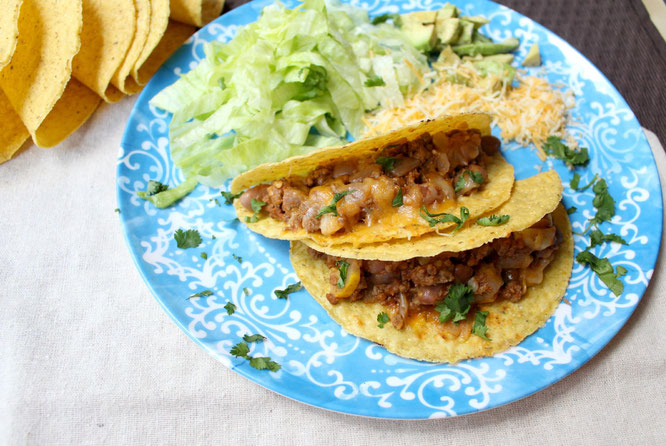 I like to serve this with shredded cheese, lettuce, and avocado.  Because this already has plenty of onion, squash, and beans, there's a nice boost of plant-based nutrition including extra vitamins, minerals, and fiber in this recipe even before the lettuce and avocado are added on top.  This is a really yummy, family friendly dinner that's perfect for a busy weeknight!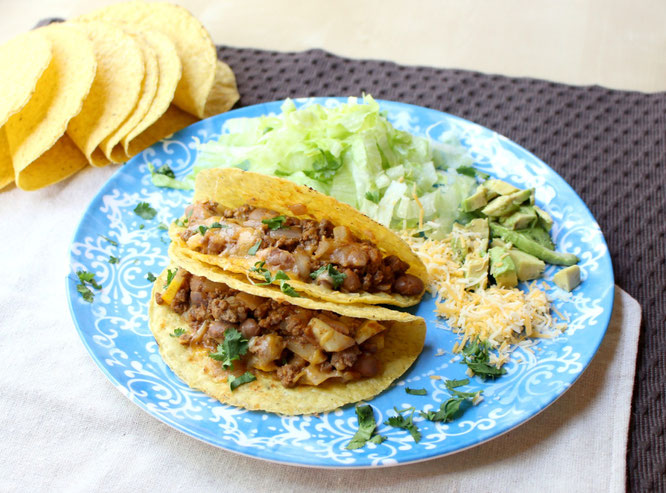 Easy Cheesy Beef Tacos

Makes about 6 servings (2 tacos each)
Ingredients:
1 pound lean ground beef (preferable 95/5 but at least 90/10)

1 teaspoon canola oil


1 medium onion, chopped

1 large or 2 medium zucchini or other squash, chopped

1-15 ounce can low sodium pinto or black beans,  rinsed and drained

1 1/2 cups salsa
salt and pepper to taste
1 cup shredded cheddar or or pepper-jack cheese
1/2 head iceberg or romaine lettuce, chopped
1 large avocado, chopped
Directions:

Heat a large cast-iron or stainless steel skillet over medium-high heat.  Add the canola oil and beef, and use a spatula or spoon to break up the beef as it begins to brown. 

After about 5 minutes, add the onion, zucchini (or other squash), beans, salsa, salt, and pepper.  Stir to combine everything.  Bring the mixture to a boil, then reduce to heat to low and cook for about 15 minutes. 

To assemble the tacos, spoon some of the beef mixture into each taco shell, top with cheese, lettuce, and avocado. 

 Happy Eating!
~Amber
---
---