Make-ahead cinnamon-raisin instant oatmeal mix is a great way to save time and money on busy mornings.  Plus this homemade pantry staple can be customized to your taste buds!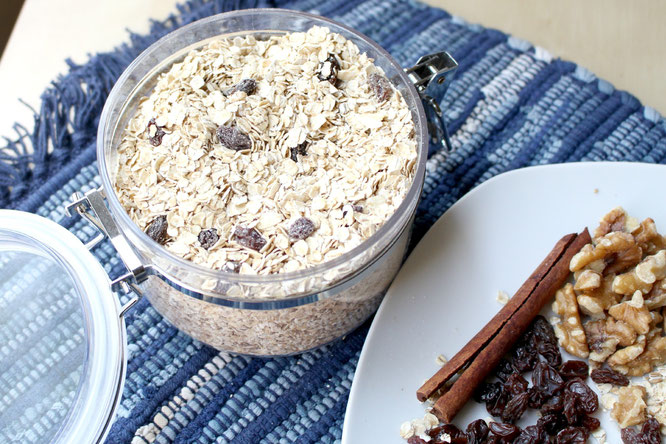 We all have certain pantry staples that we buy on a regular basis, and there are some awesome time-saving products out there that can make our everyday cooking a little easier:  Things like pre-made chicken or vegetable broth, biscuit or pancake mix, dried breadcrumbs, or instant oatmeal packets.  I used to buy instant oatmeal packets for busy mornings, but when I took a closer look at the food label, I found that I really wasn't getting as much nutrition as I wanted, plus it was high in sugar and salt. 
So I thought, why not make an oatmeal mix myself that would not only be lower in sugar and salt, but also be cheaper?  Ever since I've started making different instant oatmeal mixes at home, I haven't wanted to go back to the store bought version.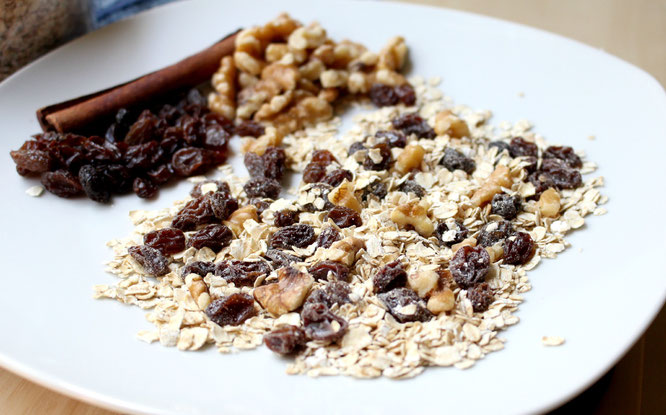 I love being able to control exactly what goes into my oatmeal, and now I don't even add any salt or sugar to my oat mixture because my taste buds just don't really need it anymore. 
That's the funny thing about making healthy changes in what we eat - once we start cutting out things like extra salt and sugar, we eventually stop craving those foods, which is totally a win-win because not only is that better for our bodies, but it also almost eliminates those cravings that can so easily control our energy levels and day-to-day eating patterns.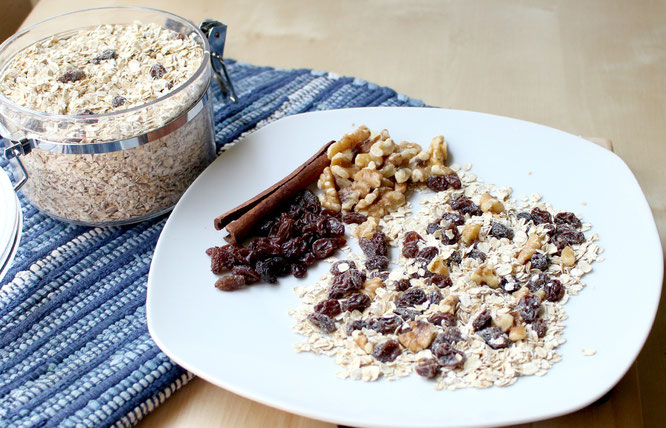 This recipe is my favorite version of instant oatmeal.  It's a combo of oats, raisins, walnuts, and cinnamon.  The raisins make it naturally sweet (there's an option of adding some brown sugar if you like it sweeter), and walnuts and cinnamon were just made for each other!  Plus, adding walnuts to the oatmeal mix adds a source of protein and healthy fat, which is important to include in a carb-based meal like oatmeal because it helps stabilize blood sugar levels and helps you feel fuller for a longer time. 
The beauty of this recipe is that you can customize it to your family's taste buds:  swap out the raisins for dried cranberries, chopped apricots, plums, or even dried pineapple for a tropical twist.  You can also use any unsalted nuts or seeds that you like:  sliced almonds and raw pumpkin seeds are really good in oatmeal because they have a texture that works well with oats.

You can store this mix a couple of different ways.  I like to keep it in a large storage container and use 1/4 or 1/2 cup scoop to measure out what I need depending on how much oatmeal I want to make (remember that oatmeal doubles in size as it cooks, so 1/4 cup dried oats makes 1/2 cup cooked oatmeal).  You could also measure the amount you want into small ziplock baggies to take to work with you in the morning.  That's the beauty of making this yourself:  you're in control of the quality and quantity.  I hope this recipe inspires you to create your own tasty variations of this quick, healthy breakfast!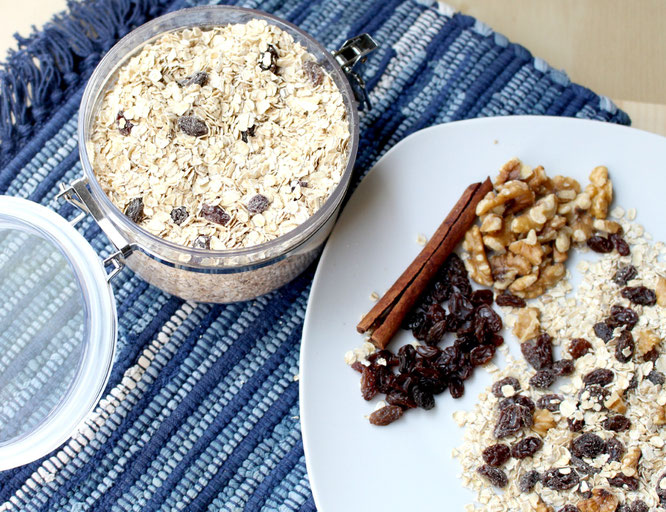 ---
Cinnamon-Raisin Instant Oatmeal Mix

Makes about 13-1/2 cup potions or 26-1/4 cup portions
Ingredients:
1-18 ounce container of quick oats (about 6 1/2 cups oats)


1-12 ounce box raisins (about 2 1/2 cups raisins)

1 1/2 cups walnuts, roughly chopped

2 tablespoons ground cinnamon

1/4 cup brown sugar (optional)
Directions:

Place all ingredients in a large bowl and mix to combine.  Store in a large air-tight container or measure 1/4 cup or 1/2 portions out into small ziplock bags. 




To prepare the oatmeal, place 1/4 or 1/2 cup of the oats in medium microwave-safe cereal bowl.  Add 1/2 cup water or milk for each 1/4 cup dry oat mixture and microwave for about 45 seconds to 1 minute, or until the oatmeal is cooked. 
 Happy Eating!
~Amber
---
---
---
Check out these awesome recipes for more healthy homemade pantry staples!