This Italian chicken panini recipe is very weeknight-friendly - it comes together in just a few minutes and is full of flavor and melty, cheesy goodness!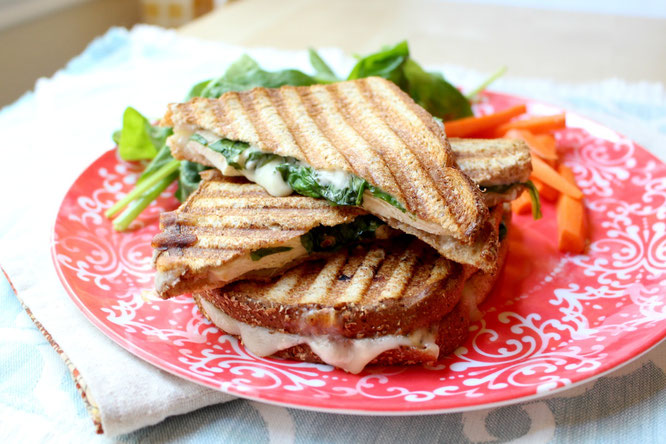 A panini is basically a fancy grilled sandwich, but I like to think of them as a grilled sandwich that's been squished just a little bit while it cooks.  I have a panini press and use it all the time - it's one of the few kitchen "gadgets" I have and recommend to people who enjoy sandwiches and grilled foods in general because it's a really versatile kitchen tool.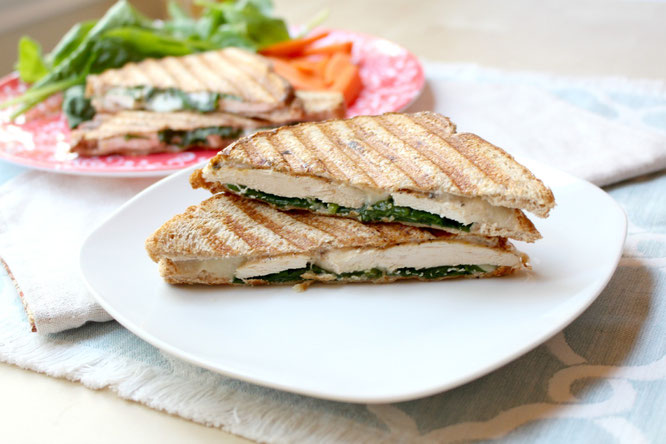 If you don't have a panini press, no worries, just use a skillet (cast iron or non-stick) and use a spatula or another pan to press down on the sandwich while it cooks and you'll get the same result minus the grill marks on the bread.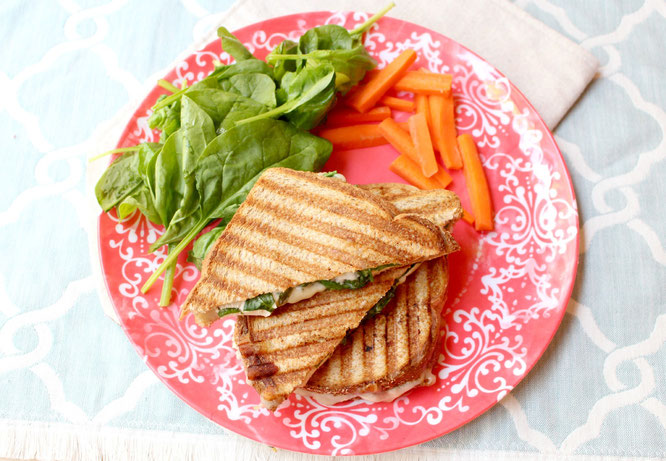 If you happen to love sandwiches as much as I do, check out a few of my other grilled sandwiches for some tasty variety to your sandwich routine: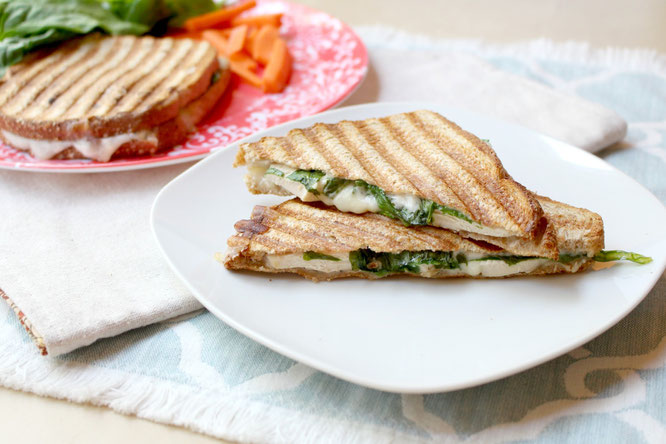 This recipe comes together in under 20 minutes.  My favorite (and most flavorful) part of this recipe is the chicken marinade that takes less than 2 minutes to put together and gives the chicken so much flavor since it can be done the night before.  
If you add the marinade to the chicken ahead of time, when you're ready to make this meal, you simply take the chicken out of the bag where it's been bathing in Italian seasoning, garlic powder, salt and pepper, and just add it straight to your panini press or skillet.  You don't have to prep the chicken and marinade ahead of time, but the flavor will be much better if you do!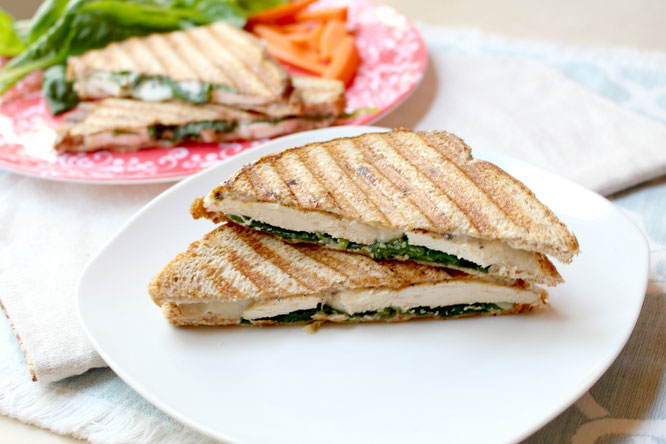 This is a one-skillet meal or can be made completely on your panini press, so there are also almost no dishes to wash (yipee!).  This sandwich is popular with kids and grown ups, and tastes kind of like a chicken parmesan sandwich minus the marinara sauce.  
So if you want to get a little crazy and make this a chicken parm sandwich, just add a couple of tablespoons of marinara over the chicken and you'll have a totally different meal!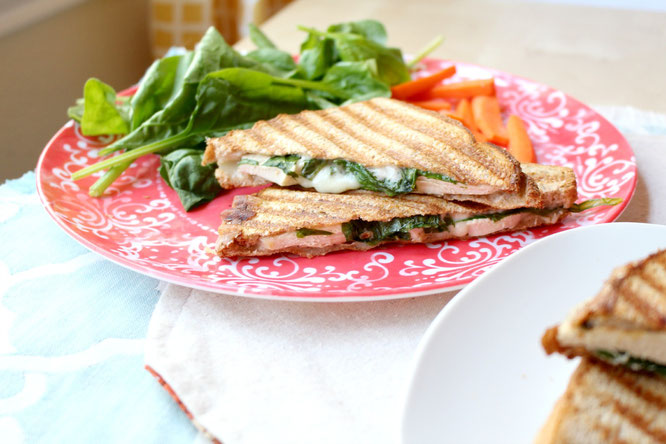 ---
Fast Italian Chicken Panini with Spinach and Mozzarella
Makes 2 servings
Ingredients:
1 large boneless, skinless chicken breast or (2 small)

1 Tablespoon Italian seasoning
1/4 teaspoon garlic powder
salt and pepper to taste
1 teaspoon canola oil
4 slices whole grain bread
2 slices mozzarella cheese
1 cup fresh baby spinach
non-stick cooking spray
Directions:
Place the chicken in a zip-lock bag, add seasonings and oil.  Seal the bag and squish it around to coat the chicken with the seasoning mixture.  Refrigerate overnight or until ready to cook. 
Heat panini press over medium-high heat or cast-iron/non-stick skillet over medium high heat.  Cook the chicken for about 5 minutes on the panini press or until cooked through or about 4-5 minutes per side if cooking in a skillet.  If using one large chicken breast, carefully cut the chicken breast in half to divide evenly between the sandwiches.  
To assemble the sandwiches, place a slice of cheese on 2 slices of bread.  Place 1/2 of the spinach over the cheese, then top with the chicken and the remaining slice of bread for each sandwich.  
Lightly spray the outside of the sandwiches with cooking spray, then place the sandwiches in the panini press or skillet.  Cook for about 4 minutes on the panini press or 3 minutes per side in a skillet.  The sandwiches are done when the bread is golden and the cheese is melted.  
Happy Eating!
~Amber
---