Breakfast for dinner just got a little more fun with this flavorful (plus gluten free) "BLT" frittata!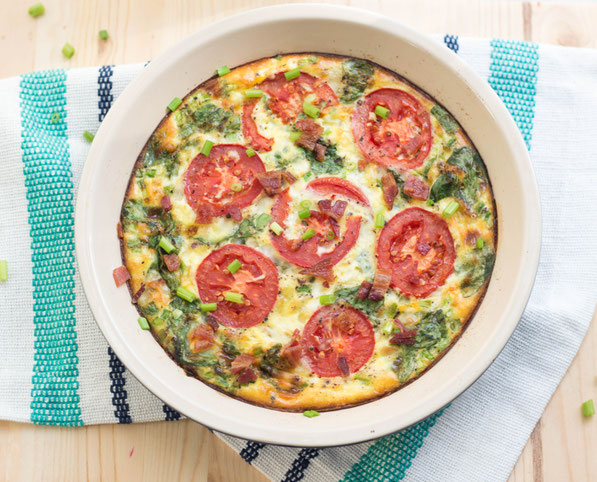 I'm feeling pretty excited about today's recipe because it combines two things that I absolutely love:  breakfast foods and the "BLT" (bacon, lettuce, and tomato) sandwich!
This frittata is light and fluffy, packed with flavor, and oh yeah, there's bacon and cheese in it... and it's kind of hard to go wrong with food friends like bacon and cheese. :)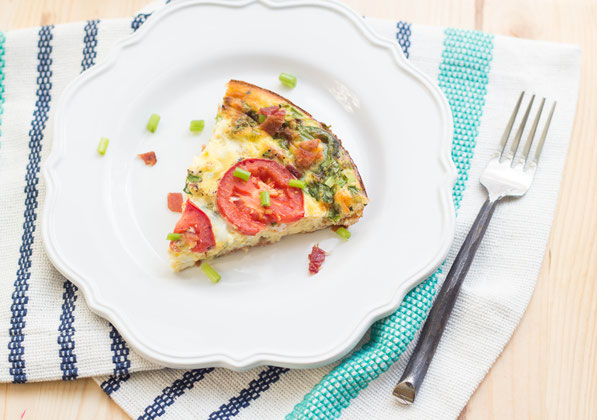 I've made a couple of other frittatas/egg casseroles on the blog, so be sure to check them out if you're a fellow connoisseur of "breakfast for dinner" or just breakfast in general.  :)  
One of my favorite things about frittatas and egg casseroles is that they're one of the easiest ways to sneak veggies into breakfast.  It's also a one-dish meal, so if you make a frittata for dinner, clean up is minimal, and there's not much active cooking time since it just does it's thing in the oven.  
This recipe definitely does not disappoint in the flavor department.  Lately I've had a lot of pepper jack cheese on hand thanks to some lovely coupons for my favorite cheese at the grocery store, so most of the things we eat these days has a little added "zip" in flavor from that, which I love!  I also decided to make this into a "BLT" themed recipe by adding bacon and spinach (because regular lettuce just wouldn't work with baked eggs :-/ ) But I think the spinach makes for a perfect lettuce sub in this recipe.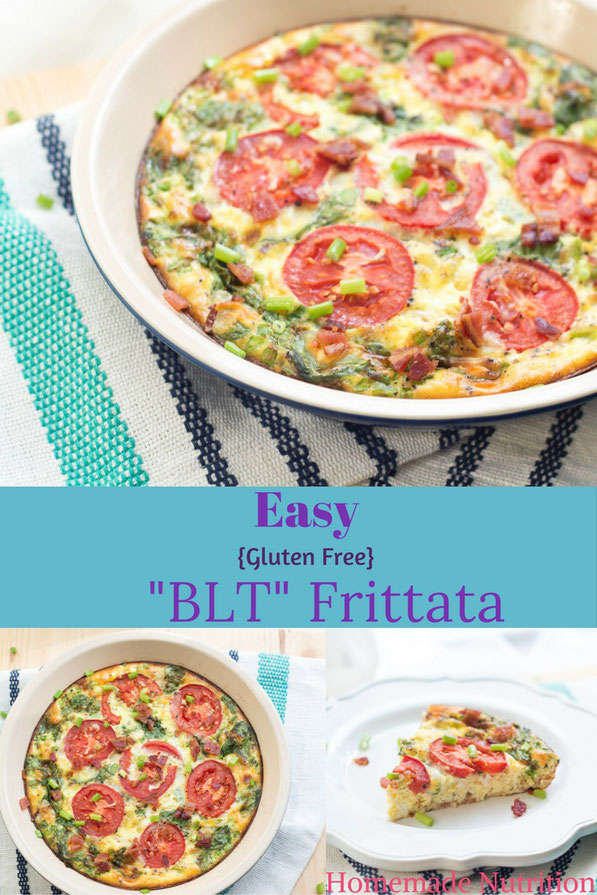 As a dietitian, one of the most common complaints I hear when it comes to eating healthy is that there isn't enough time to cook.  To me, having recipes like this one on hand solves that problem because it really does take just a few minutes to get it ready to bake.  
To save even more time, I like to chop veggies, shred or chop cheese, and cook the bacon the night before.  If those steps are done, this meal comes together faster than driving through somewhere for dinner.  Add some fresh fruit on the side, and a delicious dinner (or breakfast or brunch) is served!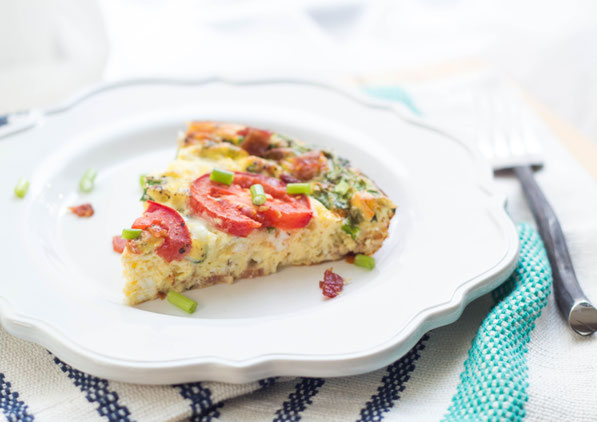 Easy BLT Frittata
Makes 4 servings
Ingredients:
non-stick cooking spray
3 slices cooked bacon (preferably nitrite free or  uncured), chopped
3 green onions, sliced
3 slices pepper jack cheese, chopped (or 1/2 cup shredded cheese)
1/2 cup baby spinach leaves, roughly chopped
5 eggs
1/2 cup milk
dash of hot sauce
salt and pepper to taste
1 tomato, sliced
Directions: 

Preheat oven to 350 degrees.  Lightly coat a pie pan or round casserole dish with cooking spray.  Sprinkle the chopped bacon, green onions, 3/4 of the cheese, and spinach evenly across the base of the dish. 
In a medium bowl, whisk together the eggs, milk, hot sauce, salt, and pepper.  Pour the mixture over the other ingredients in the dish.  Top with remaining cheese and tomato slices. 
Bake for about 30 minutes or until the frittata is set and slightly golden on top.  
Happy Eating!
~Amber 
---
---
---