This sausage, broccoli, and cheese frittata is easy to make and will be a hit with the whole family!  It's the perfect healthy "breakfast for dinner" weeknight meal!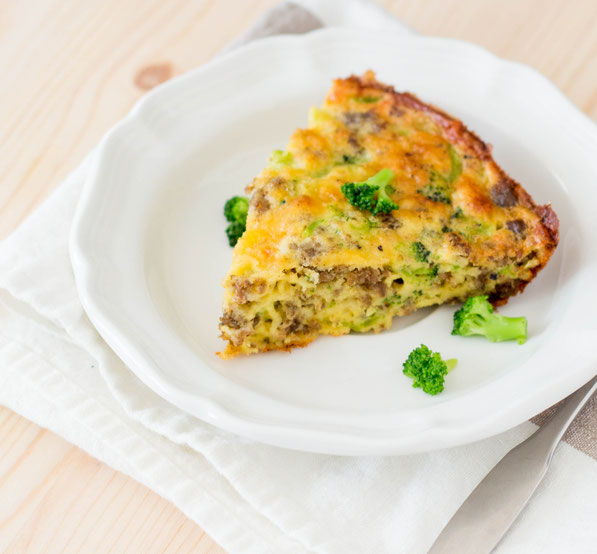 I love breakfast!  I could eat breakfast foods all day every day and be one very happy girl.  So today I'm excited to share a tasty new creation that's also a fun way to do breakfast for dinner.  Or you could just have it for breakfast.  :) 
I  make several versions of this frittata using different combinations of ingredients, but the most recent version I made was this one (which my family loved) that uses broccoli, cheese, and breakfast sausage as the base.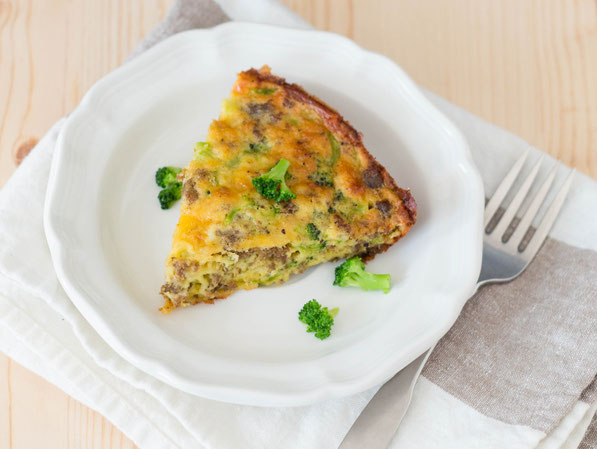 I  buy "light" breakfast sausage at the grocery store because it's made with leaner cuts of pork and also usually has fewer ingredients in it.  When I made this recipe, I had ½ pound of cooked breakfast sausage leftover from a recipe I made earlier in the week (my slow cooker sixteen bean and sausage soup, which, on a side note, is totally delicious and easy to make!). 
Finding ways to sneak veggies into breakfast foods is one of my favorite mini-successes in life.  Because eating veggies with breakfast foods is not always easy, and not every veggie tastes good mixed with eggs.  Trust me.   But frozen chopped broccoli is nice and small, and combining it with the other ingredients in this recipe works beautifully.  Because what goes better with sausage and cheese than broccoli? 
If you're like me and cooking for just a couple of people, this frittata is the perfect weeknight option because leftovers make the best lunch entrée the next day!  Happy breakfast (or breakfast for dinner)! ;)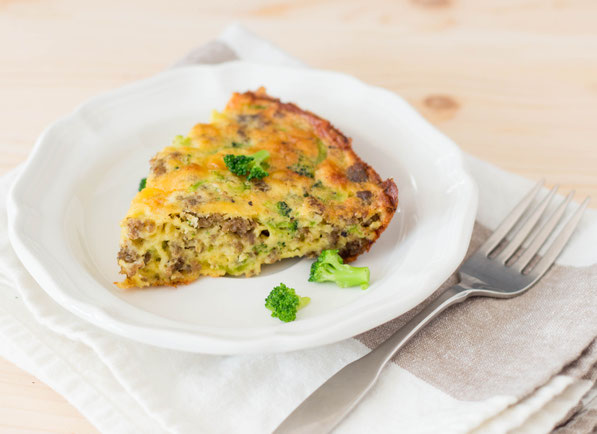 ---
Sausage, Broccoli, and Cheese Frittata
Makes about 6 servings
Ingredients:
4 green onions, sliced
¾ cup shredded cheddar cheese
½ pound cooked ground breakfast sausage
1 cup frozen chopped broccoli
4 eggs
2 cups milk
salt and pepper to taste
½ cup biscuit or baking mix (optional)*
Directions:
Preheat oven to 400 degrees.

 

Lightly grease a pie pan or 8x8 casserole dish with cooking spray, oil, or butter.
Place the green onions, cheese, cooked sausage crumbles, and broccoli in the bottom of the baking dish and lightly toss to mix them up.
In a medium bowl, whisk the eggs, milk, salt, pepper, and biscuit mix (if using).

 

Pour the mixture over the cheese, sausage, and vegetable mixture.

 

Bake for 35-45 minutes, or until the eggs have set and the top is light golden in color.
*adding baking mix brings more structure to the frittata, but it can be left out for a gluten free, lighter result.
 Happy Eating!
~Amber
---
---
---