Fresh asparagus makes the perfect veggie base for this cheesy ham and egg casserole!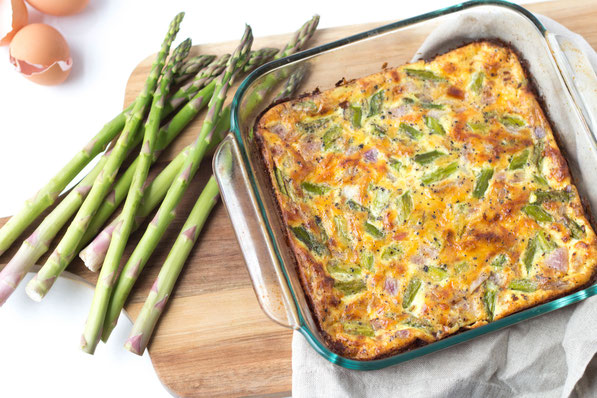 I've been cooking with a lot of spring produce lately, and last week I used some fresh carrots from my parents' garden and made some delicious jalapeno-lime honey glazed carrots.
This time the star spring vegetable is asparagus. And since I'm spotlighting a few of my favorite spring fruits and veggies this month, I rounded up a few fun facts about asparagus...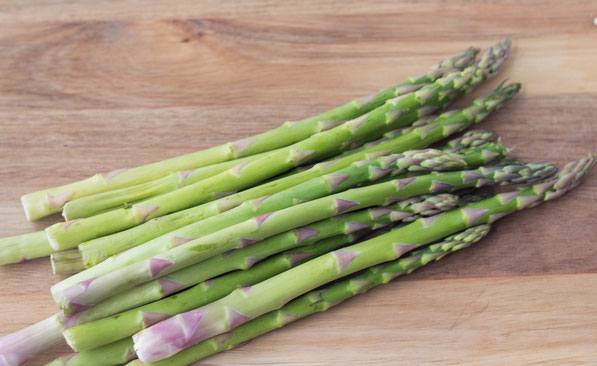 It actually takes about 3 years for an asparagus plant to mature starting from seed to produce "normal-sized" asparagus.  Once mature, an asparagus plant can continue producing asparagus for 15-20 years!
It's pretty well known that asparagus causes your pee to smell weird shortly after eating it, but some (lucky) people can't smell it!  It's a genetic thing, and many people don't have the gene that allows you to smell that very distinct scent.
Asparagus is a natural diuretic, which means it can help with fluid balance, especially in people with edema (retaining water in body tissue) or blood pressure issues. 
White asparagus is not genetically modified to make it grow that way;  farmers actually cover the asparagus spears with soil as they grow, and the lack of sunlight makes them white.  
California, Washington, and Michigan are the top U.S growers of asparagus, with most of it coming from California. *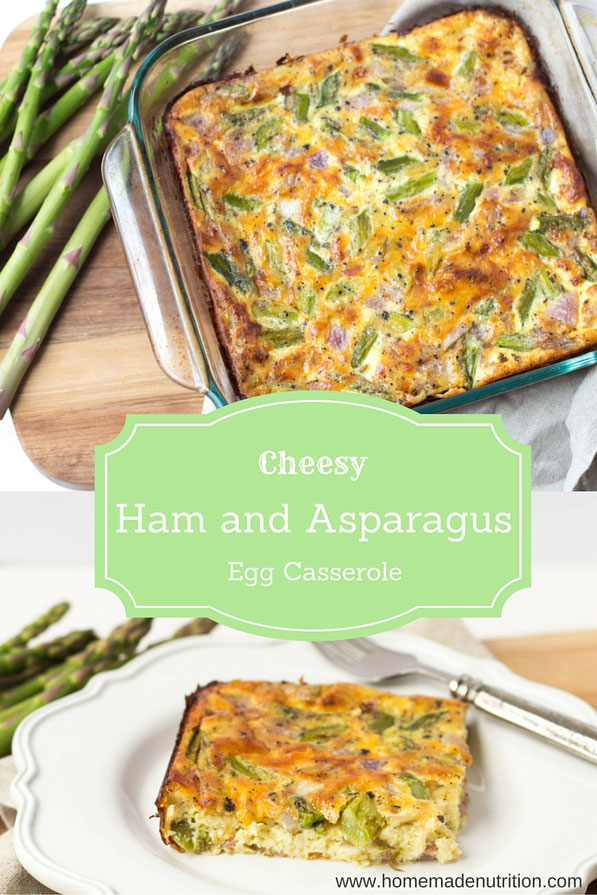 This recipe is one of my new favorites because it's a breakfast recipe. If you read my blog, you might know that breakfast is numero uno in my book. :)  I would literally eat it any time of the day, every day.
I have many different egg dishes up on the blog, and if you're looking for more egg inspiration, here are two of my favorites: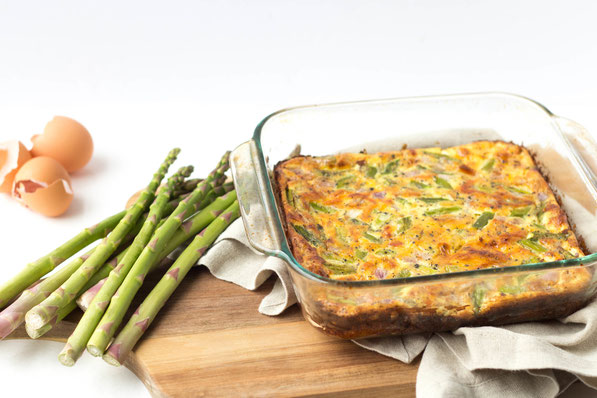 The reason I make so many baked egg dishes like frittatas is because they're a great way to get more veggies into breakfast. I'm also not so great at making omelets, and frittatas and egg casseroles are basically baked omelets. Just add egg, milk, veggies, cheese, and meat in a baking dish, and…voila!...done! (Well, after 30-45 minutes of stomach growling, waiting for the oven to do its work).
Overall it's a lot easier than trying to cook an omelet in a hot pan and trusting myself to not toss it onto the kitchen floor when attempting to be a TV chef by doing that fancy omelet flip.
This recipe has two parts.  Part one is adding chopped ham, onion, and asparagus to a baking dish and roasting them for about 15 minutes.  This cooks the asparagus and onion long enough to be nice and tender in the recipe, and also for the ham to get all caramelized and golden and perfectly delicious.
*Before and after roasting the veggies and ham pictured above
All you have to do for the second part of the recipe is to pour the egg and milk mixture over the top, add the cheese, and bake again until the egg casserole is cooked through.  Leftovers refrigerate and reheat very well for lunch the next day, too. :)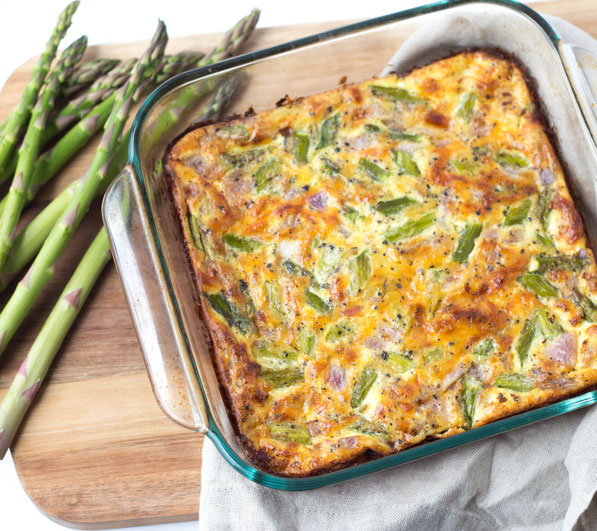 ---
Cheesy Ham and Asparagus Egg Casserole
Makes 4 servings
Ingredients:
1 cup chopped asparagus
1/2 cup chopped red onion 
1/2 cup chopped ham (preferably "nitrate-free" or "uncured")
1 teaspoon light olive oil
4 eggs
1 cup milk
salt and pepper to taste
1/4 cup biscuit or baking mix (optional)*
1/2 cup shredded cheddar cheese
Directions:
Preheat oven to 400 degrees.

 

Lightly grease a pie pan or 8x8 casserole dish with cooking spray, oil, or butter.
Place the asparagus, onion, and ham in the casserole dish and lightly toss with the oil.  Bake for 15 minutes, then remove the dish from the oven.
In a medium bowl, whisk the eggs, milk, salt, pepper, and biscuit mix (if using).

 

Pour the mixture over the asparagus, ham, and onion mixture.  Sprinkle the cheese over the top
Bake for 25 more minutes, or until the eggs have set and the top is light golden in color.
*adding baking mix brings more structure to the casserole, but it can be left out for a gluten free, low carb result.
 Happy Eating!
~Amber
---
*Sources for food facts: 
*http://modernfarmer.com/2014/04/10-surprising-facts-asparagus/
*http://www.allasparagus.com/asparagus-facts/http://www.eatingwell.com/blogs/health_blog/5_powerful_health_benefits_of_asparagus_you_probably_didn_t_know
---
---
---