Perfectly ripe yellow and cherry tomatoes are the star of this flavorful summer caprese salad!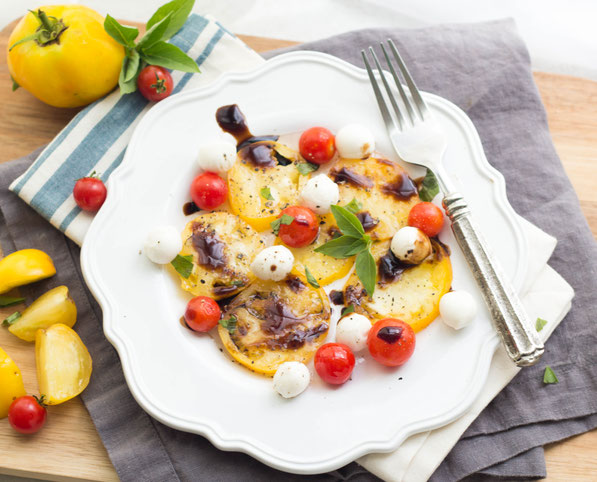 Summer = the best fresh produce.  Plain and simple.  Of course there are peak produce options in every season, but generally summer is the time when we have so many gorgeous fresh fruits and veggies available at our fingertips. 
You can find much of this fabulous produce at regular grocery stores, on sale and perfectly ripe.  And if you're a little more adventurous, this is the best time of year to check out farmer's markets for more unique options.  That's often where you'll find what we consider to be more unusual produce, like those yellow or heirloom tomatoes, patty pan squash, or all the fresh okra you could ever want. 
I'm fortunate to be able to do quite a bit of my produce shopping in my parent's garden.  We basically get to go over there every week and have a great visit, great food, and leave with a nice little bag of onions, tomatoes, peppers, or whatever else is looking great that week.  Soon it'll be time to start planting and preparing for fall gardens, but for now, I'm still enjoying every fresh tomato I can get my hands on! 
And I can't think of a better way to enjoy those tomatoes than in a caprese salad.  Caprese salad is traditionally a tomato, mozzarella, and basil combination, sometimes with just olive oil and sometimes with a balsamic dressing over the top.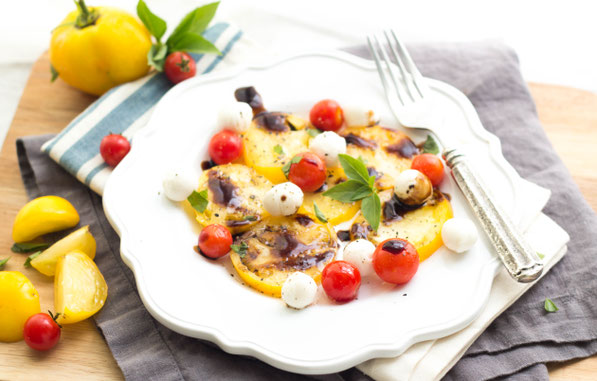 I really like contrasts of flavors, colors, and textures, so for my caprese salad I vary the size of the tomatoes, using both sliced tomatoes and small whole cherry or grape tomatoes.  And instead of using fresh mozzarella slices, I love those little bite-sized fresh mozzarella pearls - they're in the same place as the fresh mozzarella at the grocery store. 
I used to just pour some balsamic vinegar over my tomatoes when I made this salad, but lately I've started making a balsamic reduction for it, which basically means letting balsamic vinegar simmer in a saucepan until it thickens.  Side note: I actually first started making balsamic reductions for my strawberry-basil crostini, which is amazing and also perfect for summer!
The reduction is more concentrated in flavor, so it only takes a few drops to do the trick, but I really like the flavor and the fact that it's less messy than just using balsamic straight from the bottle (but you could totally just do that if you want to).  The end result is the best light and flavorful salad for a hot summer day!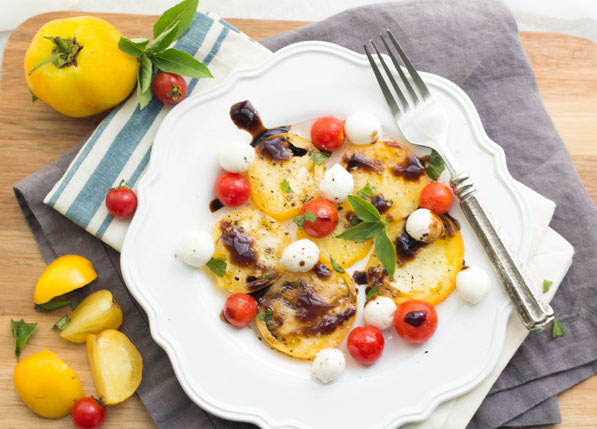 Caprese Salad with Balsamic Reduction
Makes 4 servings

For the caprese salad:
2 medium tomatoes (such as yellow or heirloom tomatoes), sliced
1 cup cherry or grape tomatoes
1 cup fresh mozzarella pearls
salt and pepper to taste
1/4 cup olive oil
1/4 cup fresh basil leaves, torn or lightly chopped
For the balsamic reduction:
Directions:

To make the balsamic reduction, pour the balsamic vinegar in a small saucepan and bring to a boil.  Reduce heat to a simmer, and let the balsamic cook for 10 minutes or until it reduces by at least half and thickens slightly.  Set aside to cool. 
Place slices of tomato in a single layer on each plate.  Spread cherry tomatoes and mozzarella pearls around in between the tomato slices. 
Season each plate with salt and pepper, and drizzle the oil over each plate, lightly coating the tomatoes and cheese.
Use a spoon to lightly drizzle a  small amount of the balsamic vinegar reduction over each plate.  Refrigerate until ready to serve. 
 Happy Eating!
~Amber
---
---