This easy baked chicken sandwich is full of melty, creamy goodness and perfect for busy weeknights!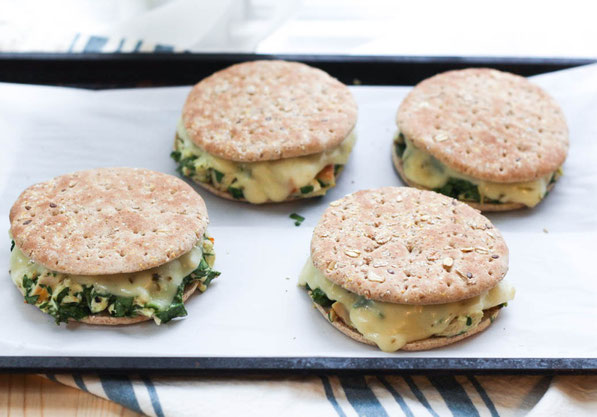 I've got another sandwich recipe to share today!  Earlier this week I discovered a new favorite way to make breakfast sandwiches with my freezer ham, egg, and cheese sandwiches (which I'm actually eating as I write this post ;D), and since I had some extra multi-grain sandwich thins and pepper jack cheese, I decided to make another sandwich, this time for dinner...Because sandwiches are great any time of day!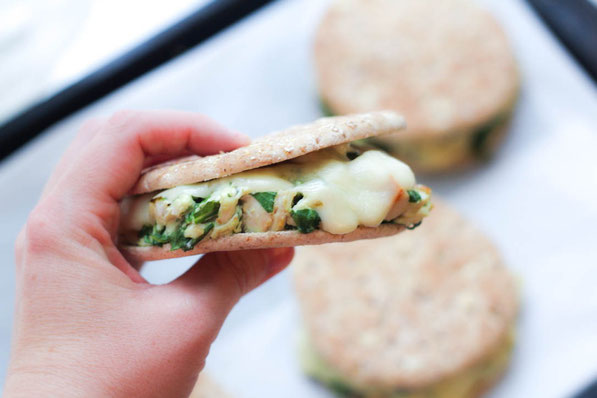 This chicken and spinach sandwich ended up being sort of a cross between a grilled cheese and panini. I really like making hot sandwiches, but it can be hard to make multiple sammies at the same time on a single skillet or panini press.  You also need oil or butter on the outside of the bread for those sandwiches too, which can make them a little heavier. 
So I decided on baking these beauties in a dish covered in foil.  The result was the most amazing creamy, gooey deliciousness!  And since these sandwiches are covered while they bake, the bread stays super soft and the filling is nice and moist.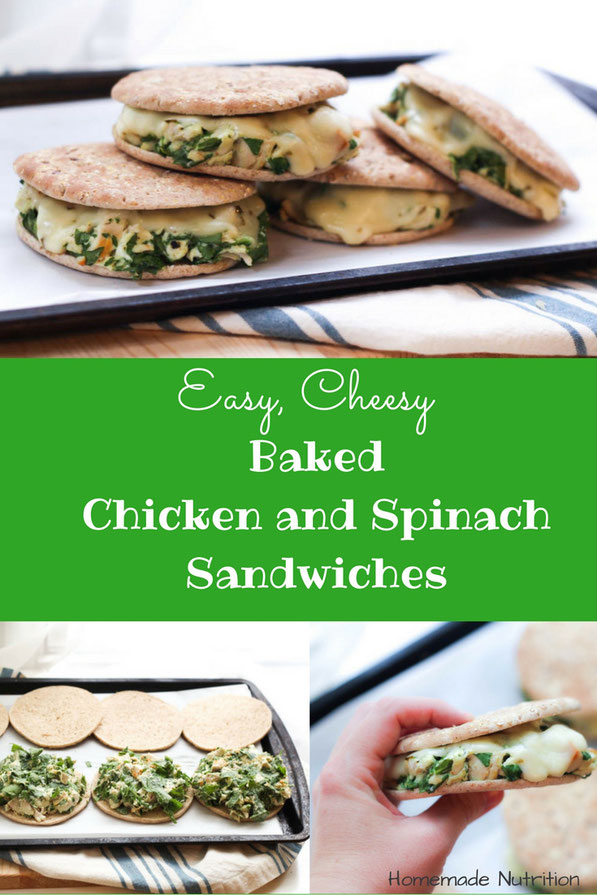 I used rotisserie chicken as short-cut to save time when making this recipe, but if you have more time, go ahead and pre-bake some chicken or cook it in the slow cooker for a homemade, more affordable option.  
Another way to save time is prepping these sandwiches (just don't bake them) the night before you need them.  That way, whoever gets home first the next day can pop them straight into the oven and a fresh, hot dinner is served!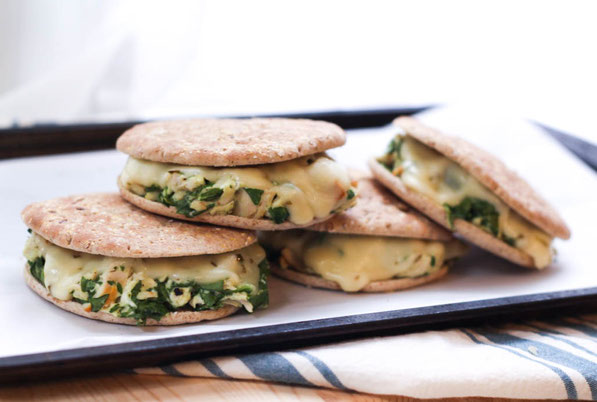 Cheesy Baked Chicken and Spinach Sandwiches
Makes 4 sandwiches
Ingredients:
2 cups chopped cooked chicken  breast
1 1/2 cups baby spinach, chopped
1/4 cup whipped cream cheese
1/4 cup sliced green onions
salt and pepper to taste
4 whole grain sandwich thins or bagel thins
4 slices pepper jack cheese
Directions: 

Preheat oven to 350 degrees.  Add the chicken, spinach, cream cheese, green onions, salt and pepper to a medium bowl and mix the ingredients well. 
Place 1/4 of the chicken mixture on the bottom half of each flat bread.  Top with a slice of cheese then the top of the flatbread.  
Place the sandwiches in a baking dish, cover with foil, and bake for 20 minutes or until cheese is completely melted and the chicken mixture looks creamy.  Serve with fresh fruit on the side.  Enjoy!  
Happy Eating!
~Amber 
---
---
---