Yellow squash blends into this blueberry-peach smoothie beautifully!  It's such a refreshing breakfast option for a hot summer morning!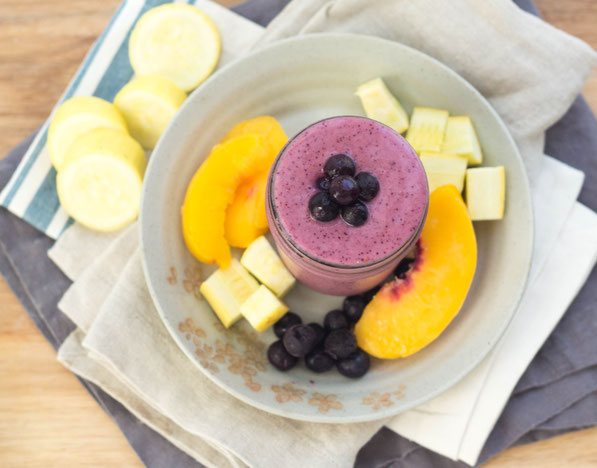 I'm on a squash smoothie kick right now, and last week I posted a delicious, creamy chocolate-zucchini smoothie recipe.  And I promised that the first squash smoothie recipe I ever tried would be coming soon.  Well, without further delay, here it is!  The squash smoothie that started it all! :D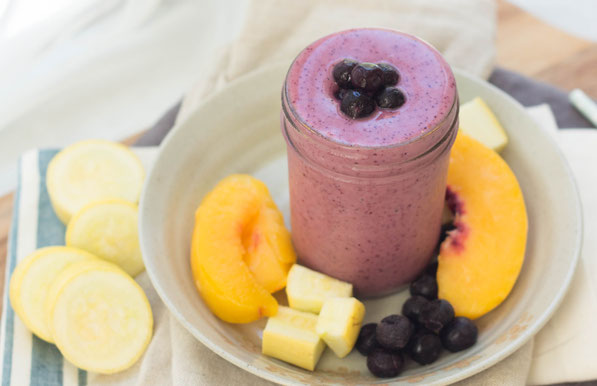 Yellow squash is the perfect veggie addition to smoothies because it blends in beautifully without changing the color or flavor of the smoothie.  You can't even tell it's in there, but there's a huge boost of nutrition, which is a total win-win for me!  #veggiesforbreakfast ;)
This is a great recipe for utilizing fresh, seasonal produce because right now (at least here in Texas) the squash and peaches are crazy-perfect.  But if you're short on time or can't find great fresh options, use frozen peaches and blueberries.  Really, it's totally fine!
That's one of the things I love about smoothies...you can just use what you have on hand.  Whether it's fresh, perfectly ripe produce from a farmer's market or straight from the freezer section of the grocery store, that smoothie is going to taste great!  I hope you enjoy this refreshing summer smoothie treat!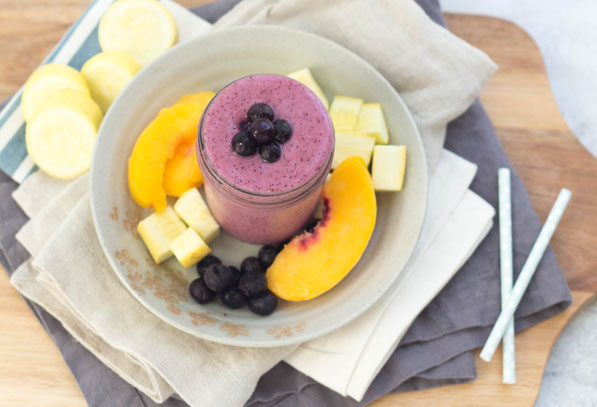 Blueberry-Peach Yellow Squash Smoothie
Makes 1 serving

Ingredients:
1/2 cup fresh or frozen blueberries

1 cup fresh or frozen peaches

1/2 cup chopped yellow squash (raw)

1/2 cup plain or Vanilla Greek yogurt

1/2 cup water

4-5 ice cubes if using fresh fruit
Directions: 

Place all ingredients in a blender and blend at least one minute or until the ingredients are completely combined and the smoothie is creamy.
 Happy Eating!
~Amber
---
---