The tasty combination of strawberries and bananas gets an extra boost of nutrition from beets in this creamy smoothie !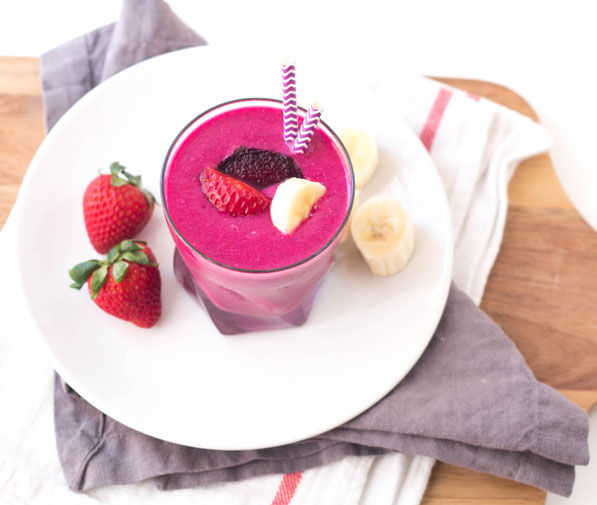 It's been a while since I've posted a new smoothie recipe, but that doesn't mean that I haven't been making them!  Ever since my obsession with smoothies began about a year and a half ago, I have been experimenting with many, many different combinations of ingredients to find those that are the tastiest (obviously!) but also the best in terms of nutrition. 
One of the main reasons I started making smoothies and have one almost everyday is because they're a great way to get more plant-based foods into the day.  Most of us don't even get close to the recommendation of two cups of  fruit plus two and half cups (minimum) of vegetables each day, and blending them up together is an awesome way to get those servings in!
But traditional smoothies tend to have large portions of fruit and are often sweetened with fruit juice, so they can end up being high-sugar, high-calorie drinks that can actually work against a weight loss plan or blood sugar maintenance.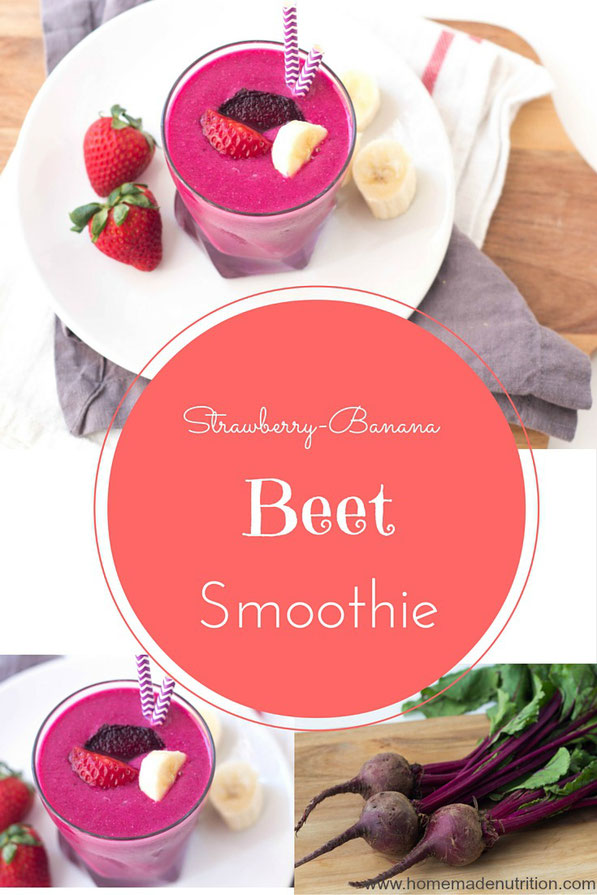 So I try to focus on a few main nutrition guidelines for my smoothies:
Use a reasonable amount of fruit (1/2 cup to 1 cup)
Try to include a vegetable whenever possible (the more the merrier here, because how awesome is it to basically eat/drink salad for breakfast?!)
No juice - I try to use water as the only liquid in my smoothies almost all the time.  The right combinations and portions of fruit sweeten smoothies beautifully.  If it's not sweet enough, it's okay to add a little honey, pure maple syrup, or use a flavored Greek yogurt if you really have more of a sweet tooth....or just for an extra treat!
Double the Greek yogurt and add an extra 1/4 cup of water for added protein, or add a scoop of protein powder to make smoothies a more complete meal, especially if it's a fruit based smoothie that doesn't have any veggies.
I've also written a whole post called "Smoothie 101:  A Guide to Making the Best Smoothies" which is really useful if you're new to the world of smoothie-making!  As simple as smoothies can be, it's also really easy to mess them up and come up with a not-so-tasty result, so be sure to check out that post to learn from my smoothie-making mistakes!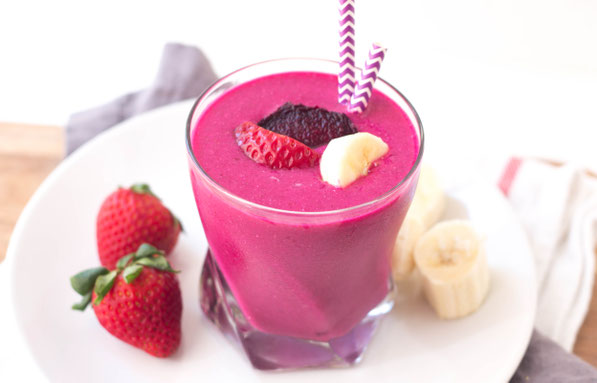 If you've followed my blog for a while now, you've probably noticed that I definitely have a thing for beet smoothies, and I've made several on the blog.  These are definitely worth trying if you're a fellow beet-lover like me!
Happy blending!! :)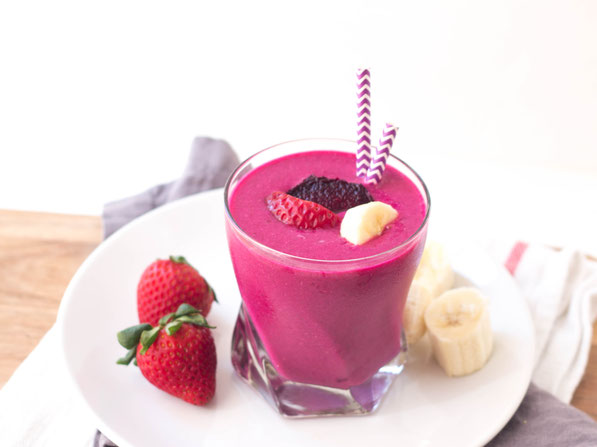 Strawberry-Banana Beet Smoothie
Makes 1 serving

Ingredients:
1/2 cup cooked beets (if using canned beets, use NO SALT ADDED beets)
1/2 sliced banana
1/2 cup roughly chopped strawberries (about 4 strawberries)
1/2 cup Greek yogurt or kefir, plain or flavored
1-2 teaspoons honey (optional)
1/2 cup water
3-4 ice cubes
*optional:  add a scoop of protein powder to make it a complete meal!
Directions:

Place all ingredients in a blender and blend at least one minute or until completely smooth. 
 Happy Eating!
~Amber
---
---