This bright and creamy cherry-lime beet smoothie is the perfect healthy start to any day!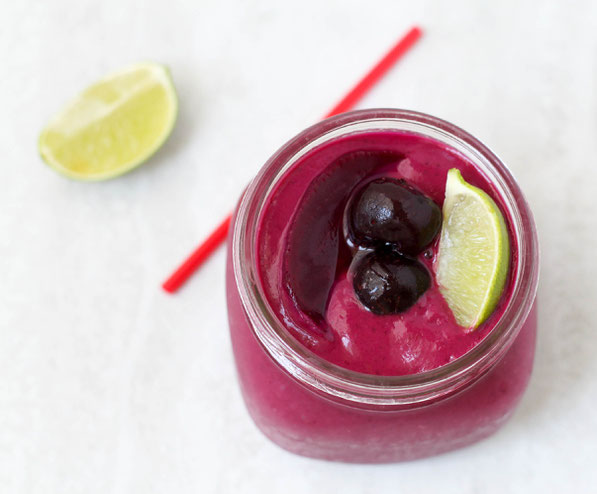 Beets are back in season!  Maybe it's the nutrition-lover in me, but for whatever reason, I have a fascination/strange obsession with beets.  I don't like to play "favorites" with fruits and vegetables, because I really like almost all of them, but when it comes to veggies, beets are very high on my list of top choices. 
I didn't grow up eating many beets, but ever since I discovered them, I can't get enough of these earthy beauties!  And putting them in smoothies is my absolute favorite way to enjoy them, because they make for a super creamy smoothie with a beautiful color and texture.  This recipe is actually my third beet smoothie variation on the blog: my apple-cinnamon beet smoothie and blueberry beet smoothie have gotten lots of positive feedback and are definitely worth trying too!
In terms of nutrition, beets are a fantastic solution for anyone who's looking to lose or maintain weight and anyone who's looking to feel great - so that pretty covers most of us. ;) 
A 1/2 cup serving of cooked beets only has 37 calories, but also has 2 grams of fiber plus plenty of folate and other b-vitamins, calcium, and zinc.  This basically means they're great for digestion and providing energy.  Not to mention a heaping helping of disease-fighting antioxidants that give red beets that deep beautiful color. 
The only people who might want to go easy on beets are those prone to kidney stones.  The oxalates and calcium in beets may affect those individuals by contributing to kidney stone formation.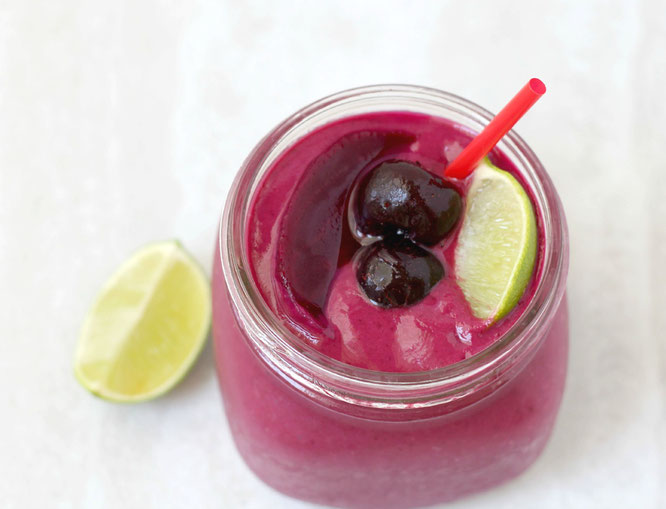 Beets have a very distinct, strong flavor, which people tend to either love or really not like much...but even people who aren't huge fans of this ruby red root tend to do just fine with them in smoothies like this one because there are plenty of other fun ingredients in there that make things come together really well. 
When it comes to softening that strong flavor in beets, two of my favorite cover-ups are cinnamon and lemon or lime juice.  Both tend to really mellow the earthiness of the beets, and cinnamon brings a certain warmth, while lemons or limes bring a bright zing of flavor.
Frozen cherries, a squeeze of fresh lime juice, a touch of honey, and some protein-packed Greek yogurt make this smoothie one very tasty way to start the day off right by eating your veggies!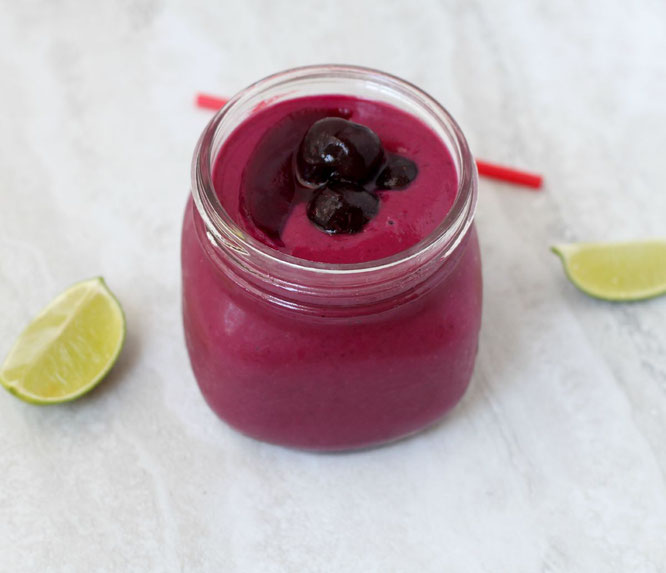 Cherry-Lime Beet Smoothie
Makes 1 serving

Ingredients:
1 cup frozen cherries

1 cup chopped cooked beets (if using canned, use NO SALT ADDED beets)

1/4 teaspoon cinnamon

2 tablespoons lime juice (about 1/2 of a lime)

1/2 cup plain Greek yogurt

1 teaspoon honey

1/2 cup water
Directions:

Place all ingredients in a blender and blend at least one minute or until completely smooth. 
 Happy Eating!
~Amber
---
---